Tim Mason, the founder and chairman of Let's Loop Swindon visited the Rotary Club of Fareham Meon in November 2015. This was followed by a meeting to get more information about the Let's Loop campaigns. The Rotary Club's council approved the starting of the project. Tim had suggested a number of contacts, the Community Action group in Fareham, the Equality Manager at Fareham Borough Council and the audiology department at Queen Alexandra hospital. Tim said he would ask his contacts in Zurich, Swindon and Leighton's in Swindon to make contact with Graham, the vice-president of the Rotary Club of Fareham Meon, who had offered to start the project. Graham visited all contacts and got positive encouragement, but where should the first Steering Group meeting be held? A number of suggestions were made and a committee room at the Fareham Community Action group was provisionally booked. However, John, a fellow Rotarian, found that Tesco's in Fareham have a community room which is free for charities. Kari, the community champion at Tesco's was invited to join the steering group.
The steering group had its first meeting on 2 February, 2016 in Tesco's community room. Attending were Tim, John, Graham, Kari, Amanda from the audiology department of Queen Alexandra Hospital, Anne-Marie from Leighton's in Fareham, Chris from Fareham Borough Council, Linda from the 1st Fareham Scouts, Rod from Zurich Insurance, Ian from Meonstoke and Alan from Droxford.
Since that first steering group meeting we have trained fourteen people to check hearing loops. Of these nine are not Rotarians. Of the fourteen, eight wear a hearing aid. The others use a hand-held loop testing device. They each have a badge with a Hearing Link lanyard.
A
web site
and database have been created. The checkers, working in pairs, are assigned a list of places to audit which they do whenever they want to. Sometimes it may involve telephoning someone to reserve a time to perform the audit. Each place is checked to see that the signage is good, the hearing loops are working well and the staff are knowledgable about the hearing loops. The results are fed into the database and are being sent to Hearing Link.
A poster, seeking volunteers, was designed and displayed on all the Fareham Borough notice boards during August but no volunteers came forth. An article appeared in the winter edition of Fareham Today resulting in two more volunteers.
At the beginning of December 2016 we celebrated our first birthday by meeting in the Fareham Borough council offices and eating a birthday cake. We also renamed the project from Let's Loop Fareham to Let's Hear in Fareham so as to put more emphasis on hearing loss awareness.
We have identified over one hundred places in and around Fareham and have audited sixty five places. Forty eight have hearing loops. What we have found is that the people we talk to when auditing are very pleasant and helpful but the loops do not always work and are sometimes positioned so that they may be best heard when you have ears at knee height. For those where the loops are not working satisfactory we leave a card with Hearing Link contact details.
We are currently negotiating with the Community Fund of Fareham to obtain financial support for the printing of hearing loops signs which can be given to places who have loops but do not have good external signage. We would also like to produce, with help from the Community Fund of Fareham, a leaflet on communication tactics for the hard of hearing.
Having got more than ten non-Rotarians on the project we became eligible to form a
Rotary Community Corps
. We have now got our certificate of organization and are now deciding how to celebrate the chartering of the organization.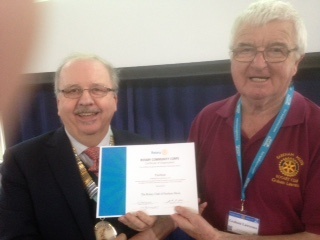 On 4 March at the District Council meeting, Chris Slocock, the District Governor presented Graham with the Rotary Community Corps certificate.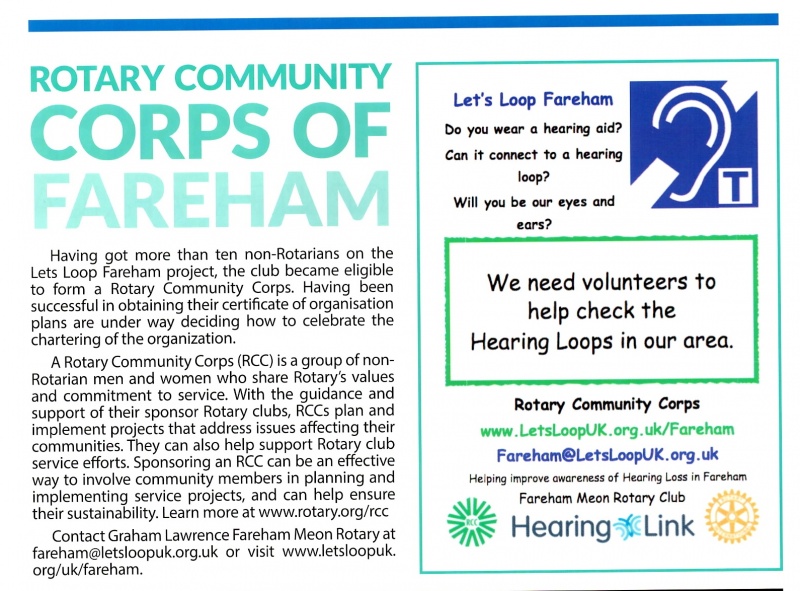 The above item appeared in the Spring 2017 edition of Rotary Wessex.
If you would like to get involved in Let's Hear which is being branded by both Hearing Link and Rotary International in Britain and Ireland please contact the author who will put you in touch with Tim Mason who is now the Chair of the Let's Hear Steering Group in Rotary International in Britain and Ireland.