By 2014 they had graduated, mobilised and become a charity.
Mlambe is a district in Central Malawi, with mainly subsistence agriculture.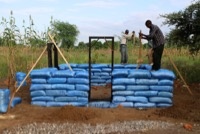 The first project was to build a school and associated buildings in Chikolongo. From inheriting one broken room, they have now built 12 buildings using earthbag technology – sustainable, cheap, and an easy to learn technology.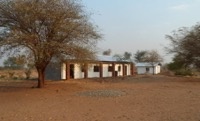 We first heard about this project early in 2013 when a young Manchester University physics graduate came to talk to us about his determination to build a school in Malawi using "Earthbags" – and he brought an Earthbag with him. Despite concerns about how he was physically going to get our cash donation out to Malawi we helped the fledgling project.
Since then we have been to one of the charity's meetings in London, provided some Oxted Beer Festival polo shirts to the students in Mlambe and in February 2017 two members of the Project came back to tell the Club about the progress they are making and describing new initiatives, including helping teenagers move into secondary education by distance learning, and offering innovative approaches to higher education through an online 'University of the People'.
We continue to support The Mlambe Project as they expand their activities.
Find out more about The Mlambe Project - visit their website.