Kick starting young speedway rider's careers
L to R Olley Allen well known Speedway Star training rep for Poultec Training's Speedway apprenticeship scheme; Martin Reynolds - Rotarian, event organiser, Rotarian Keith Boyce, Keith Chapman of Kings Lynn Speedway, Edward Bales Poultec MD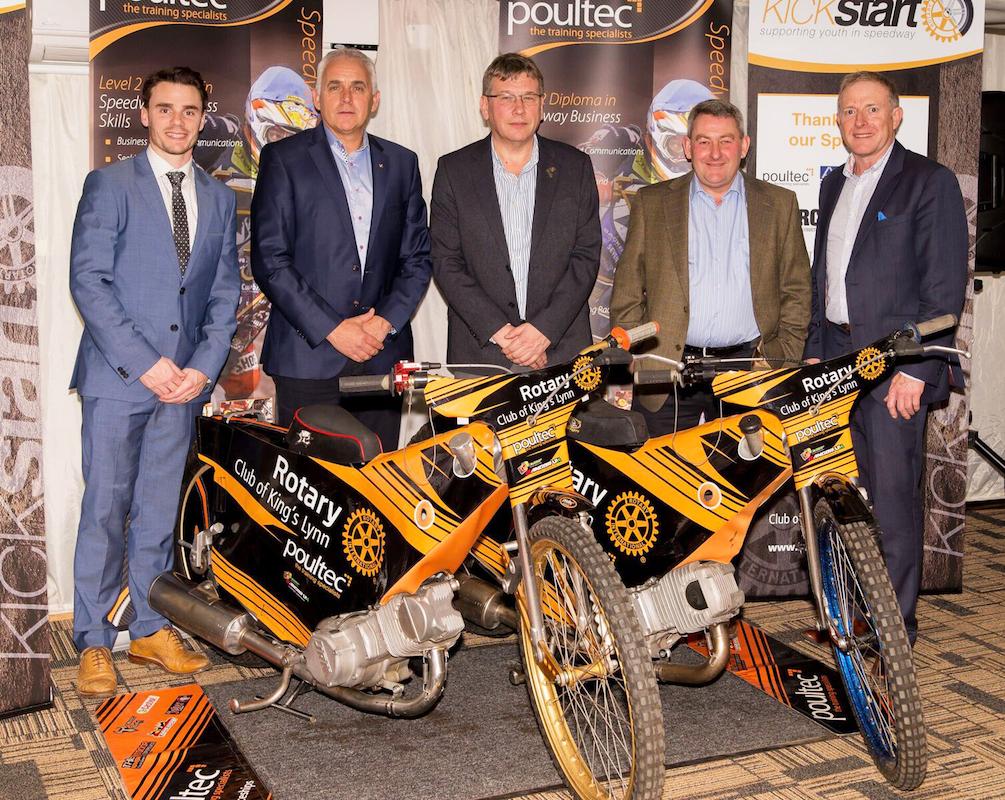 The Rotary Club of King's Lynn's partnership with Poultec Training and King's Lynn Speedway was further re-inforced by the organisation of a second fund raising dinner held at Timbers Country Lodge on 10th March 2017 which raised £6800 and was attended by over 180 people, all enthusiasts connected with or sponsors of speedway and supporters of "Kickstart", an association set up in 2016.

The following extract from a release originating from Poultec Training which provides an explantation of the event and the background and objects of "Kickstart".

Kick Starting Young Speedway Riders Careers

Friday 10th March saw the second annual fundraising event take place for the "Kickstart" Project, a partnership between the King's Lynn Rotary Club, King's Lynn Speedway and Poultec Training. The event was organised to raise funds to support aspiring, young speedway riders with the cost of bikes and equipment during their speedway training programme.

The fund raiser at Timber's County Lodge in Fincham saw over 180 guests and professional speedway riders raise funds with an auction with included items such as, a hospitality afternoon in the Director's box at Norwich City Football Club, four VIP hospitality tickets and passes to the British Touring Car Championship at Silverstone and a week's holiday in a villa in France.

Edward Bales, Poultec Training's Managing Director, explained at the event about the success of the Poultec Speedway Training Programme over the past year, with recent development and accreditation of the Level 2 Diploma in Speedway Business Skills, by awarding body TQUK. He also spoke about the success of the 10 week "Go-Moto" project in partnership with Norfolk Constabulary and Norfolk County Council. Poultec are currently investigating the potential to run a similar project in Kings Lynn.