Wensleydale Wander 2017 report
The 2017 Wander was again blessed with perfect weather, even better than last year, and enjoyed by 352 walkers and runners.
thumbnail view
Although the Wander was, and is, designed as a walk, hence the name, an increasing number of entrants choose to run it each year. Inevitably, the fastest treat it as a race so, for those wishing to know how they fared, click on Results for placings and times.The conditions were excellent so there were some fast times. So much so that Lee Athersmith, of Skipton, reached the 15mile checkpoint at Middleham Moor before one of our marshals! He completed the 23.2mile long route in 2hrs 59min.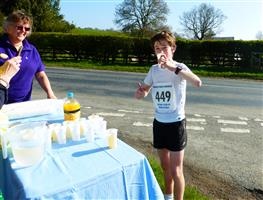 First home on the short route was young Jake Dorman of Newcastle in 95min. He is the grandson of one of the Rotarian marshals, John Borrill. The first lady home on the short route was Sharon McAnany of York in 112min.
For the majority of walkers, with time to have a relaxed and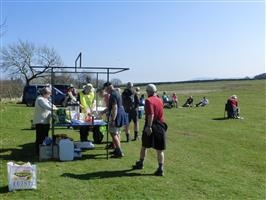 sociable walk while enjoying the magnificent views, this was a great day. As always, this was especially noticeable at the Rubbing Houses on Middleham High Moor where the 13mile checkpoint provides hot dogs and drinks.
We would like to thank the RAYNET volunteer radio operators, our wives/husbands who have helped, and of course all walkers and runners for supporting the event. We will have raised in excess of £3,000 for charity, and President John Morton presented a cheque for £1,500 to Yorkshire Air Ambulance at the Finish in Wensleydale School, pending a final count up.
There are 100 photos on the slideshow at the top of this page. You may find you prefer to click on the Thumbnail and be selective. Thanks to Rtn Chris Wheatley for most photos, with contributions from Doug Binks, Pip Land and Malcolm Hewitson.
Next year's date is Saturday 14th April, so we hope to see you again!