Oxted Carnival
Don't miss Titsey Rotary at the Oxted Carnival!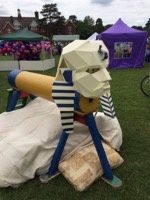 In June or July each year Oxted holds its Carnival on Master Park and Titsey Rotary Club is there sharing the fun.
In 2017 and 2018 we ran our Fruit Tombola alongside the ever-popular "Unrideable Horse" (only as the Carnival theme in 2017 was 'Orrible Histories we presented an "Unrideable Pharoah" on that occasion).