Prints of the new Queensferry Crossing
.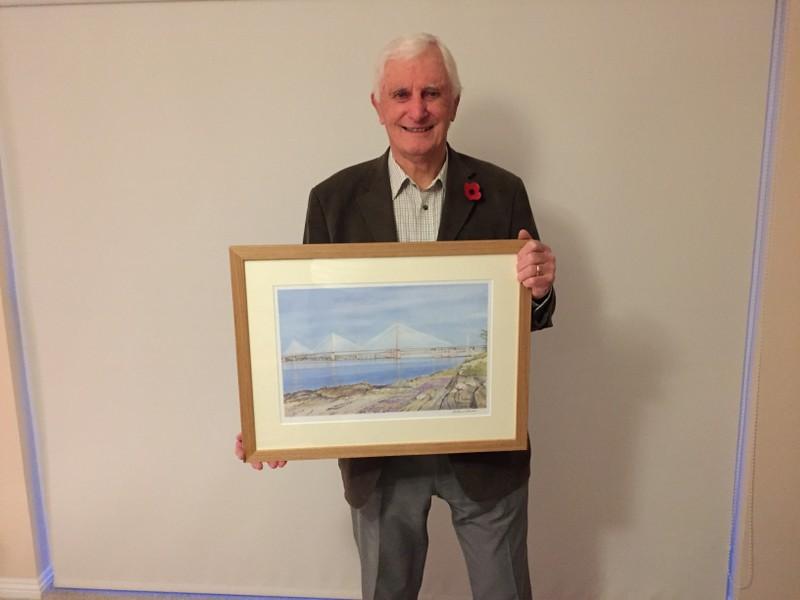 Rotarian Richard Basker, has painted a delightful picture of the new Queensferry Crossing opened by Her Majesty the Queen on September 4.
You are invited to purchase prints of this picture sold in aid of the Rotary End Polio Now Campaign. Polio is a crippling and potentially fatal infectious disease, which Rotary has been working hard to eradicate globally since 1985.

What is Rotary doing?
When Rotary began its pledge, there were 125 polio endemic countries. In 2017, there are now just three, Pakistan, Afghanistan and Nigeria. Polio cases across the world have reduced by 99.9% from 350,000 cases in 1988 to just 37 in 2016. Every £1 raised is matched by an additional £2 from The Bill & Melinda Gates Foundation. It costs just 20p to protect a child with a life changing oral polio vaccine.
The Future
We are closer than we have ever been to eradicating polio, but the job must be finished. That's why Rotarians, governments, non governmental organisations and the public are working together to raise the additional $1.5 billion needed to eradicate polio for good. Together we can beat polio.

RAISE AWARENESS AND HELP US FINISH THE JOB
The purple crocuses, planted by Rotary across Britain and Ireland, and shown in the painting, are symbolic of the colour used to mark the "pinkie" of each child's hand to show that they have received the vaccine. The purple crocus is a part of the Purple4Polio campaign to raise awareness of the fight against Polio.

2 sizes of these prints are available: 420 X 270 or 330 X 210 Both £30

For more information or to place an order please contact
Helen Towers, Dunbyus Picture Framers, 150 Main Street, East Calder West Lothian EH53 0HD
Telephone 01506 880487 or email

dunbyusframing@gmail.com