Coffee and Crafts - Saturday 29th April 2017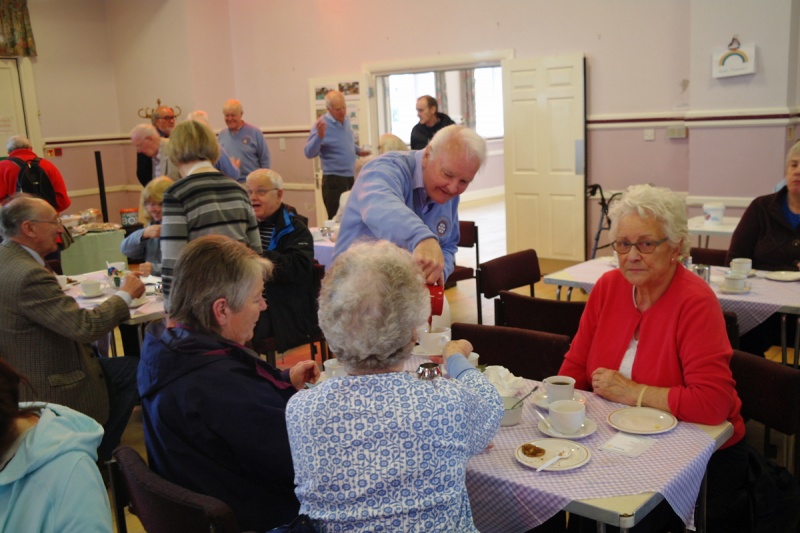 Every year for decades, we have run a Coffee Morning in the Kirk Hall, South Church Street. Last year for the first time, we added a Craft Fair and Lunch to the proceedings and so popular was it, we did it again. A regular flow of visitors throughout the morning and afternoon, meant that we raised well over £600 for charitable and local causes. We;d like to thank everyone who came along and special thanks to the craft stallholders who helped make it a special day. Click here for more photos.
Easter Bottle Stall - Sunday 16th April 2017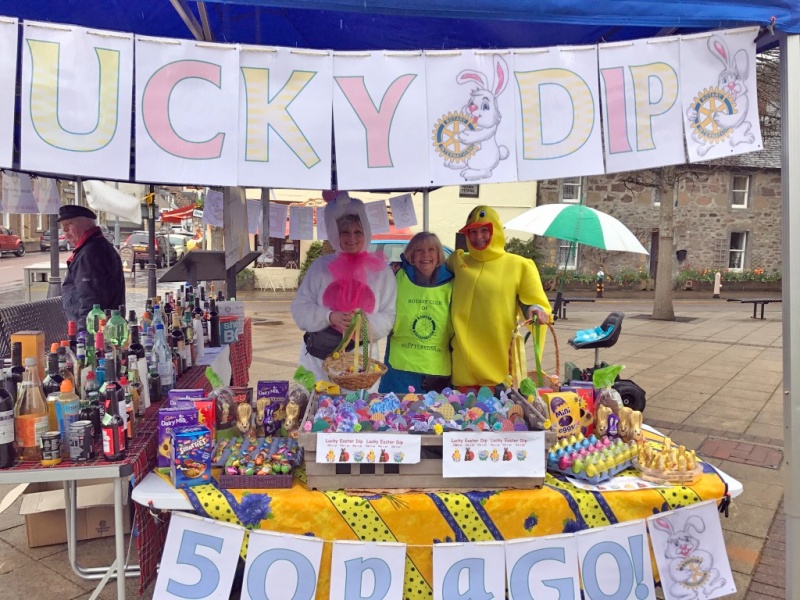 Despite the lousy weather, this year's Easter Bottle Stall was a great success, raising just short of £600. The Easter Bunny and, er, Duck(?) were in attendance all day, dishing out (small) Easter Eggs to all and sundry and visitors and locals alike, tried their luck at winning a bottle or a (large) Easter Egg from the stall. Despite the weather, everyone was in high spirits (no, I don't mean bottles of spirits, although there were plenty there to be won). Thanks go, especially to Rotarian Jan Clark who organised the day and to her husband, Jim, for providing the gazebo - much needed in view of the weather.
For more pictures, click here.
Primary School Quiz - 9th March 2017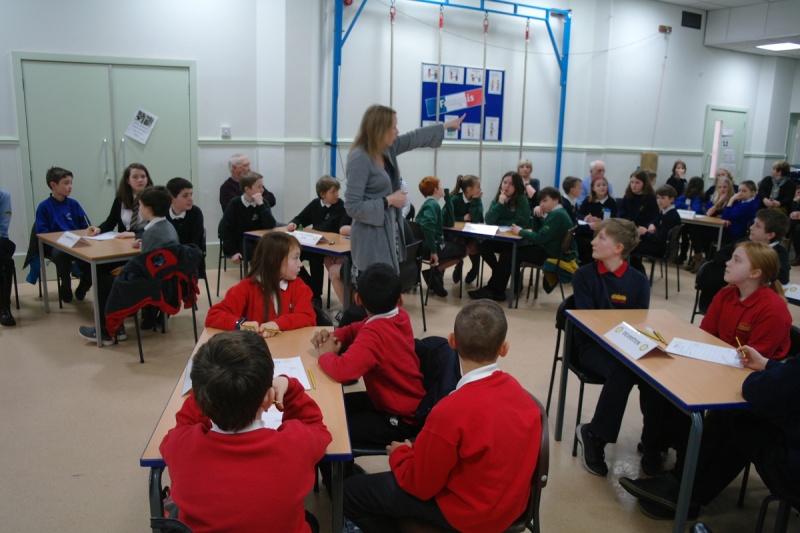 10 local primary schools took part in our 4th annual Primary School Quiz and what a close encounter it was. Each school had a team of four and they had to answer 10 rounds of questions, with 6 questions in each round. Topics covered included - Geography, Spelling, Natural World, Pot Luck etc. There were two points available for each correct answer and one point if, in the opinion of the judges, the answer given was close enough. So, with a total of 120 points available the top three teams got 115, 114 and 113 points respectively. The top three were:
1st Place - Doune
2nd Place - Aberfoyle
3rd Place - Callander
The winning team (pictured right) received the trophy, an illustrated dictionary and certificates. The standard this year was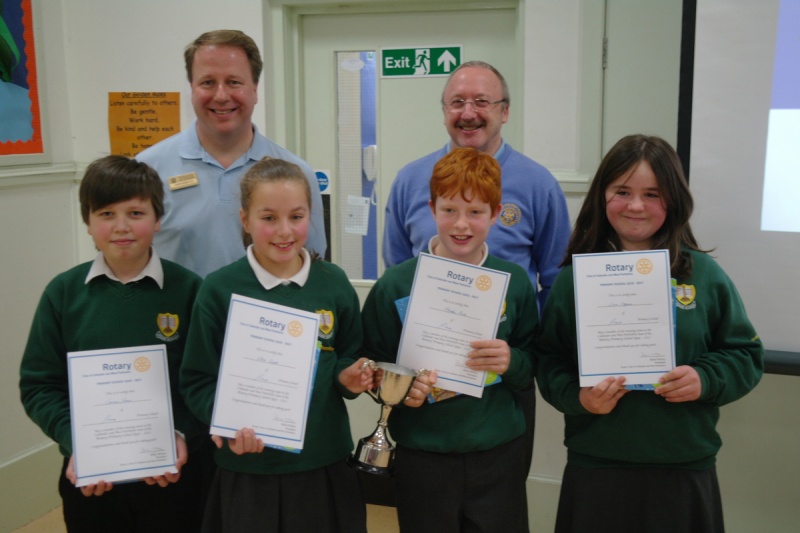 exceptionally high, with all schools scoring impressive results and all participants received certificates. Doune Primary School will now go on to represent our Club in the Area Final in Stirling on 8th April.
For more photos, click here


Bag Packing at the Co-op
30th and 31st December 2016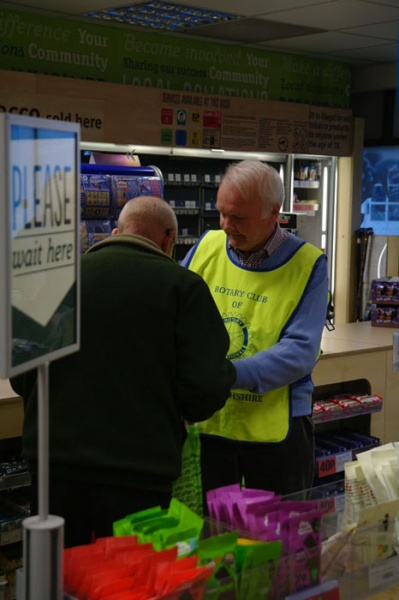 Members and Friends of Callander Rotary spent the 30th and 31st December packing bags at the Co-op and what a great time was had by all. Most of the Co-op's customers were glad to have our help and gave generously to our charity fund. Even those who preferred to do their own packing popped some money into our collecting buckets. We'd like to thank everyone, Callander residents and vistors, who contributed to the nearly £800 we raised over the two days. The money raised will go into our Charity Fund which we use to help good causes locally, nationally and internationally. Our thanks also to the management and staff of the Co-op whose help and good humour helped make the two days not only successful, but also enjoyable.
Purple for Polio Day - 21st October 2016
One of the best kept secrets in the world of Rotary is that Rotary International, through its programme - End Polio Now, has been, almost single-handedly, responsible for the near eradicatio of Polio from the world. In 1988 Polio was present in 122 countries. At this point of time there are only a handful of cases in a couple of countries - a reduction of 99.9% of cases. This has been the mission of Rotary International for the past thirty years. Hundres of million of pounds have been spent in that time, almost all of it raised by Rotarians around the world. In recent years the Bill Gates Foundation has matched pound for pound (or more correctly, dollar for dollar) the money raised by Rotarians.
On 21st October 2016, our Rotary Club held an event, in conjunction with a number of local Primary schools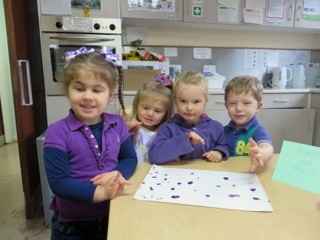 and Callander Nursery (pictured right) to raise funds for the End Polio Now. (McLaren High School also participated, at a later date.) The event was entitled Purple for Polio and children were encouraged to wear something purple to school and to pay £1 for doing so. The children also had a spot of purple ink dabbed onto one of their fingers.
So why purple and why being dabbed in ink? Well, whenever a child (and there have been 10s of millions of them, is innoculated, their finger is dabbed with purple ink. This is to show which children have or have not been innoculated. So, our children were re-living the experience of children from third world countries.
We would like to thank all the schools and children (and their parents) who took part and helped to raise nearly £600.
If you want to find out more about Rotary International's Polio project, click here.
Bottle Stall - Saturday, 1st October 2016
A very successful day thanks to local people and all the vistors in Callander for the annual Jazz Festival. We raised over £500 for our Charity Account.
Community Group Fun Quiz - 10th September 2016

Our first (of many, we hope) Community Group Fun Quiz was held at CYP Bridgened with the purpose of bringing together many of the groups who work tirelessly in our community, to bring enjoyment and support for the many people who live, work or visit Callander and surrounding areas. Whilst all these groups generally work separately, it is good to know that

we can all support each other if the need arises. The event was a great success and the winners were Callander Ramblers. More details and photos can be found by clicking here.


What a Week! - Monday 25th to Saturday 30th July 2106
Dancing in the Square - AmAm Charity Golf Day - Junior Highland Games - Charity Football Match
Phew! It's over now, but what a major effort by everyone in our Rotary Club. This was possibly the busiest week we've ever had as a Club. It was Summerfest in Callander and the town was extremely busy and so too was Rotary.
First up was Dancing in the Square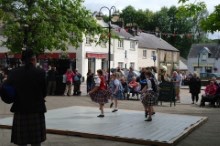 This has been an annual event for more years than we care to remember, but is no less enjoyable for all that. Liz Campbell's young dancers put on a great show of Highland Dancing every day from Monday to Friday. Visitors and locals alike, thrilled to the skirl of the pipes and enthusiasm of the dancers and they put their hands in their pockets and their loose change in our collecting buckets, helping us to raise over £500 for our Charity Fund.
Grateful thanks go to Liz and her dancers for once again putting on the show and to Ken and Ian Milligan for comparing the event and describing the dances so all could understand what was going on. We'd like to thank, also, Ross Walker for providing the piping. For more images, click here.
Next up was the Charity Golf Day
Once again we had perfect weather for this annual event - I don't think there has been a year when we have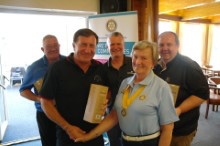 suffered from poor weather (touch wood). Although, thanks to a variety of unfortunate circumstances, we had fewer teams taking part this year, it was nevertheless an enjoyable and successful event, raising over £2,000 for our Charity Fund. Our nominated charity this year was 'Action in Mind' and they will receive a substantial donation from the Club.
As ever, the competition was fierce with the winners being the team put in by 'The Steamship Sir Walter Scott'. Close Runners Up were Billy McNab's 'Teddy Bears'. In addition, there were a number of other prizes .......
Longest drive on the 17th - Celia Kenny
Nearest the Pin on the 11th - (Murray (sorry, we didn't catch his surname)
Nearest the Pin on the 15th - our own Richard Cooper
Nearest the Pin on the 18th - Harry Milligan
We like to express our thanks to Callander Golf Club for giving us the use of the course and Lorna Hutton for providing the excellent catering. We would also like to thank the teams who took part and the many businesses who sponsored the competition ........
Andrew Baird Optemetrists, Bracklinn Practice, Brig Environmental, Campbell's Shortbread, The Crown Hotel, Dalgleish Associates, Deli Ecosse, The Dreadnought Garage, The Dreadnought Service Station, Feeds and Stoves, The Lade Inn, Leny Practice, Poppies, The Riverside Inn, The Waverley Hotel and Wheels.
For more images, click here.
On to Summerfest and the Junior Highland Games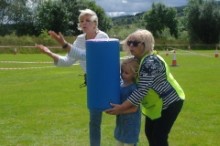 The last day of the Summerfest and there was a feast of stuff for the kids to do at McLaren Leisure Centre. Callander Rotary put on a 'Junior Highland Games' for children of primary school age. This involved the kids taking part in an Obstacle Course, the Egg and Spoon Race, Tossing the Caber, Quoits and Dribbling a Football. The 'Games' were busy all afternoon and the kids (and us) had a ball!
For more images, click here.
Lastly ....... the Charity Football Match
Thanks to a great idea from Immediate Past President Mark Wallace's son, also Mark, this was our second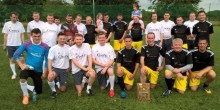 annual charity football match. Last year, Mark and his friends, who all regularly play five-a-side football, decided that they would like to do their bit for charity by organising an eleven-a-side football match, for which each player would pay £20 to take part in. So two teams - a Rotary XI and a President's XI took to the field at McLaren Lesiure Centre. Refereed by Rotarian Bill Sutherland, ably assisted by his Linesmen Ken Stewart and Brian McKay, the match was a close run affair for the first forty minutes, at which point the score was 2-2. Then the President's XI scored two quick goals before half-time and added a further four in the second half, for an 8-2 victory. Masny of the oals were of a really high quality.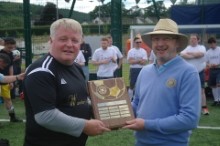 Highlight of the second half was when the Rotary XI were awarded a penalty. Up stepped young Mark Wallace to take it, with the older Mark Wallace in goals. We'd love to spare young Mark's blushes, but we have to report that his Dad saved the penalty.
A big thank you to Mark and his friends for a great event and the addition of £440 to our Charity Fund. A big thank you also to The Waverley Hotel Callander and Cisco's Cafe and Bar in Stirling for sponsoring the two teams' football strips.
For more images, click here.