Rotarians & Guest's sample the delights of Curry
Dr Aruna Patel tending just one of the three cookers needed to prepare her extensive and complex menu for a charity curry evening held for the Rotary Club of King's Lynn and other guests.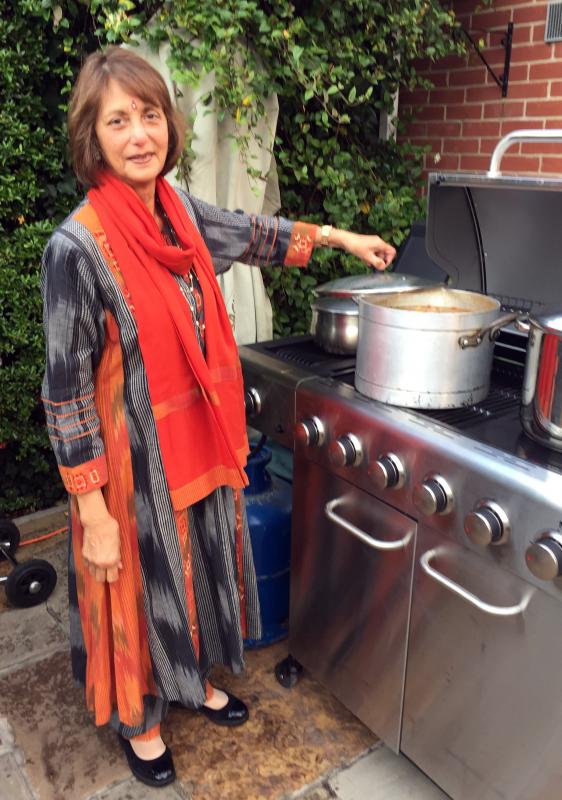 If you happen to have a penchant for curry at its best and you are fortunate enough to get an invitation to a Curry evening with Dr Aruna Patel as Chef de cuisine DO NOT turn it down - you would miss a rare and unique event.

Wishing to raise money to support two particular charities, The Rotary Club of King's Lynn was delighted when Dr Patel, and her Rotarian husband, Bill Irwin offered to organise a Charity Curry Evening in the garden of their home in Nursery Lane, South Wootton on Sunday 19th August.

Some forty Rotarians, partners and friends enjoyed a curry menu to die for, as a result of which £570 was raised to swell the fund needed to carry out improvements at Trues Yard Museum, and from the raffle, £190 was donated to Rotary's principal international charity, Rotary Foundation, which is probably the World's largest charity; currently reaching a point where, as a result of a programme started nearly 25 years ago by Rotary International, the dreaded disease Polio is in the final stages of being eliminated. The cost has run into billions of dollars, all of which has been raised as a result of Rotary's inititiative.

The following is the Menu Dr Patel created with her magic touch:
Starters.
Lamb and chicken kebabs. Samosas, chicken, beef and vegetable.


Mains.
	Chicken curry ( her own recipe!)
	Beef curry with potatoes and banana, Malaysian style.
	Roast lamb cooked Moghlai style, carved off the bone.
	Mushroom with fennel and ginger.
	Peas and carrot saag (shak).
	Lentil sambar (lentils with spices and vegetables).
	Swahili vegetable curry with freshly ground spices and coconut.
	Chole (chicken and peas) - her own recipe.

This was followed by fresh fruit salad, cheese & biscuits and cheesecake.