Half a Lifetime in Rotary
President Mark Walker and Rotarian Ron Jackson cutting his cake.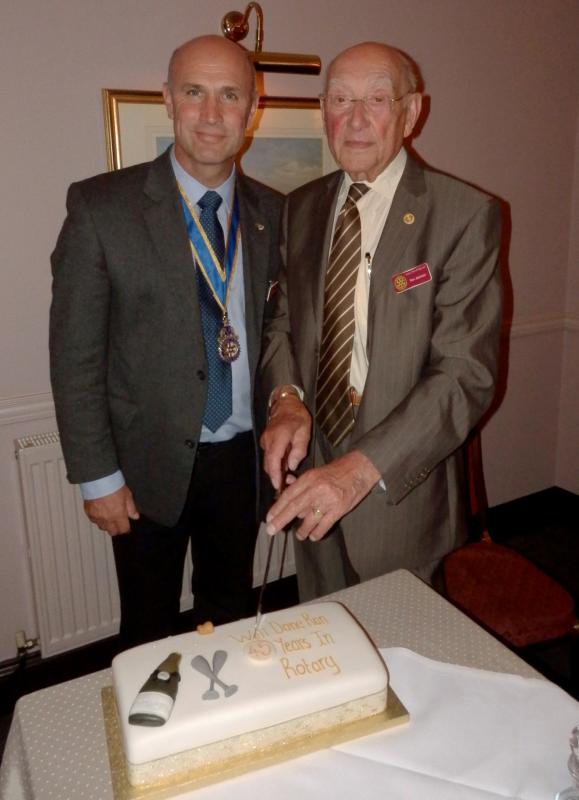 On 11th September 1972 Ron Jackson was inducted into the Rotary Club of King's Lynn at their lunchtime meeting held at the Cozens Hotel, later known as the Hotel Mildenhall (now flats) in Blackfriars Road, King's Lynn.

His proposer was the then Chief Reporter for the Eastern Daily Press, Frank Keeler and he was inducted by President Phillipe Speed (of Speed's Jewellery shop in High Street), present were the majority of the 74 Rotary members.

Prior to joining Rotary, Ron joined Round Table in North Walsham in 1954, later due to work commitments, becoming a member in Rhyll, Wrexham and Cromer & Sheringham Round Tables, then King's Lynn in 1963.

Together with two fellow Round Tablers, (Jim Weight, and Peter Borland) being "chucked out" in 1970, the trio became the founders of the Lions Club in King's Lynn. Ron becoming founder secretary and President in 1972, the same year that Frank Keeler proposed him into Rotary.

It was about this time that the Rotary Club of King's Lynn Priory was formed.

Ron became President of The Rotary Club of KIng's Lynn in 1978, during which he invited his Royal Highness, Prince Philip to attend the President's Night in November. This turned out to be the first of five attendances His Royal Highness has made to the Club and on whom was conferred a Paul Harris Fellowship in 1981, in the ballroom of Sandringham House.

The Rotary Club of King's Lynn formally twinned with the Rotary Club of Emmerich Reiss during Ron's Presidential year, with reciprocal visits betweeen the two Clubs.

In 1978 Rotary was instumental in forming the first Probus Club in King's Lynn, with Rotary Past President Horace Ives becoming its Presedent.

Over the intervening years Ron chaired each of the Club's management committees, most latterly becoming the Club's Press Officer, and winning the District Cup in 2016.

Past President Richard Waite paid tribute to Ron's contribution to Rotary, and Honorary member Howard Moore (Committee Chairman for Macmillan) spoke of Ron's 51 year commitment to supporting the King's Lynn Macmillan Fund Raising Committee.

Ron was taken by surprise, as he had no idea that the 11th September held any significance for him.
In his response, he stressed that it had been a great priviledge to have been a member of Rotary, and over the years he had valued the membership he shared with a wide range of men and women who had unstintingly offered their friendship and support. Now, being the oldest and longest serving member of his Club, he hoped that aged 87, he would continue to be of service, not only to his Club, but to Rotary in the widest sense. It was significant that last year the Club celebrated its 90th Anniversary and that he had been a member for virtually half the time the Club had been in existence.