Out and About
Find out what Titsey Rotarians have been doing (includes Titsey Topics)
Titsey Rotarians go back to school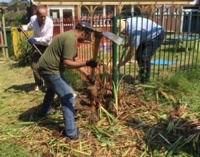 Following an appeal from Sarah George, the Headteacher of Hurst Green Infants School, to clear away overgrown brambles and nettles from the school's playing field area, six members of Titsey Rotary Club rode to the rescue in May and June 2018. Armed with tools and safety gear, and with more enthusiasm than skill, the volunteers got to grips with the weeds, helped along by coffee and biscuits povided by school bursar Sophie Elliott.
Easter Fancy Dress Collection
On Easter Saturday 31 March 2018 several members of Titsey Rotary walked in fancy dress from Oxted to Hurst Green, calling at all the public houses along the way and raising money for local mental health charities and Clockwork. They gave out Easter eggs to children along their route and distributed lots of cheer and fun to passers-by. At the end of the day they had raised over £1100 through sponsorship and bucket collections on the streets and in the pubs for their efforts.
Windmill Manor - Valentine's Day Afternoon Tea
On 14 February, eight Rotarians and nine Titsey "Ladies" laid on a Valentine's Day afternoon tea for residents of Windmill Manor care home.
The residents were divided into three groups, based on their ability to engage and the Titsey team provided a slide show (prepared and presented by President Roger), a sing-along (led, I am told, by Melodius Malcolm), while a few of us focussed on holding simple conversations with the residents with more challenging communication skills.
After these activities, tea was served, including some most excellent cakes and scones (which were sampled, Mary Berry-like, by the undersigned - purely in the interest of science, of course).
Finally, Rotarians presented the residents, - and some of the care staff - with red roses, in celebration of Valentine's Day.
Our visit was greatly appreciated by many of the residents and we were warmly thanked by staff members, who said that the residents and staff alike really enjoyed the variety in routine that our visit afforded.
Sam