Oxted Boot Fair
(August 2021)
Our Boot Fair returned on Sunday 15 August 2021 after an enforced absence of two years due to Covid. The charities and organisations supported by Titsey Rotary will benefit from the profit of just over £4,000.
"Eye of the Turtle"
(July 2021)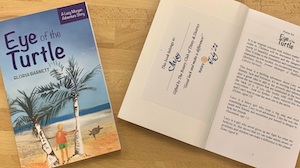 At the end of the school year and at the final assembly of term, each year 6 pupil at Holland Junior School was presented with a copy of "Eye of the Turtle" by Gloria Barnett. "Eye of the Turtle" is a beautiful children's book containing wonderful marine photographs and giving young readers an insight into the fascinating underwater world of our planet's oceans through an adventure story (read more about the Lucy Morgan Adventure Stories here).
The books were provided by Titsey Rotary Club and each one was carefully inscribed with the student's name by Rotary member Malcolm Lowe.
"Lend a Hand" - we "lent a tent"!
(June 2021)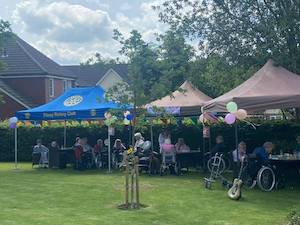 ....to Tandridge Heights care home for their beer festival for residents, one of their actiities, this time to celebrate National Beer Day.






More items for Caterham Foodbank
(April 2021)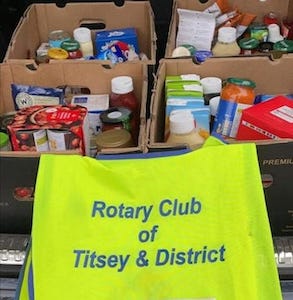 Titsey Rotary Club members have donated a further four boxes of assorted food items to Caterham Foodbank
Euan Lee, the Foodbank warehouse coordinator said: "Thank you so much for the generous donation, which will be urgently used to support local people, who have been pulled into food poverty."
The collection, organised by Titsey member Helen Attreed, was delivered by Ian Conway who said: "The Foodbank has become vital to so many families in the Tandridge area – many have jobs but are struggling to make ends meet during the pandemic."
Easter Eggs for Caterham Foodbank
(March 2021)
Titsey Rotary members have delivered 50 Easter eggs to Caterham Foodbank, for distribution to needy families at Easter. Gill Bailey, Project Manager for Caterham Foodbank said: "Thank you for your generous donation – these Easter eggs will bring a bit of joy to local children next week."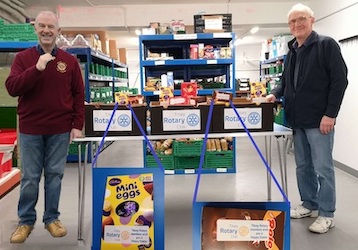 Picture: Titsey Rotary President Roy Pope hands over the Easter Eggs to foodbank volunteer Paul Milsom.
Holland Sports Trim Trail
(March 2021)
The Holland Trim Trail has been a fantastic community asset ever since it was built in 2018, but it really came into its own since the start of the pandemic. Hundreds of local people, young and old, have been exercising there every day - walking, jogging and running, in all weathers. But all that activity has taken its toll and the trim trail is in desperate need of repairs, estimated to cost £6000.
Now Titsey Rotary members have voted a donation of £600 - ten percent of the total. Holland Sports Chairman Bob Matthews said: "Once again Titsey Rotary Club has stepped up and supported Holland Sports with a fantastic donation. Thank you so much!" Titsey Rotary President Roy Pope said: "We are delighted to contribute to the repair of the trim trail and support our community."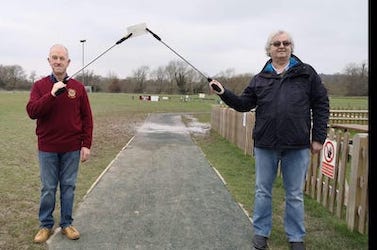 Photo: Titsey Rotary President Roy Pope (left) hands over a socially-distanced £600 cheque to Holland Sports Chairman Bob Matthews.
Covid Vaccination Marshalling in Oxted
(January 2021)
Along with many other Rotarians around the country Titsey Rotary members have started helping the local Covid vaccination effort by marshalling at the TDC office car park in Oxted.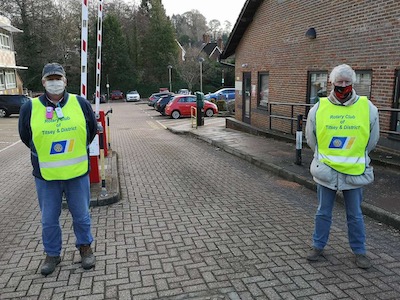 Well done Patrick Devlin (left) and Steve Marsden!