Out and About
Find out what Titsey Rotarians have been doing (includes Titsey Topics)

Windmill Manor - Valentine's Day Afternoon Tea
On 14 February, eight Rotarians and nine Titsey "Ladies" laid on a Valentine's Day afternoon tea for residents of Windmill Manor care home.
The residents were divided into three groups, based on their ability to engage and the Titsey team provided a slide show (prepared and presented by President Roger), a sing-along (led, I am told, by Melodius Malcolm), while a few of us focussed on holding simple conversations with the residents with more challenging communication skills.
After these activities, tea was served, including some most excellent cakes and scones (which were sampled, Mary Berry-like, by the undersigned - purely in the interest of science, of course).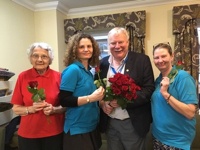 Finally, Rotarians presented the residents, - and some of the care staff - with red roses, in celebration of Valentine's Day.
Our visit was greatly appreciated by many of the residents and we were warmly thanked by staff members, who said that the residents and staff alike really enjoyed the variety in routine that our visit afforded.
Sam
Roses all round: President Roger with Windmill Manor Activities Organiser Emese (left), Activities Manager Sherry (right) and Brenda (far left), who received a rose while visiting her husband, a resident.