Rotary Youth Leadership Awards
Rotary Youth Leadership Awards (RYLA) is a leadership program coordinated by Rotary Clubs around the globe. Each year, thousands of young people participate in this program. Young people ages 13–30 are sponsored by Rotary Clubs to attend the event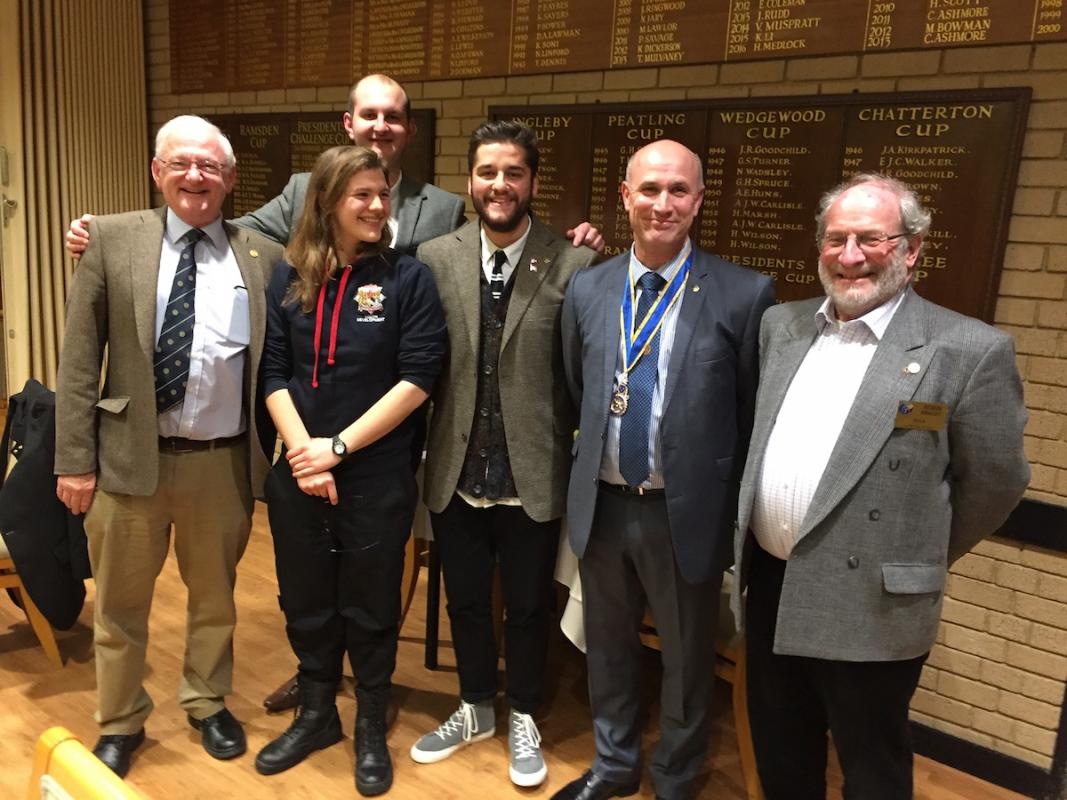 e attached photograph was taken at the King's Lynn Golf Club on 4th December 2017 - from the left: Richard Waite, RYLA co-ordinator for the Rotary Club of King's Lynn; (back) RYLA candidate Nathan Leveille - (front); RYLA candidate Phoebe Laneuville (Swaffam Rotary); Adam Morter - RYLA candidate (Mildenhall Blackfriars Rotary); Mark Walker, President the Rotary Club of King's Lynn; Robin Wraight (Mr RYLA) - RYLA co-ordinator for Rotary District 1080.
http://ryla.co.uk
=================================================================================

The Rotary Club of King's Lynn has for many years sponsored young people to attend a week long RYLA course held at the Graffham Water Centre and this year, Golf Club bar manager, Natham Leville acceped the challenge, and together with two visiting RYLA candidates came to a Partner's Supper, held at King's Lynn Golf Club on Monday 4th December to speak of their experience and the benefits they had derived from attending the course.

Rotarians, their partners and guests were delghted to hear that each candidate said they had acquired, knowledge, help and advice whilst at the course which would be invaluable to them in thir business and social lives and that they had made friendships with people they would otherwise never have met, with whom they would continue to keep in touch.

For the event, Robin Wraight, RYLA Co-ordinator for Rotary District 1080 (Mr RYLA to all who know him) came from his own Ipswich Club to meet up again with the three candidates and to thank the Club for the support it had given over the years, he addressed the gathering, expressing his long term enthusiasm for RYLA and what a huge compliment and pleasure it was to be able to enhance the lives of so many up-and-coming young managerial potential young people.

================================================================================

What RYLA is all about:

Rotary Youth Leadership Awards (RYLA) is a leadership program coordinated by Rotary Clubs around the globe. Each year, thousands of young people participate in this program. Young people ages 13–30 are sponsored by Rotary Clubs to attend the event run by the club's district committee. Participants are chosen for their leadership potential. Rotary Clubs and the Rotary District cover all expenses for the participants. The format of the event vary from district to district, but commonly take the form of a seminar, camp, or workshop to discuss leadership skills and to learn those skills through practice. Rotary clubs and districts select participants and facilitate the event's curriculum.
RYLA aims to:
Demonstrate Rotary's respect and concern for youth;
Provide an effective training experience for selected youth and potential leaders;
Encourage leadership of youth by youth;
Recognise publicly young people who are rendering service to their communities.
Every RYLA program covers the following core topics:[1]
Fundamentals of leadership
Ethics of positive leadership
Importance of communication skills in effective leadership
Problem-solving and conflict management
Rotary's purpose and service to the community
Building self-confidence and self-esteem
Elements of community and global citizenship