No fees until 1/7/2021 for new Rotarians joining between now (26/10/2020) and 30th June 2021
New to Rotary ?
Some ROTARY FAQ's to give you a quick start:-
'What is Rotary?'
Rotary is a truly international organisation, with around 34,000 clubs and over a million members represented in more than 200 countries worldwide. Its aim is simple - to provide humanitarian assistance, to champion high ethical standards in our business and personal lives, and to promote peace both at home and abroad.
'What is a Rotarian?'
A Rotarian is a member of a Rotary Club.
Rotarians, of all creeds, genders, abilities and diversity, represent a complete cross-section of society whose motivation is a desire to serve that society. They recognise that, individually their efforts may be limited but as a member of similarly minded groups, with combined experience, expertise and enthusiasm, the sky is the limit!
'So what do you do?'
Internationally, our club, along with all other clubs, will support major Rotary projects aimed at relieving disease, hunger, unclean water and poor education. It will respond urgently to natural disasters such as floods and earthquakes, often using Rotary manpower, equipment and distribution facilities.
We are also mindful of our own local Community's needs, supporting schools and youth projects, as well as the elderly, disabled or disadvantaged.
'Is it all about raising money then?'
Far from it. Of course we have to raise some money, and we try not to do it just by asking fellow Rotarians to cough up! We try to arrange our projects in such a way that involves the whole local community, is value for money and above all is fun. Much of our other community involvement is hands-on, using our combined experience to stage events from tin rattling to concerts, carol singing and competitions.
'What about the social side?'
We see that as being fundamental to being a Rotarian. We meet online through our Zoom Video Conferencing Platform. We meet for a purpose but like to enjoy ourselves - 'It's certainly not all work!'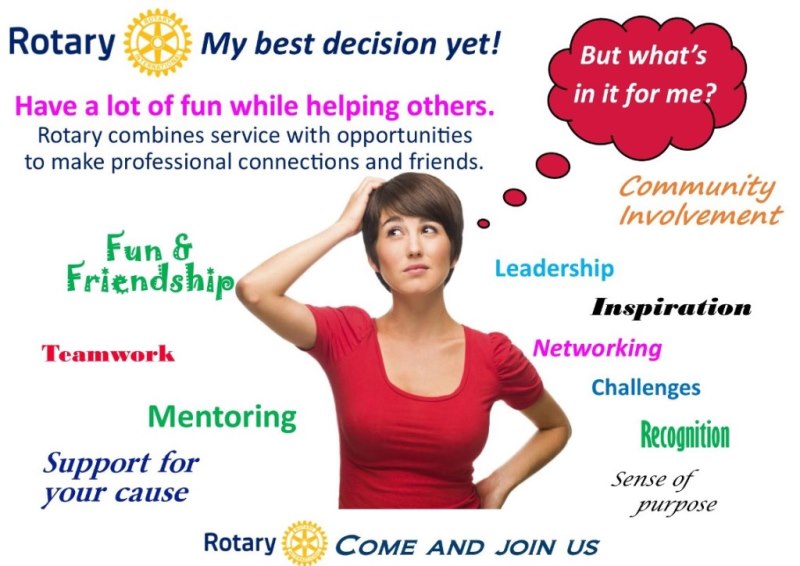 'O.K. I'm interested what next?'
. (please note, in the interests of personal privacy, information provided on this FORM is not stored on the database, but may be retained by the recipient)
or,
if you would like to find out more, your next step is to contact Iain Shaw using the link below.
If you decide Rotary is not for you, we won't be offended, promise.
Existing and recently resigned Rotarians -
Over time circumstances change for all of us and it is important to belong to a club that we can attend and which continues to meet our needs. When it no longer does, members, in the past, may have had to resign but by meeting online, the location, time, access, cost etc., are no longer an issue.
Our Club provides an alternative for Rotarians who, for whatever reason, are unable to attend their own club's activities - join us. Complete the application using this link. (as above please note, in the interests of personal privacy, information provided on this FORM is not stored on the database, but may be retained by the recipient)