Well, sometimes life can become hectic when you're a Rotarian. For example one 14 day period in April proved to be anything but uneventful for Chard Rotary Club so let's share some of what happened with you.
Friday 13th April - A good day for an event so we joined CineChard for a showing of 'Breathe' the film about one man's struggle against polio, in Chard Guildhall. Because they knew of Rotary's involvement in the Polio Eradication Campaign, we had been invited to make a small presentation and take a collection at the end of the evening. This was a great success with just ove £200 being raised, which will be matched from Club funds, and one potential new member making contact.
Sunday 15th April - This time it was the President's, or rather his wife Chris's, turn to step up to the plate as they entertained 6 lucky people to Sunday Lunch. The group had successfully bid for the lunch at the Club's Burns' Night Supper in January. They enjoyed a 4 course lunch, with drinks, with plenty of good fellowship.
Monday 16th April - We joined Chard Inner Wheel Club for an evening skittling at the Windwhistle Hotel, Cricket St. Thomas. Following a friendly game of 'killer' everyone enjoyed a pleasant supper.
Tuesday 17th April - 24 of us decamped to Mei's Chinese Buffet, in Taunton for a wonderful evening of fellowship and good food. With a magnificent selection of dishes to choose from no one could have gone home hungry. The chocolate fountain on the buffet table was particularly enjoyed.
Wednesday 18th April - Planning time and a group from the Youth committee met with staff from Holyrood Academy to start the planning for our annual QuadKids Athletics Event. This involves up to 11 local primary schools and 150 children in an afternoon involving 4 athletics events and planning the day properly is very important.
Thursday 19th April - Something of a coup for Chard as we welcomed Major Natalie Taylor to St. Mary's Church in Chard. Major Natalie is one of the leaders of the intrepid 'Ice Maidens' team which became the world's first all-woman team to walk across the Antarctic. Major Natalie told an enthralled audience how the final team of six were selected, the highs and lows of the expedition and the exhileration of the team on reaching firstly the South Pole and then their final destination. A well attended evening saw just under £400 being raised of which £200 will go to Major Natalie's chosen charity of the British Army Paralympic Team.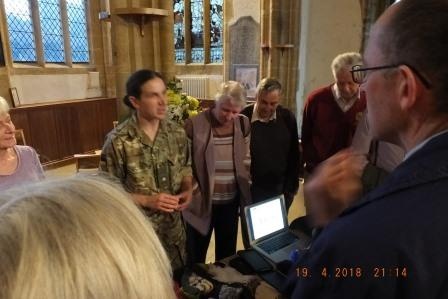 Friday 20th April - We had a day off !!!!
Saturday 21st April - This evening we welcomed the musicians of Crewkerne's Phoenix Brass to St. Mary's for a St. George's Concert.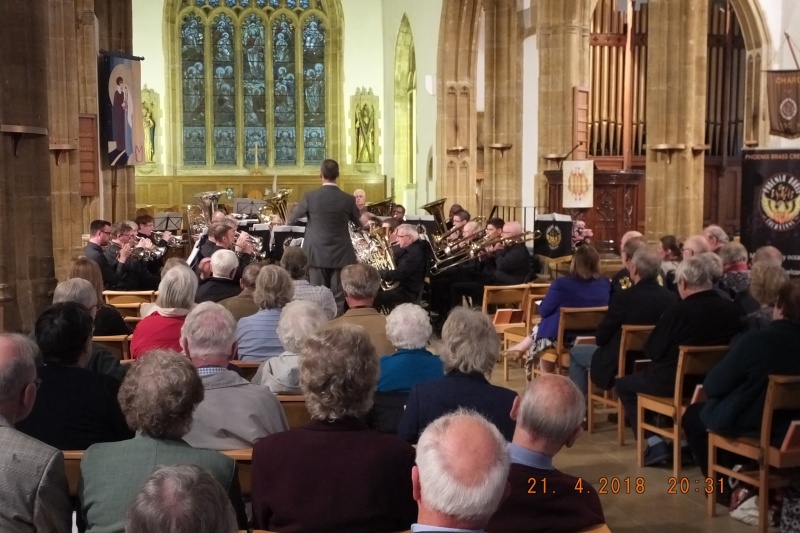 Led by their musical director, Tom Griffin, the band treated us to a wonderful selection of music ranging from Disney to the stiring strains of Elgar's Nimrod and the fun of Wood's Fantafia on British Sea Songs.
A very successful evening was topped of by the fact that just over £500 was raised for the Clubs charities.
Tuesday 24th April - Our regular Club meeting at the Phoenix Hotel which we started by presenting a cheque for £150 to 3 local scouts who are off to Kenya in 2019. The group will be volunteering in local schools whilst they are there.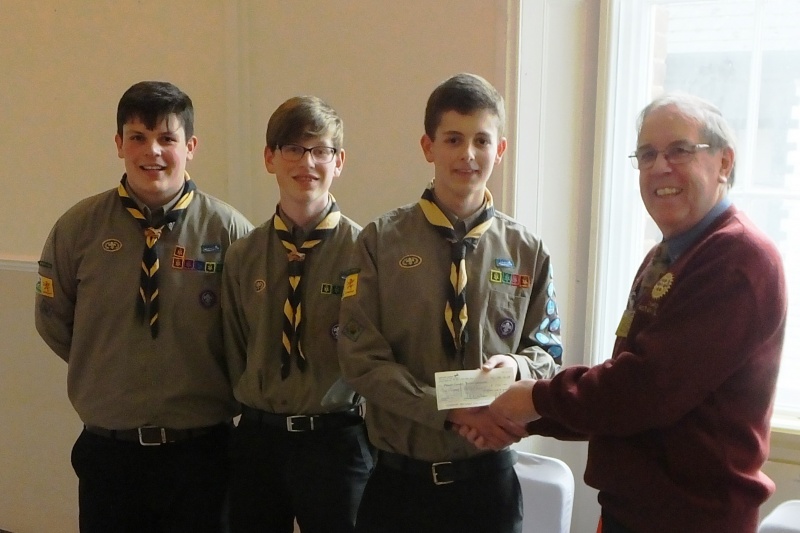 Tonight we were also treated to a very interesting talk from funeral celebrant Helen Salway-Roberts. Helen explained why she decided to become a celebrant and how she ensures that the funeral service fulfils the wishes of the deceased and the family.
Wednesday 25th April - A chance to relax as a small group of us went to the evening race meeting at Taunton Racecourse. A great evening of fun and friendship and not too much money lost.
So all in all a busy, but enjoyable 14 days and if this sounds like something you would like to be involved in why not contact us ay chardrotaryclub@talktalk.net