Weekly Meeting at SCCC
Mon 23rd July 2018 at 19.00 - 22.00
Two new Rotary Youth Competition Ideas, The Big Pitch and After Dinner Speaker - Rotarian Patrick Simpson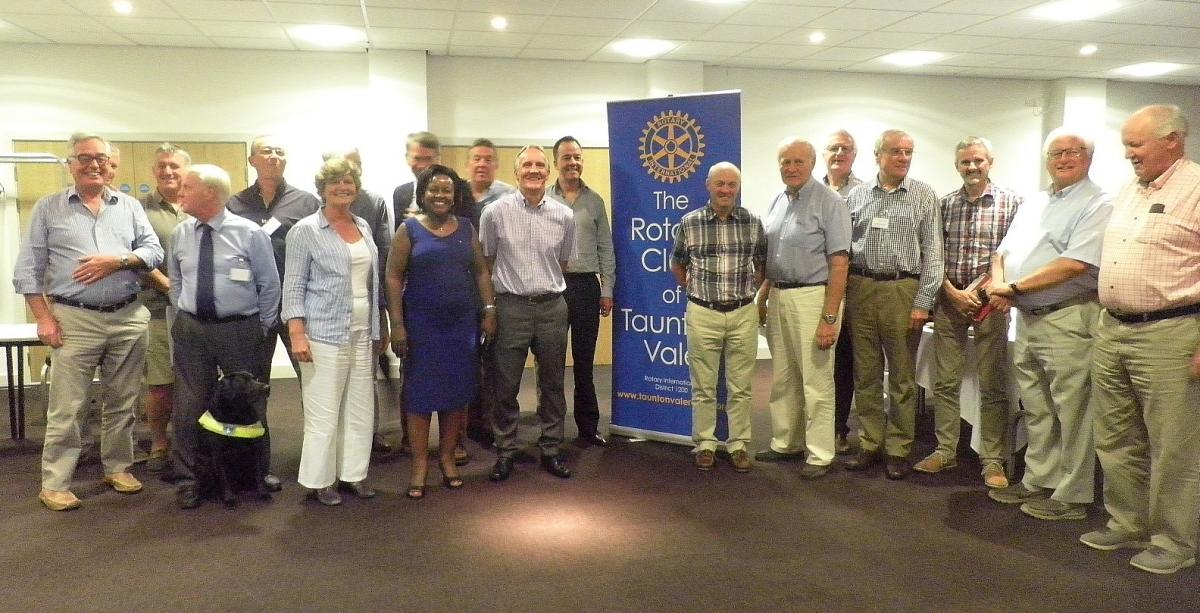 26 Members and 6 visitors met at SCCC to hear the speaker IPP Patrick Simpson from RC Mendip talk about "The Big Pitch" – not a football ground, but a project his Club and many others had been involved in for several years.
When the Government-led Young Enterprise scheme was withdrawn, there was a gap in schools Business Studies programmes. Similar to the TV Dragons Den programme, Middle School pupils who volunteered to set up mini-businesses with a Rotarian mentor, were guided to form a company, plan a product, cost it and market it. This was in their own time, but then they presented their results to their own school, where they were evaluated by a panel of judges who awarded Certificates. The best 4 teams then were invited to attend a Rotary Meeting, and make their "Big Pitch", with the Winners given a small prize.
It was welcomed by teachers, as it had developed self-esteem, involvement in learning, and several had gone on to set up their own businesses for real – A cat-play toy, waistcoats for dogs, for instance.
Roderick as d/r proposed a vote of thanks and was rewarded with hearty applause.
President Keith then introduced Margaret Mwangi, IPP RC Ruiru, Kenya, who was visiting her eldest daughter and new baby in Redhill, and was accompanied by her other daughter Hannah from Dubai. The Ruiru Club are our partners in the International Committee's project for Latrines and washing facilities at the God's Favour School for orphans. The Ruiru Club had only 8 members when Roderick originally contacted them, but such was the interest shown by local people, that they had enrolled 7 new members, and they made many visits to the school to check on progress, and take a basket of food. They were delighted to be involved, and be the means to enable the school to prosper.
Margaret explained that she had been widowed with two small children when she was 27, and had then trained to be a Social Worker. There are many orphans due to Aids/HIV, and young children being raised by Grandparents, and this was her field of work.
She said that she was very happy to visit us, and had enjoyed Patrick's talk, and would use the "Big Pitch" idea in her own Club on her return.
Club Business; Nigel Birkett wearing his "Making a Difference" hat asked for £100 for a raffle prize in support of a Foster Parents Day. Agreed.
John Binns reported on the Halcon Project, and the Club's input to its development. Paul Hughes asked for £562 to provide catering for an Awareness Day at Hamilton Park next month. Agreed.
Ball Draw – wine to Martin Lock.

Next Meeting 30th July – 7.00pm At BigwoodAgri, meal afterwards at Merry Monk. An email with details will be coming. d/r Chris Rickard.
3rd /4th August – Taunton Flower Show. A Rota has been circulated to those who volunteered.
8th August – Breakfast Meeting. Opt In to Rory.