Swimarathon is about raising money for good causes and involving the community in a great fun weekend
The purpose is for sponsored swimmers to raise many thousands of pounds which will be donated entirely to Local and Rotary Charities, helping those who need help. The event costs, pool hire etc., are met by our brilliant business sponsors and the event is run by our many volunteers.
This large and exciting event is open to all comers and teams of up to six may be entered by Schools, Sports Clubs, Youth Clubs and other groups, Businesses, Professions, Shops, Family, work mates or just mates!
Swimming teams will raise sponsorship money, and already teams are signing up for next year, but we are also looking for local organisations to get involved, sponsor the event and thus promote themselves.
Please contact us if you are interested in sponsoring, swimming or both! Swimmers will be of all ages and abilities, this is not a race or a competition, each team of up to 6 will have 50 minutes swim time (relay style) and we suggest they are sponsored for taking part, rather than per length.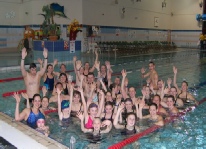 Interested in taking part in this great, fun, community event? Click on this picture to see a short video that will explain so much more....