Jim Macgregor
Wed 15th May 2019 at 12.50 - 14.00
Life is What Happens to you when you are Busy Making Other Plans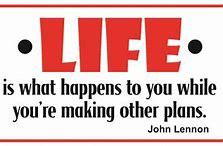 Jim McGregor, a member of the Rotary Club of St Andrews, was the speaker at the lunch this week
and the title of his talk was "Life is what happens when you are busy making other plans" as penned by Beatle John Lennon.
He proceeded to deliver a highly entertaining talk that could also easily have been called " Tales of the unexpected."
Jim outlined various unexpected events in his life which gave shape to his passage through life.
He had been a student at Jordanhill College in Glasgow in the mid sixties had a holiday job as a driver for a car hire firm. He would drive a limousine around Scotland taking tourists to the places they wanted to visit and he got to know some of his passengers really well.
After he graduated as a teacher and was working in Glasgow he felt that perhaps he should spread his wings and go and teach abroad and perhaps make some money.
He felt Canada could be a good destination and then out of the blue he heard from his sister in Ontario Canada that a boarding school where her husband was the Medical Officer had vacancies for staff. After contacting the Headmaster of the school Jim could not believe that this same man had been one of his passengers whom he had transported from Edinburgh to the Burns Country and then to Prestwick Airport five years before.
Jim was offered the job at Ridley College and he and his new wife Margaret journeyed to Canada where they stayed for six years.
The family duly returned to Scotland and settled in St Andrews where Jim joined the Directorate of Fife Education Department. The family kept up the connection with Ridley College and his daughter completed her sixth year of education at Ridley.
Jim told us that he still has the contact with Ridley College and he is off to visit there in two weeks to catch up with old friends and play tennis.
Henry Paul gave the vote of thanks and thanked Jim for taking us all on this serendipitous journey through his life.