Weekly meeting at SCCC
Mon 13th August 2018 at 19.00 - 22.00
Speaker Laura Penrose of Nightstop a service for young homeless.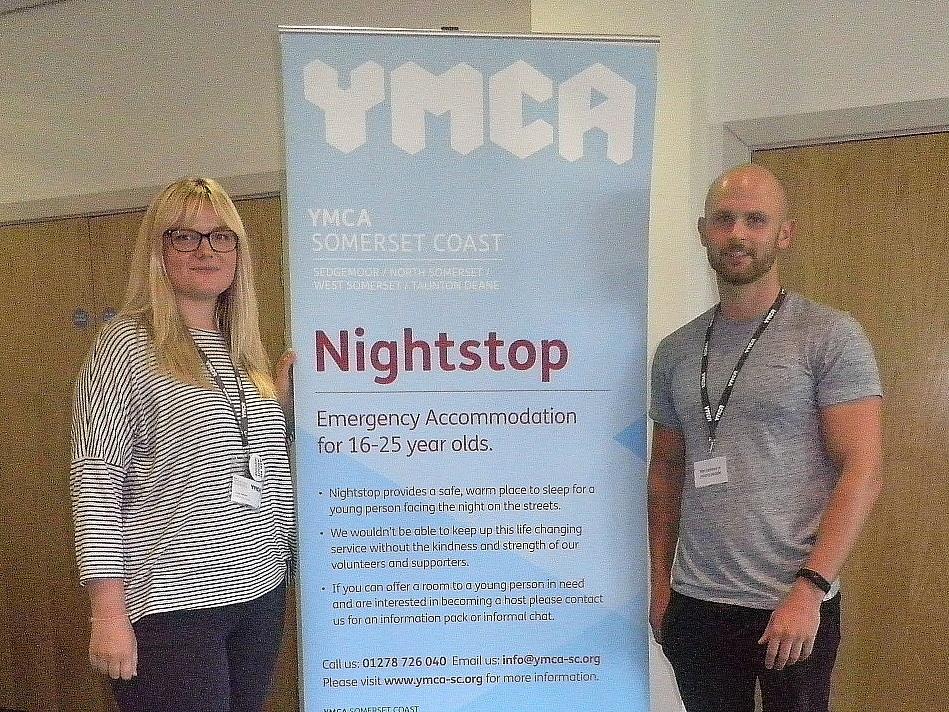 36 Rotarians attended the meeting at SCCC plus three guests - Laura and Jo from YMCA Somerset Coast and Bryony Dunk, who is managing our Club Twitter and Facebook sites and the publicity for Moonraker on these sites.

The Government's plans for resolving homelessness received considerable publicity over the weekend, and our guest speakers Laura and Jo addressed one local aspect of this very sad but growing problem in the UK. With good use of supporting video material, they identified the various types of homelessness and some of the reasons for this. They then introduced us to their local initiative in North Somerset - The Nightstop Project. This addresses the 'Would you take a stranger into your home' issue. Their YMCA initiative concentrates on finding overnight accommodation for troubled 16 to 25 year-olds in the local area. It is early days for the project but they set out the benefits of providing a bed, a meal, and showers in a family environment for young people who temporarily have nowhere to sleep. A lively question and answer session evidenced Club Members' interest in this new initiative, and Terry Rowcliffe's thanks were strongly supported by all.
Club matters: Paul reported that the opening of the new Halcon Project facility was a success. He also indicated that he would have more good news to report at future meetings.
Alison updated the Club on our Shelter Boxes going to Lombok.
David Janes needs more readers for TDAN that produces an audio newspaper for the blind in Taunton. One volunteer came forward for this Friday's recording session.

Future Meetings: 20th August - Dunkeswell Airfield Out Meeting 7:00pm . Apologies to Richard A. by noon Friday. DR Jas Shorney, SF Jonny Dunk.
27th August Bank Holiday.
3rd September Wednesday Breakfast Meeting.

Ball Draw: Won by Richard Lees, but still no Joker, so £175 next time.