The weather was the worst we have experienced for the Run, as we have usually been blessed with good conditions. However, despite that, and around 60 people booked to run not turning up, 20 extras came on the day even knowing heavy rain was forecast!
Another unusual feature this year was the appearance of a film crew from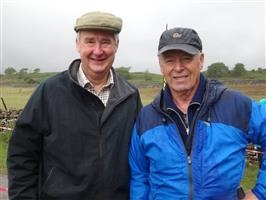 Channel 5 who were filming for a special Herriot episode of The Yorkshire Vet. This meant that, as well as Jim Wight, son of Alf Wight (James Herriot) attending to start the race, we also had Peter Wright, the principal vet in the television documentary. The episode is due to be screened in January.
Carl Jones was leading the field by a minute at the halfway stage but took a wrong turning after Gate 7 and only realised his mistake when he came up against a stone wall! As a result, by the time he got back on track he had lost time and finished fourth. This is the first time ever that anyone has run off course, so we apologise to Carl for not noticing that the usual small direction arrow was no longer present at that spot. We will rectify that next year.
For a full list of placings and times, click on Results 2018.
I may be able add more photos if I receive them over the next day or two. If you are looking for specific people, it is easier to change to "Thumbnail" view.
SUMMARY
Mens Races
1. Tim Midgley, Bingley Harriers
2. Rob Daly, London Front Runners
3. Lee Davies. Richmond and Zetland Harriers
40+
1. Carl Jones, Richmond and Zetland Harriers
2. Mark Ellis, Quakers RC
50+
1.Mark Forrest, Richmond and Zetland Harriers
2. Steve Nolan, Burnden Roadrunners
60+
1. Mark Jordan, Harrogate Harriers
2. Robert Burn, Thirsk & Sowerby
70+
1. Neil Scruton, Scarborough AC
2. Mel Walker, Burnden Roadrunners
Ladies Races

1) Hannah Philips, Bedale, no club
2) Katie Percival, Radcliffe AC
3) Nicola Simpson, Bedale & Aiskew Runners
40+
1. Paula Pilling, Burnden Roadrunners
2. Charlotte Wilton, Thirsk & Sowerby
50+
1. Gwen Kinlock, Burnden Roadrunners
2. Lorraine Hiles, Thirsk & Sowerby
60+
1. Anne Ferguson, Burnden Roadrunners
2. Sue Spong, Havering90
70+
1. Marian Codling, Thirsk & Sowerby
Team Races

Mens 1st 4 men
Richmond & Zetland Harriers
Ladies 1st 4 Ladies
Burnden Roadrunners
Mixed 1st 2 men 1st Lady
Burnden Roadrunners
A big thank you to Jim Wight, James Herriot's son, who again very kindly came to start the race and present the prizes, helped by Peter Wright. Also to Tom Orde-Powlett and Richard Spensley & Son for use of their land.
Another big thank you to Helen Gardiner and the team from Swaledale Roadrunners who managed the finish and time-keeping in a very professional way, as usual- something we Rotarians could not have done ourselves. They even helped with some of the marshalling!
Thank you to all the clubs and individuals who took part. We hope you enjoyed it and want to return! We will have raised over £3,000 for charities and local deserving causes.
Next year the race will again be run on the last Sunday of July, 28th July 2019

Finally, thank you to our sponsors, The Walking Shop in Leyburn for providing the prizes for the first three men overall and first three ladies overall