Weekly Meeting at SCCC
Mon 22nd October 2018 at 19.00 - 22.00
Speaker from CHARIS on Refugees in Somerset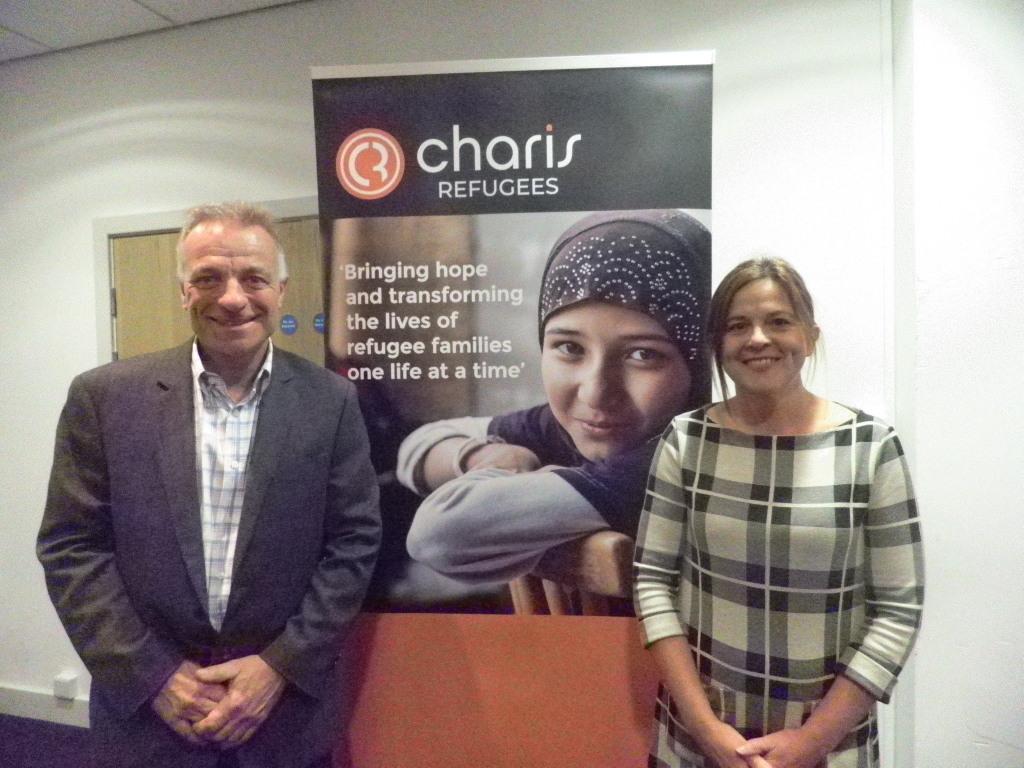 31 members and visiting Rotarian Richard Dykes entertained guests, Lisa Westlake and Gordon East from the Taunton based charity CHARIS* (Christian Help and Assistance for Refugees in Somerset).


Gordon East opened his presentation with a brief video about world refugees and said that the number of displaced persons in the world is roughly the same as the total population of England. The number of refugees increases by one every 3 seconds, "an extra 12 hundred since we started our dinner". He mentioned a baby girl 'born a few hours ago' to a Syrian mother in a Lebanese refugee camp (more of that later).
CHARIS was formed just over 4 years ago by 3 Taunton churches, (St Mary Magdalene, Creech Baptist and Taunton Vineyard) who felt they must 'do something' in reaction to the pictures and stories of refugees fleeing, mainly, from the wars in the Middle East. CHARIS became one of the first groups to pioneer the UK's Community Sponsorship programme. Under that programme the group has sponsored 2 refugee families, sourcing suitable housing and supporting the families as they adapt to life in Taunton. Recently CHARIS has also been commissioned by the Home Office to act as 'mentor' to other groups starting across the South West and is also seeking to open a Welcome Centre in Taunton to support all refugees in Somerset.
He made three requests:
1) The refugee families want/need to support themselves and he appealed for help in finding suitable work experience, mentoring for self employment and full or part time work opportunities – particularly in catering and horticulture.
2) Volunteers – individuals or groups who want to offer time to befriend refugees.
3) Donations – particularly to support the proposed welcome hub, which will require thousands of pounds to realise.
Gordon then returned to the girl 'born' earlier in the evening. "Her future is a test of our response" he said. "We can transform her life; by doing that, we can transform our own."
In his vote of thanks, Bill Tregillus observed that the number of significant question was an indication of the interest his talk had evoked.


Club business and reports:
Stuart Berry thanked all who had contributed to the success of Moonraker. A full report will be made in due course.
Stephen Smith drew members' attention to two performances of La Traviata by Devon Opera on 22nd and 24th November. (details at www.devonopera.co.uk).
Phil Greenway said the recent Somerset Activity and Sport Partnership awards had been a success. Our club sponsored "Club of the Year" and president Keith had presented the award to Illminster Bowling and Tennis Club.
Of those responding to the 'Nykvarn survey' a majority favoured visiting the old part of Uppsala next May. Members are advised that flight bookings are now open.
The ball draw was won by Terry Rowcliffe but no joker.
Next week – out meeting at the Hideout (Castle Green), 7 pm start, apologies by Noon Friday to Richard A. DR Stephen Smith
Nov 5 Council.
Nov 7 Breakfast at the stragglers (opt in to Rory).
Nov 12 Moonraker Presentation – at the Racecourse.

*CHARIS is pronounced KARIS – as well as being an acronym, it is an Ancient Greek word which can be translated as 'unexpected grace'.