Katherine Southern of Gordano School, Portishead recently completed in the Rotary District final of the Rotary Young Chef competition at Wootton Bassett.
This is a national competition run by the Rotary International of Britain and Ireland with 6500 students starting out to win the coveted prize of a week with Filippo Berio.
The competition aims to encourage young cooking enthusiasts to develop food presentation skill, organizational and planning skills, and to develop their ability to cope in a demanding situation. Rotary's aim is to give opportunities to young people, and to encourage the pursuit of excellence.
The brief was to prepare and cook a three-course meal for 2 people within 2 hours for no more than £20.
Four chefs acted as judges, Roger Hawkshaw who had a Roux Scholarship, Charles Short, Deli Dan and Grant Watt. Sadly Katherine came third so will not be progressing to the Regional final in Builth Wells on the 30 March where one lucky winner will earn their place in the National Final. Katherine was however commended on her butter making and bread which accompanied her smoked mackerel pate as the starter.
To find out more about Rotary Youth Competitions contact 01275 393340 or visit https://www.rotarygbi.org/projects/young-people/competitions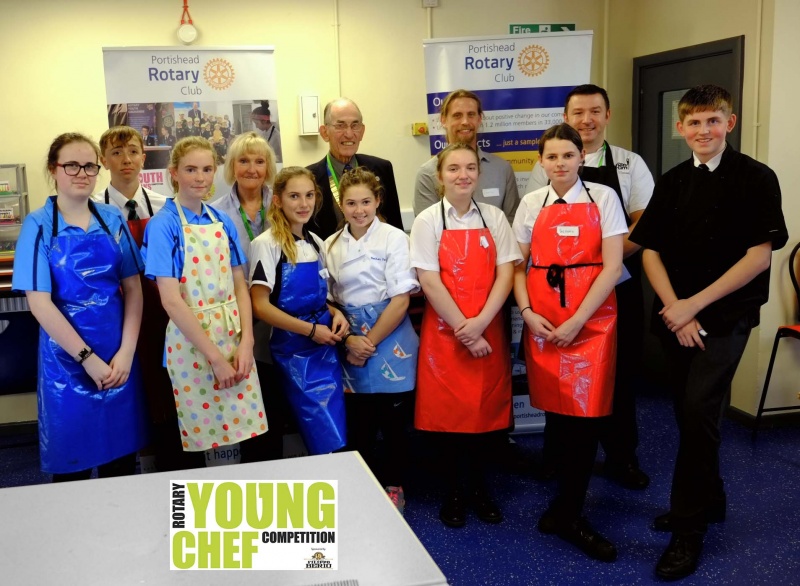 Eight pupils from Gordano School participated in the Rotary Young Chef competition for 2018 -2019 which was sponsored by the Rotary Club of Portishead.. This is a National Competition held annually with, initially 6,500 students starting out on the route to the National final which this year will be held in the Spring of 2019 in Leeds.
The brief for the students is to prepare a 3 course meal for 2 people within 2 hours for less than £20. Some amazing dishes were created but it is not just about cooking, but menu choice, time management, costings and table presentation all form part of the marking criteria.
The Portishead Rotary Club heat was won by Katherine Southern (3rd from the left) with Matt Lane (2nd from left) placed second. Katherine now goes through to the next stage of the District level competition.
The judges, Istvan Ulmann from Berwick Lodge and Charlie Urry from the Food School associated with Josh Eggleton's Pony & Trap stated that they were very impressed with the standard and quality of cooking and that it was a very close competition. They kindly offered the winner some additional coaching in preparation for the next heat and work experience. As chefs they are keen to encourage enthusiastic students into the catering business.