Jo Shannon came to the New Forest Inn and joined us for a meal and a chat. She spoke about the work of Tools For Self Reliance and answered questions. Of partcular interest was her recent visit to Sierra Leone where support for a new project was finalised. A/President Tim presented her with a cheque raised at one of our Quizzes. Mike Clarke also presented a personal cheque to her fund, representing some work ex-Rotarian Nick Darbey had done on an antique item of Mike's and had declined payment.
Later Mike received a letter of thanks from Jo explaining that the funds would go to the Sierra Leone project.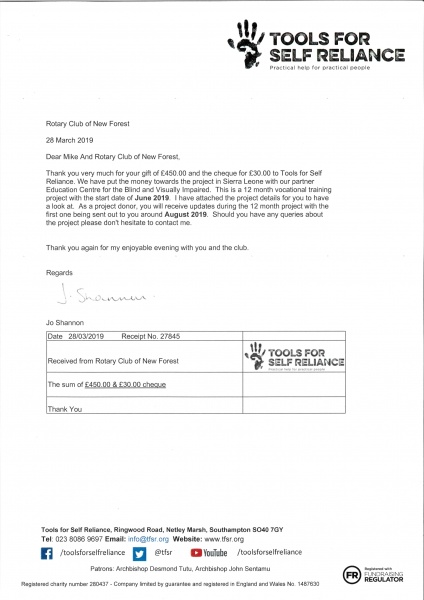 Carpentry and Tailoring Training Project -

Project summary

This 12 month project will train 20 people in Sierra Leone in carpentry or tailoring, alongside providing business and life skills training. Trainees will also receive good quality tool kits enabling them to set up their own businesses and become self reliant. The proposed start date for this project is June 2019.


About Tools for Self Reliance

Tools for Self Reliance is a UK based charity with a mission to reduce poverty in Africa by helping people to build sustainable livelihoods, through the provision of training, tools and support. Our projects move people out of unemployment and underemployment and into meaningful, sustainable work where they can flourish and improve their own and their family's wellbeing. All of the tools we send are donated to us used, and then carefully refurbished by our dedicated team of skilled volunteers.

This project will be delivered by our partner Educational Centre for the Blind and Visually Impaired (ECBVI) who is a small community based organisation. They piloted their first project with us in 2016 and 100% of graduates are now using their skills to earn an income. Their vocational training centre is located in a war and a polio camp, which were set up to support polio victims and amputees following the civil war.

Project need

The project will primarily support young people (aged 15-35), including those affected by polio and people who are amputees. It will take place in Grafton, which lies approximately 20 miles from Freetown, the capital of Sierra Leone, which makes it more isolated from services and employment opportunities.

Life as a young person in Sierra Leone is tough. Young people make up one third of the population. The country is still recovering from the brutal civil war, which ended in 2002 and the Ebola outbreak, which disrupted people's education.[1]

Youth unemployment is a major issue and approximately 70% of young people are underemployed or unemployed and an estimated 800,000 are actively searching for employment. The formal employment sector only provides 9% of the jobs and most young people lack employability skills or business experience. Government vocational training schemes are inaccessible to many, because they don't have the funding or minimum entry requirements. This leaves them no choice but to do street trading or risky low paid jobs.[2]

In addition to these complexities some of the trainees or their families will have polio or will be amputees. People with disabilities and conditions like polio are more likely to live in poverty, experience exclusion and struggle to find employment.[3] Although the war camp and polio camp were set up to support people, it has also segregated them from society. This project will train people with and without disabilities, in order to integrate them and be inclusive. ECBVI are experienced in training people with disabilities and they will make sure trainees are given the support and necessary equipment to fully participate.

Project outline

This 12 month project will be delivered at ECBVI's vocational training centre and they will recruit 20 trainees. Vocational training will be delivered five days a week. Half of the trainees will specialise in tailoring and half in carpentry. Training will be practical and tailoring trainees for example will learn how to how to use and maintain sewing machines, cut out designs and make outfits and clothes.

There will be weekly sessions for trainees with lower levels of literacy and numeracy to better equip them to carryout essential activities such as taking measurements, ordering stock and keeping customer records. They will have regular business skills training focusing on things like creating business plans, profit and loss, marketing, finance and basic accounting. Life skills sessions will cover topics like health education and hygiene, which is really important given the recent Ebola outbreak. Counselling sessions will be offered, because some trainees will have been through traumatic experiences.

Towards the end of the project trainees will form small enterprises and each enterprise will receive tool kits. Quality tools are really expensive in Sierra Leone and most people can't afford them. These tools mean graduates will be able to start working immediately after the project has ended.

The difference this project will make

Your support will transform the lives of 20 people and we anticipate the following outcomes will be achieved.


20 people will have the skills and confidence to set up their own businesses or secure employment.

Within six months we expect to see their monthly incomes increase three to six fold

[4]

They will be able to use their increased incomes to benefit around 80 family members (the average family has five other dependants) to pay for their health care, their school fees and buy better food.

20 people will have improved literacy and numeracy.

20 people will have increased confidence and self esteem.
Sarah is 33 years old and she has two children. She has polio and lives in the polio camp. She was unable to go to school because her father left home and there was no one else to help with her school fees. Before the training she was selling items and making a meagre income. Throughout her tailoring training she learnt how to make traditional garments, baby clothes and women's clothing. The literacy and numeracy sessions means she can now take measurements and keep financial records. Since graduating she has set up her own tailoring business with two other graduates in the polio camp and they already have orders from the local community. She said "I am now self reliant and I feel pleased that I am able to write my name."
The benefits of this project will be like ripples in the water. Graduates will be able to help their children read and write and their confidence and self esteem will improve. Earning a regular income means their children are more likely to remain in school and as their businesses grow, they will be able to employ other trainees, who in turn will be able to support their families.

This project will help people like Sarah, a previous ECBVI graduate funded by the charity.


How will we ensure we are achieving this?
Baseline data will be collected at the start of the project to measure trainees' education, income, diet, employment status and housing conditions. This will be tracked throughout the project. Post project questionnaires will capture changes in attitudes, self esteem and confidence. ECBVI will report back on the project's outputs at baseline, midline and at the end of the project. We will visit ECBVI six to twelve months post project and speak to graduates to asses how their lives have changed.
Thank you for supporting this project.
---