Santa on tour in York - 2018
Follow the travels of Santa as he tours streets and villages of York.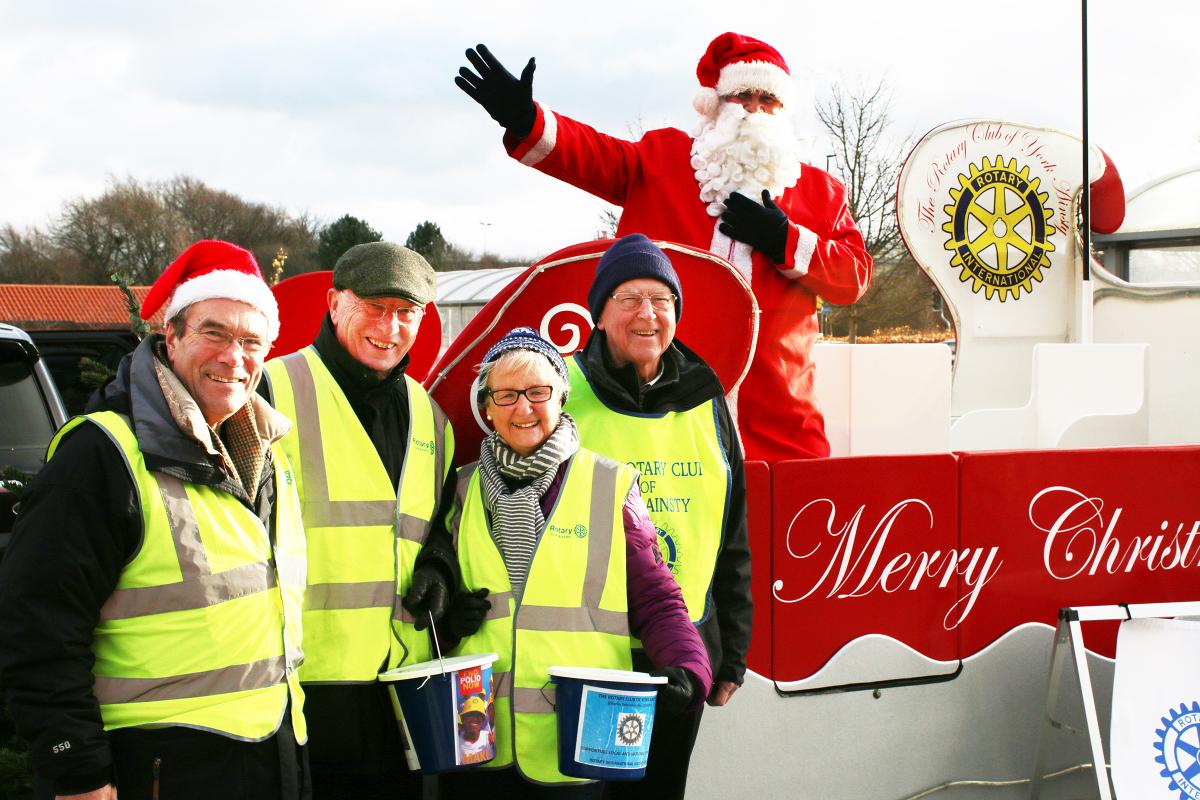 Santa on Tour in York, December 2018
York children, both young and old, are enjoying the experience of meeting Santa Claus as he tours the streets and villages of York, courtesy of Rotary York Ainsty members and their spectacular sleigh.
The Rotarians and 'Elf' assistants started their York and district journeys with Santa on December 1 and since then have been out and about at various village and city locations, bringing the Christmas message to the communities.
As well as providing all an opportunity to meet Santa, the initiative is a fund-raiser and every year many thousands of pounds are collected and donated to charities both near and far.
ABOVE: Santa on tour with Rotary York Ainsty Rotarian 'collection Elves' - Peter Kendall, John Merchant, Christine True and John Niklaus.
Last year, close to £7,000 was generated by the project.
Following the success of 2017, certain locations and collections are dedicated to and run by specific local charities - in partnership with Rotary York Ainsty.
The charities provide Santa and the 'elves'.
They are:
> York MIND
> Wilberforce Trust
> St Leonards Hospice
> Copmanthorpe Scouts
> Manor Academy Secondary School, Poppleton
> Door 84 Youth
> Community Sparks
> Vale of York Academy
Issy Sanderson, Rotary York Ainsty president, said:
"I truly believe that the 2018 collection will exceed that of recent years, demonstrating the generosity of the communities in which we operate.

Please come out and meet Santa and the Elves as they travel the streets.

We are always gladdened by the welcome we receive - not only from children, but also from adults as well.

Special thanks are due to York City Council (Front Street, Acomb);

Morrison's Supermarket, Acomb;

Morrison's Supermarket, Foss Island Road

Tesco Supermarket, Askham Bar

for permitting us to collect at their locations. Raising monies for the worthy charities listed."