New Rotakids Club
Fri 12th October 2018 at 2.00 pm - 3.00 pm
Our latest Rotakids Club of Elleray Park School was Chartered in a ceremony at Vale Park, New Brighton.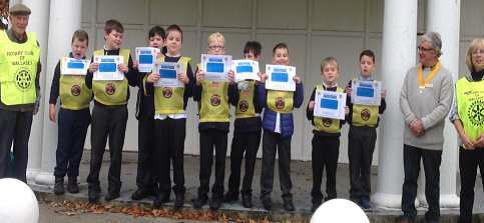 In October 2018 our latest Rotakids Club was chartered at the Bandstand in Vale Park, Wallasey. Some of the members are shown with their Certificates and proudly wearing their WALLASEY ROTARY ROTAKIDS tabards which were worn on the walk from school to the park.
The young people aged 8 to 10, are all playing a very active part in the running of Rotakids through their own committee and work well together giving support to each other at their weekly meetings with a President, Secretary and Treasurer (who also had an assistant!)
The committee decided they wanted to have this special day in Vale Park and the Heas Teacher Margaret Morris, joined us at the bandstand to witness the occasion and support the children. All the members joined in the Rotakids Pledge, "As a Rotakid, I endeavour to be fair to all, to serve my community and to show respect for others".