Swimathon 2019
Enter your team now for our annual charity Swimathon at the 'Everyone Active' Washington Leisure Centre on Sunday 7th July 2019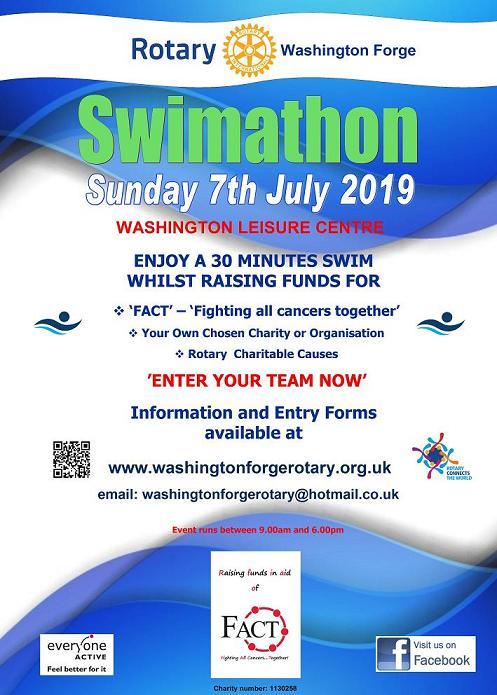 Show related pages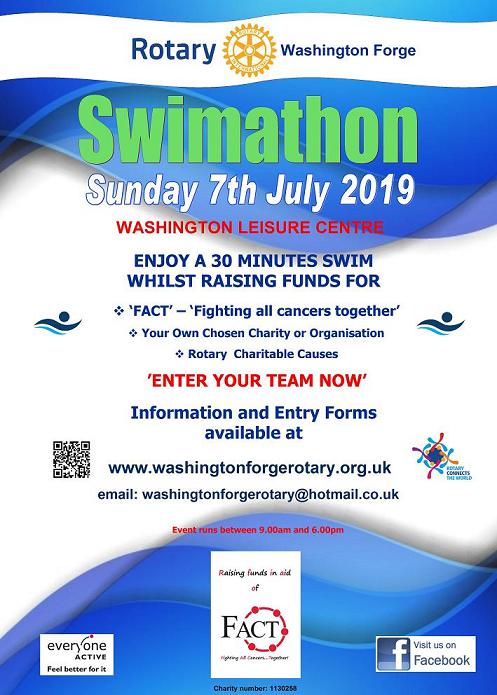 Our 5th Annual Charity Swimathon will be held on Sunday 7th July 2019 at the 'Everyone Active' Washington Leisure Centre. This year our 'headline charity' is 'FACT - Fighting all cancers together'.
This will be another great family fun day with swimmers of all ages taking part. Sponsorship money raised will distributed as follows:-
'FACT - Fighting all cancers together' - based in the North East, the team offers help, support and social opportunities for people with cancer; along with educational and awareness programmes. See www.fact-cancersupport.co.uk Charity No: 1130258
Charitable Causes supported through The Rotary Club of Washington Forge (www.washingtonforgerotary.org.uk)
Charities/causes chosen by the participating teams(this can be to support your own organisation/club or either of the above if you wish)
40% of the funds will be allocated to 'FACT', 30% to Rotary charitable causes, and 30% to your selected cause.
You are invited to make up a team or teams of between four and six swimmers who will be allocated a swimming lane for 30 minutes. Just enjoy your swim and complete the number of lengths you feel comfortable with in the knowledge that money is being raised for these very worthwhile causes. Please refer to the 'Swimathon Rules & Guidance' and 'Information Sheet'
Why not enter your team now
Forms can be downloaded below:-
WF Swimathon 2019 - Entry Form
WF Swimathon 2019 - Information Sheet
WF Swimathon 2019 - 'Rules & Guidance'
WF Swimathon 2019 - Sponsorship Form