Faith Judd, District winner of the 2019 Young Photographer Competition
Faith Judd, District winner of the 2019 Young Photographer Competition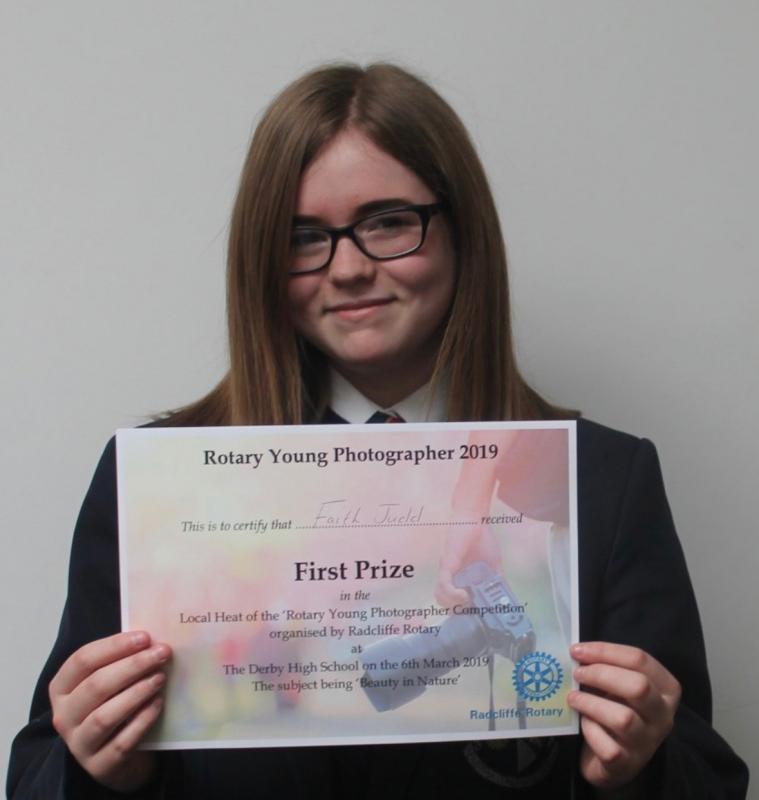 Derby High School Pupil wins the District Round of Rotary Young Photographer .
In mid March, sixteen students from the Derby High School submitted portfolios of three pictures into the local heat of the Rotary Young Photographer Competition. Judged by Rotarian Peter Royle, Eileen Craig of Prestwich Camera Club and President Ken Kerr a first, second and third winner was eventually decided upon. The judges had a difficult job selecting three amongst the high quality submissions but eventually made their choices.
The three students Faith Judd, Aliyah Khan and Zahrah Ashraf then had their portfolios sent to Rotary District 1250 for the District round. The judges this time were a professional photographer and an experienced amateur photographer and film maker. Faith Judd won the Rotary District 1250 round and her entry will now be submitted to the National Final to be held April 6th. The professional photographer evidently made the comment that her photo entitled " Glimpse of an Eye" was of such quality that
"I would be pleased if that was one of my own pictures" The members of Radcliffe Rotary who sponsored the school congratulate all three students on their achievement and wish Faith the very best of luck in the National Final. This has been a great first for the school and Radcliffe Rotary.