Inspirational Rogart RotaKids
.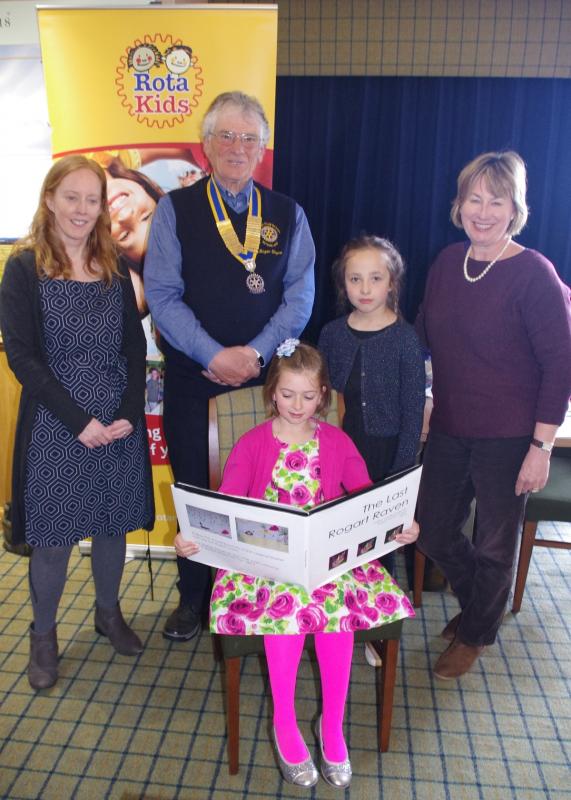 The speakers at this week's East Sutherland Rotary club meeting at Dornoch Golf Club were diminutive but boy did they knock the grown-up members for 6 with their confidence and their ability as they and teacher Sarah (Hope) Mould entertained the assembled Rotarians and friends.
During the autumn term the Rogart "Kids" were discussing how one action could have an effect on another and so on i.e. things do not happen in isolation and must have a knock-on effect and as we go through life our actions today may affect others tomorrow.
To demonstrate this, they were each given a feather and they went outside and threw them into the air. Some fell to the ground, some fluttered a short way, some flew high over the fence and beyond and perhaps some were picked up and taken away to be used in some way or other. The children then went in doors and each was asked to think of what might have happened to their feather, could it have had its own adventure.
They painted or drew a picture of what they thought could have happened and then wrote a story about that adventure.-. perhaps a local story, perhaps it was swept away north to the Arctic or south to a dessert, did it end up in the city or in mountains, did it go to the moon? Or perhaps a bird used it to help make its nest and protect its eggs and its chicks—the young minds were fertile and inspired and soon a dozen or so stories and pictures were there and each could be connected and woven into one great multi-facetted adventure story. But the story did not end there as Miss Mould had a friend in publishing and printing and she saw the stories and took them away and created the most wonderful "coffee table" book showing not just the story but all the pictures and The Last Raven in Rogart was born.
Miss Mould and 2 sparkling pupils came to Dornoch and read the whole book to the enthralled members and the Dornoch Book Shop owner Maggie Hope. Everyone hopes to see it published and for sale so that local and not so local children can enjoy the story just as much as they enjoyed telling it!
Picture shows President Roger Boyce with Maggie Hope and teacher Sarah Mould and her inspirational pupils