Swimmers go to great lengths for Youth Adventure charity
Louise Balaam from The Youth Adventure Trust is presented with the proceeds of our 2019 Swimathon and Draw by Past-President Ann Debureaux-Dias.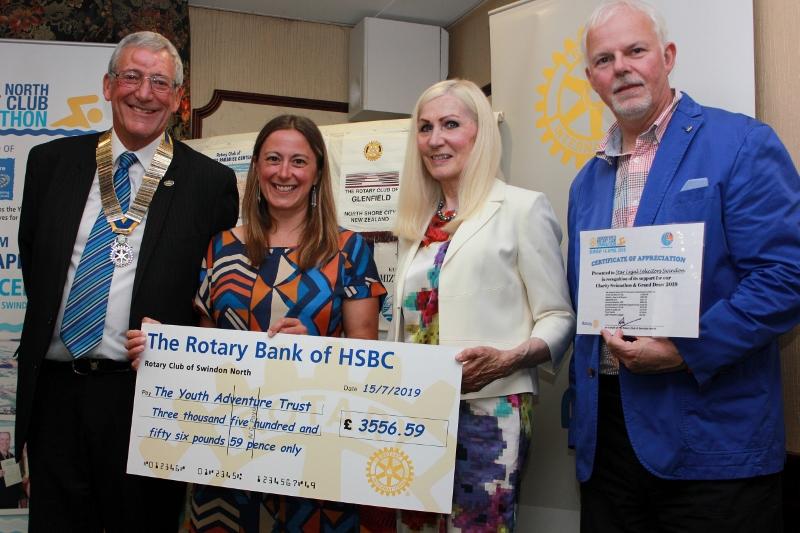 Also in the picture are Club President Robin Elliott and Vaughan Fullagar of Star Legal, one of the sponsors of the event. Both event sponsors, Star Legal and Link Centre West Swindon, received Certificates of Appreciation.
Charity Swimathon 14th April 2019: our best ever result with £5,773 raised....Details here
The main beneficiary of our 2019 Swimathon and Grand Draw was the Youth Adventure Trust. Louise Balaam from the Trust was invited to our meeting on 15th July to accept our cheque for £3,556.59. Thanking everybody who took part, Louise said that this donation will fund the cost of one young person for 3 years.
The Trust's 3-year programmes are a series of adventure camps and day activities for 11 to 15 year olds. Each day and each camp has different activities ranging from caving, canoeing and climbing to archery, sailing and circus skills. The programmes cost the Trust £3,600 per person but are completely free of charge for the participants. The activities are designed to be fun but also to challenge the youngsters and help them learn about working in a team.
The number of places for children from Swindon has been doubled in recent months. Schools and social workers recommend children to the Trust. Typically they will have chaotic lives in troubled homes. The Trust is the only charity in the area which offers long term, early intervention for troubled youngsters. Louise said:"We can't change their home circumstances but we can teach them how to cope with the problems in their lives".
Last September a mentoring scheme was introduced to provide 5 places giving additional support to those who the Trust thought would benefit from a more individualised approach after completion of the main programme. Trained volunteer mentors are carefully matched with a young person and work with them on a one to one basis within their local community. Although individual arrangements vary, they meet for approximately 2 hours a fortnight, for up to a year, working with them in a personalised way to achieve the most positive outcomes.
Whilst each young person has varying objectives, all mentors offer empathy to the challenges faced by the young person, and provide support, guidance and encouragement throughout the mentoring relationship. The mentoring scheme is for 15 to 18 years olds. From September the number of places will increase to 14 and then in 2020 to 20.
Our next Charity Swimathon & Grand Draw is on 26th April 2020