What we've been doing this year
Reports on our activites from July 2019 to June 2020
What we've been doing so far this year

The Rotary Club of Dunfermline has made charity disbursements to identified good causes within the local area.

Two Christmas concerts in Dunfermline Abbey in association with the Band of HM Royal Marines Scotland and the proceeds of Santa's Sleigh collections, which included pit-stops at Tesco's Fire Station store and The Kingsgate Centre each poured four-figure sums into the club's benevolent fund.

Rotary club president Noel McKenna said, "As well as bringing some Christmas joy into the lives of local children and families, the club's benevolent fund wrapped up the festive season with our annual round of donations to a raft of good causes."

The money collected was:

Channelled to local families through the children and families arm of Fife Council's social work department.
The Salvation Army whose donation was able to assist people over Christmas and throughout the year.
The Samaritans whose donation will assist the running of the branch and ensure that they are available to support those who are in need of someone to talk to.
Lymphoma Action to help provide expert information and wide-ranging specialist support to people affected by lymphoma
McMillan Cancer Support to assist the continued support of people suffering from cancer.

It is anticipated that further donations will be made to local charities later in the Rotary Year.




Earlier this year, the Rotary Club of Dunfermline supported the special needs unit at the Kirunguru School in Kenya with a donation of £850 to purchase some specialised equipment. This included the purchase of a custom-made rocking horse which was named "TOM" after the then Club President.
On completion of this earlier project it was found that costs had come in well below budget which prompted Club President Noel McKenna to decide "Rather than have monies paid back, our Club readily agreed that these funds be used to purchase a further set of parallel bars and to make another rocking horse,"
The photographs show the new parallel bars in use and the nearly completed rocking horse outside the artisan's workshop. President Noel, on noting that the new rocking horse had been named after him, remarked that "Now we have two modern rockers, "TOM" and "NOEL", rocking away in Africa".




Water Harvesting

"A new exciting international project for our Club!" was the reaction of Noel McKenna, President of the Rotary Club of Dunfermline to the news that that the Club had raised the funding for its first ever water harvesting project.
The funding comprises a grant of £1,600 from Rotary Foundation, the main charity of Rotary, £1,500 raised by the Dunfermline Club and a further donation from the Rotary Club of Langata in Nairobi .
The project aims to harvest rainwater by fitting guttering and downpipes to the roof of the Nduriri Secondary School at Kaimbaa in Kenya and then to provide large tanks to store that water. This will mean that the pupils of that school and the nearby community will have access to a safe and consistent water source during the dry season.
President Noel commented that "Water is so important in this part of Africa and, quite apart from ensuring that the school will be able to stay open all year round, it is estimated that some 500 persons within 40 homesteads will also benefit from this project." Noel added "The members of the Rotary Club of Langata will be managing this project for us demonstrating the international reach and co-operation within the Rotary movement."


On 10h September a party of Rotarians and wives visited the Amazon Fullfillment Centre in Dunfermline.
We were ably conducted round by George Fleming and saw the entire process for Goods In to Dispatch including the SLAM machine which adds the address label to the outgoing parcels - by blowing them on with air to avoid damage.
The Dunfermline centre handles all items returned to Amazon and will refurbish and repack items for subsequent resale.
The Centre came second in the world for the number of visitors in August - about 16,000 and was pipped to the post by a centre in California, USA by only 35.
Everything is well organised for the visitors including a 'selfie' camera station so here we are smiling as instructed.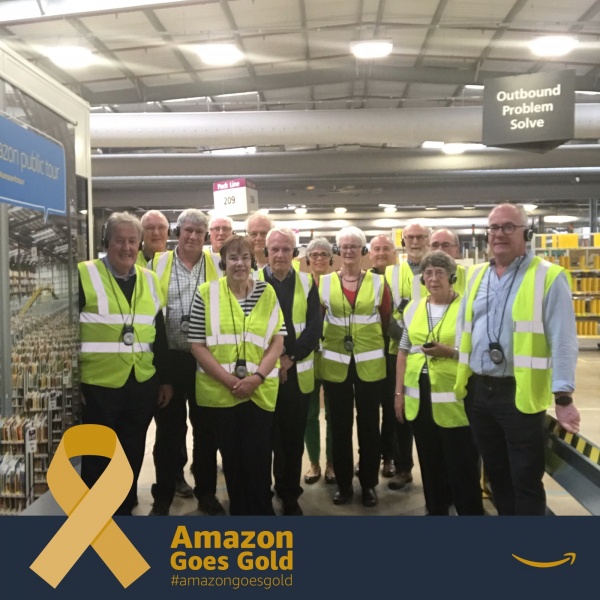 Rotary Acknowledges That Talk Matters!
Noel McKenna, President of the Rotary Club of Dunfermline, presents a cheque for £500 to Claire Chalmers, Trustee of the Dunfermline-based Charity, Talk Matters. Talk Matters offers a confidential counselling service for adults from across Fife which is affordable to all. Mrs Chalmers said, 'All our Counsellors give their time on a voluntary basis. The money Rotary have kindly given us will be used to provide them with post graduate training to deepen their understanding of some of the issues clients seek help from us for. We are extremely grateful for this generous donation.

Past-president Noel back at the helm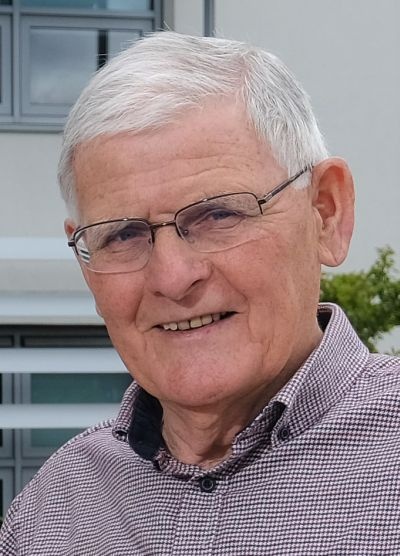 THE Rotary Club of Dunfermline continues to have a practised hand at the presidential helm - as the successor to retired Royal Navy captain Tom Sunter is not only the former boss of Babcock Engineering Services but is also returning to the office he first held in 2009-10.

As he charts the club's course for the new Rotary year, Noel McKenna, said, "We want to achieve a better public awareness and understanding of what Rotarians working with our local community can achieve. This is not only in raising funds to distribute to local charities but also in providing support into our community, especially at youth and school level."

Mr McKenna joined the Dunfermline club in 1988 and has served in a wide variety of offices, including those of president, secretary and sports and social convener. His leadership of the fund-raising special-events team in 2006 was recognised with the club award of Rotarian of the Year.

A native of Northern Ireland, Mr McKenna started work as a student apprentice at Portsmouth Dockyard and after gaining a degree in mechanical engineering, he worked for the MoD in Rosyth and Bath.

Mr McKenna became director of nuclear submarine refitting at Rosyth in 1987, when Babcock took over contractor management of the Fife yard. He was awarded the OBE in 1998 for his services to ship engineering and continued to fulfil his submarines role until 2002 when he was appointed managing director of Babcock Engineering Services.

He retired as MD in 2004, at the age of 60, having progressed Babcock's involvement in bringing the build of the two new aircraft carriers to Rosyth and continued the yard's diversification into non-MoD markets.

Mr McKenna, who lives in Limekilns, is married, with three of a family. He was a Fellow and past board member of Carnegie College, and was for three years chairman of Furniture Plus, the Fife-based social-inclusion and recycling charity on whose board he continues to serve.

A keen golfer, he is a member of Dunfermline Golf Club.