YOUNG WRITER 2019/20
This is a national writing competition for young people, sponsored by Rotary to add value to the literacy curriculum in schools and colleges.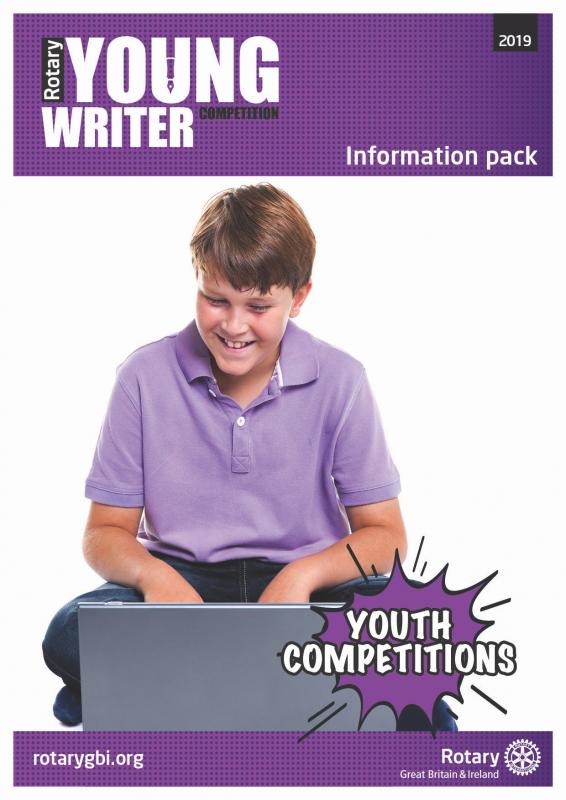 This competition aims to encourage young people to use their writing skills and write with imagination and creativity.
There are three stage to it.
1. Local heat. This is for young people living in Wensleydale.
2. The winners go through to a district level, which is effectively Yorkshire and Humberside.
3. The winners of the District level go through to the national level where first prizes are a vocational experience such as working in a newspaper or publishing environment with a professional practitioner.
There are 3 age categories:
Junior 7 to 10 years old
Intermediate 11 to 13 years old
Senior 14 to 17 years old
Entrants must not be above the age parameters for each group on 31 August 2019.
Who can enter?
• The competition is open to all students in full time education, either in school or home schooled.
• Entrant must live in Wensleydale.
• Entrant must be the correct age for the age category on 31st August 2019.
Competition details
• The theme is "Connections".
• The written entry can be fiction or non-fiction, a story or a poem, as long as the piece relates to the theme.
• It can be typed or hand-written
• An A4 page or up to 500 hundred words is a suggested suitable submission.
• Entries may not be returned unless specifically requested.
Judging criteria
• Writing skills
• Ability to engage the reader.
• Imagination and creativity.
Deadline
Entries are to with Wensleydale Rotary Club by no later than January 31st 2020. Any entry received after this date will not be considered.
Entries along with the entry form can be either emailed to: susan@susanrogers.me.uk
or posted to ROTARY, c/o The Bolton Arms, Market Place, Leyburn DL8 5BW
Click on Entry Form to download a form to enter
Click on Rotary Young Writer information Pack for full details