How did I get here!
.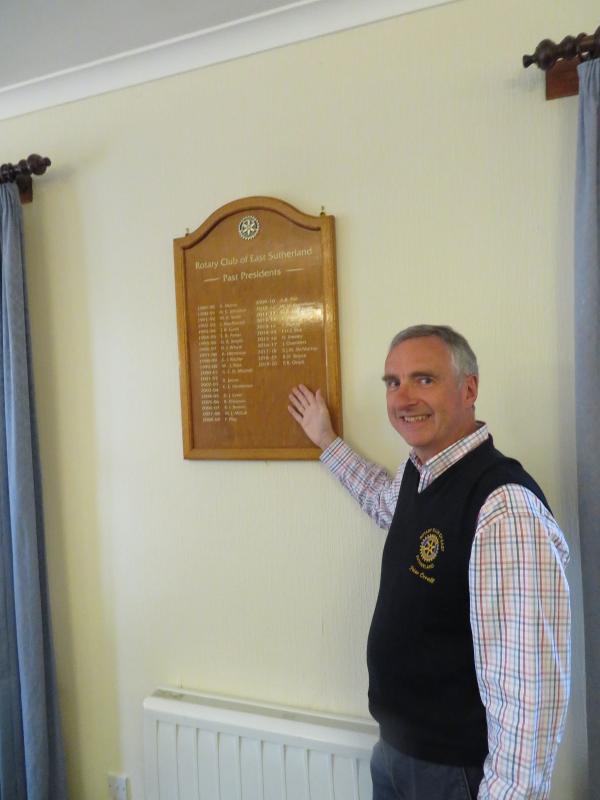 Peter Orrell the new President of the Rotary Club of East Sutherland chaired his first meeting with aplomb and there was a wee surprise for him when he entered the Royal Dornoch meeting room as his name was already on the Presidents Notice Board. This showed 30 Presidents for the club in 31 years as tragically John Metcalf died just as he was about to take office in 2004.
Peter took up his position as President at the end of July but between Holyrood Garden Parties and other commitments with the great and the good this was his debut meeting. He shared his ambitions and his concerns for the future making membership a key project along with continuing our work in schools with Rotakids and youth clubs. Most importantly was having fun helping others in our local community---- he hopes that the people of East Sutherland will begin to understand what Rotary is, what it does and that people from all walks of life can join the club and enjoy being part of a great team!
To find out more visit us at the Sutherland Show, the Helmsdale Highland Games, the Lairg Crofters Show, at the Oversteps Garden Party or look at the Rotary Club of East Sutherland web site Sutherland.rotary1010.org ---- we are out and about all summer!