Despite there having been heavy rain for several days before the race, the ground was surprisingly devoid of puddles and mud. Lord Bolton's team had been working very hard on the track over the moor, so its surface was much improved over previous years, which was appreciated by some of the runners. However, it was warm and there was still high humidity. Many runners found this tiring and there was high demand for water, so it was fortunate we had prepared a third water station, and perhaps could have done with more!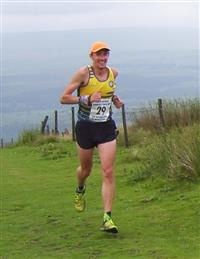 Tom Levi, from Thirsk, lead from start to finish in a time of 57min 22sec., two minutes ahead of Matt Sims in second place. Adam Kirk was third. Tom appeared to be enjoying himself, smiling all the way round!
Samantha Davies, from York, was first lady home in 67min 98sec, followed by Victoria Morris, from Harrogate and Nicola Simpson from Leyburn.
SUMMARY
Mens Races
1. Tom Levi, Thirsk & Sowerby Harriers
2. Matt Sims, Grange Over Sands
3. Adam Kirk, Nidd Valley Runners
40+
1. Mark Ellis, Quakers Running Club
2. Kim Brown,Ripon Runners
50+
1.John Hamilton, Knaresborough
2. Mark Forrest, Richmond and Zetland Harriers
60+
1. Mark Jordan, Harrogate Harriers
2. Steve Hallam, Stainland Lions RC
70+
1. Michael hetherton, Pickering Running Club
2. Geoff Bullock, Thirsk & Sowerby Harriers
Ladies Races

1) Samantha Davies, Easingwold
2) Victoria Morris, Ripon Runners
3) Nicola Simpson, Bedale & Aiskew Runners
40+
1. Samantha Davies, Easingwold
2. Nicola Simpson, Bedale & Aiskew Runners
50+
1. Lorraine Hiles, Thirsk & Sowerby
2. Lin Bolton, Diss
60+
1. Jill Jefferson, Red Rose Road Runners
2. Alice Lewis, Dursley Running Club
70+
1. Coralin Harrison, Harrogate Harriers
2. Margaret Wikely, Thirsk & Sowerby Harriers
Team Races

Mens 1st 4 men
Ripon Runners
Ladies 1st 4 Ladies
Stainland Lions
Mixed 1st 2 men 1st Lady
Thirsk & Sowerby Harriers
For more details, you can click on Individual Results, Individual Winners Men, Individual Winners Women, Team Results
As usual, a big thank you to volunteers from Swaledale Road Runners who managed the finish and time-keeping in a very professional way, as usual- something we Rotarians could not have done ourselves. One even helped by acting as sweep from gate 8!
Thanks also to Tom Orde-Powlett and Richard Spensley & Son for use of their land.
Thank you to all the clubs and individuals who took part. We hope you enjoyed it and want to return! We will have raised over £3,000 for charities and local deserving causes such as victims of the recent flooding in Wensleydale.
Next year the race will again be run on the last Sunday of July, 26th July 2020

Finally, thank you to our sponsors, The Walking Shop in Leyburn for providing the prizes for the first three men overall and first three ladies overall
There are several hundred photos on the slideshow, so I suggest you try the "Thumbnail" button, which will make it easier to find specific photos that enlarge when clicked. It also gives a better slideshow.
Thanks to the photographers, Jenny Blakely, David Spashett, Susan Rogers, Dinah Wilkes, Anne and Chris Wheatley.