All Change !!
Mary welcomed as Incoming President of Macclesfield Castle Rotary Club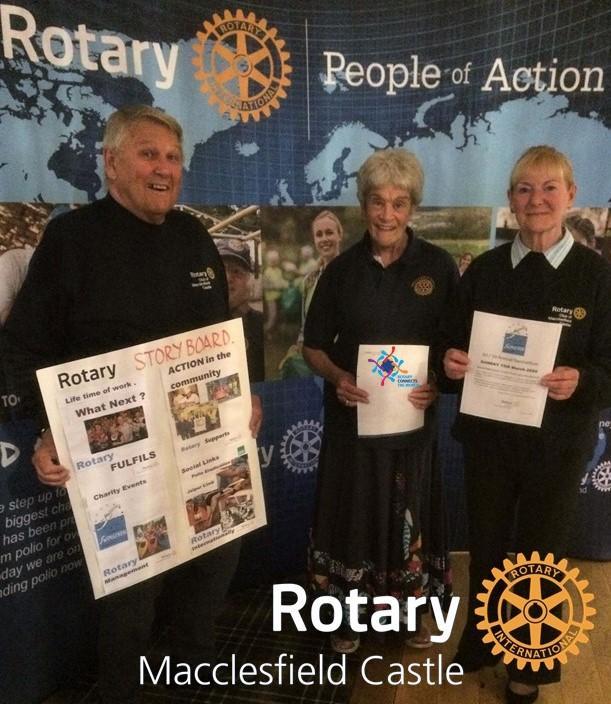 'An exciting Rotary Year ahead'
The Rotary Club of Macclesfield Castle inaugurated its new President Mary Grant for 2019 -2020, at its recent Handover meeting. Mary has been a Rotary member for nearly 6 years since she moved to Macclesfield and wanted to get involved in supporting the local community and to know the local area.
She has been involved in events such as the Charities Bazaar, Brass Band Concert, Dragons' Den and the very successful annual Rotary Swimathon as well as activities to support international charities such as Lend with Care. Mary has organised events for local secondary and primary schools including Youth Speaks Competitions, Year 11 Mock Interviews, Excitement of Science and Community Awards.
Mary said: "During the last six years, I have made lots of friends at the Club and in Macclesfield and I am looking forward to an exciting year of Rotary activities and continuing to work to support the local community. The Club is always pleased to welcome anyone who is interested in helping us with our programme or who can suggest ideas by which the Club can further support the community".
The Rotary Club of Macclesfield Castle meets on a Monday evening at the Legh Arms Toby Carvery.
For more information, please look at our website www.macclesfieldcastlerotary.org.uk
Pictured planning an exciting year of Rotary activities.
Chris Watson, Carole Murphy, Mary Grant,