Sunday 11th August saw another very memorable lunchtime hog roast at Lower Hook Farm hosted very kindly by Rotarian John Hicks and his wife Valerie.
At 10am the sun was shining brightly but with the chance of rain around 1pm the tables and chair were put inside the barn. Thankfully this decision proved the right one as heavy showers did arrive later.
Around 90 Rotarians, family & friends enjoyed a lovely lunchtime with another fine hog roast and strawberries and cream once again provided by Rotarian Robert Collis and his staff.
This years event was made additionally special with the attendance of John Holland accompanied by friend and harpist Cristobal Pedersen who played to us for much of the lunchtime session. Cristobal now 58 started playing the harp at age 11 and comes from Asunción, the capital of Paraguay. John grew up in Paraguay where the family being German had to move in the war. Ultimately they returned to Purton where John and his brother Pete went on to set up Holland Handling.

The event as in past years was held to support Life Education Wiltshire.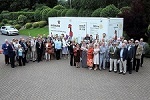 This year has been particularly special with the delivery of a new classroom which was officially launched at Cumberwell Park on the 26th June 2019. The classroom was paid for with donations from Rotary Clubs in Wiltshire combined with a Global Grant from Rotary International.