Weekly Newswire from Peter Race 13 November 2018
Ripon Rotary Club Weekly News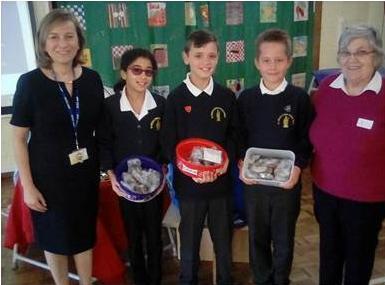 The Club extended condolences to the family of Rowels' President Elect Peter Stanley and the Club.
A health update was given on Peter H and David R.
Thanks expressed to Bill S and marshals at the Cathedral. Thanks also expressed for generous contributions to the Food Bank.
Register of charitable interests return [including nil returns] welcomed by Derek.
By-pass grass has been cut, bulbs bought and the go- ahead given for tree planting at the Spa park.
World War1 poems have been judged.
Alys and the International Committee have visited local schools to give a demonstration of the use of the aquabox.. Alys pictured at St Wilfrids.
Views invited at the meeting about the frequency of Club meetings.
£200 donated to Carers' Resource for Christmas activities.
City of Sanctuary and Vision Support Group updates given.
The Young Musicians of the Year Concert is this Saturday at Sharow at 7.30. It also features the choir of Queen Mary's School.
The NHS Friends of Harrogate Hospital Variety Show is on November 18th at the Royal Hall. Performances at 2.30 and 7.30.