Rotary District 1040 Conference 2019
Fri 11th October 2019 at 14.00 - Sun 13th October 2019 - 12.30
The Aireborough contingent's adventures in Scarborough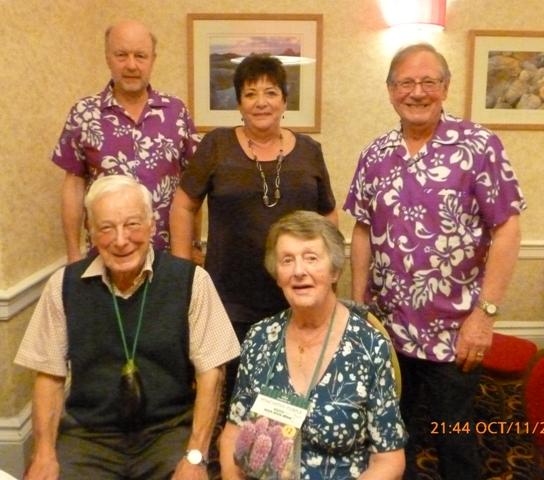 Change of scenery as usual in October for the Annual District Conference with a twenty six strong party from Aireborough joining several hundred other Rotarians and Inner Wheel members spending two days in the Spa Complex 'Thinking Differently' about the future of Rotary around the overall theme of Rotary Connects the World. Food for thought came in talk of more inclusive, participatory and flexible Clubs, project driven to attract new members and engage more volunteers. Rotarians were encouraged to think about how Rotary is perceived in their communities and the impact we are having.
No resting on their laurels for the Aireborough Club but having reacted decisively and imaginatively to Rotary2 we will not be standing still and will continue making our voices heard whenever anyone listens. Being featured in a RGBI video encapsulated our progress.
The theme for our idiosyncratic Friday Night Reception and Dinner this year was Purple for Polio with prizewinners Geoffrey and Heather Barton, Hyacinth and Avocado to their friends, for their sheer ingenuity and simplicity. Brian Whitham and Janet Kerr awarded purple prizes whilst hosting 'Play Your Cards Right!'
Saturday afternoon once again featured a fundraising Jakethon this time being decided by weight. Results will be added once avaialble.
Time for fun came via Saturday evening entertainment through the voice of Phillippa Healey, classical soprano and leading lady and the performance of Roy G Hemmings in his Dictionary of Soul Show, which saw a good number of Aireborough members reliving the sixties and seventies with enthusiasm.
We were lucky enough to get a chance to talk to double amputee and former Royal Marine Ben McBean on Saturday evening in the Red Lea Hotel and could not fail to be inspired and motivated by his whole story on Sunday morning reliving his tale of self driven recovery from the earliest moments following a suicide bomber's attack.
We will certainly take advantage of the opportunity to pass on our views about this year's Conference