Santa Fun Run
over 100 people each year take part in this worthwhile fun event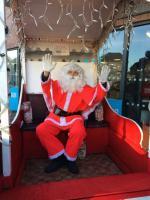 Meriden Rotary Santa Fun Run 2019
The Event was held on Sunday 1st December 2019 at Meriden Hall. This was our 8th year of organising the run and we were blessed with a lovely sunny day. Judging by all the lovely feedback it was thoroughly enjoyed by all.
We had over 120 runners of all ages and abilities, all dressed as Santa and providing a wonderful sight as they passed through the village. Some were in prams and others were accompanied by their dogs often dressed festively also. We even have one or two who cover the course on horseback later in the day. We had a girl's football team and a team from a Personal Training Group. Everyone promising to return next year to take part again.
The runners were sent on their way by The Mayor of Solihull, Councillor Stuart Davis who together with the President of Meriden Rotary presented runners and strollers with medals on completion of the course. Support from villagers along the route provided lots of encouragement for the runners and strollers alike. Many runners stayed on to enjoy complementary tea and hot chocolate after the run and it was a lovely scene at Meriden Hall.
The event had Solihull Council approval and they provided advice on traffic management arrangements including road closures which they arranged.
Support from Club Members and friends in preparing for the event and erecting marquees was excellent as was support on the day marshalling and registering runners at Meriden Hall. The Parish Council provided facilities at the village sports ground and also helped with marshalling.
We are most fortunate in the support we receive from many organisations. In particular we had expert traffic management provided free of charge by Saltem. This expertise is key to the safe running of the event. Pertemps once again very kindly allowed us to use their lovely grounds as a start and finish venue. In addition, The Manor Hotel provided the refreshments, Budgens shop distributed Santa suits, D-Tox provided the portable toilets and The Strawberry Bank Hotel provided additional parking
Many of the participants, including Rotarians, obtain sponsorship from friends and family which provides a significant proportion of the monies raised for charity. The largest contribution, however, came through very generous corporate sponsorship including a £1000 donation from Andy Edwards and a large donation from Pertemps. Many other midlands-based companies also provided important contributions
In total we raised in excess of £3000 for charity this year. Marie Curie will be the main beneficiary as always.
Presidents comments