Rotarian Peter Clifford RIP
With great sadness we learned that our member Mr Peter Clifford of Blunsdon House Hotel passed away on 2nd February 2020.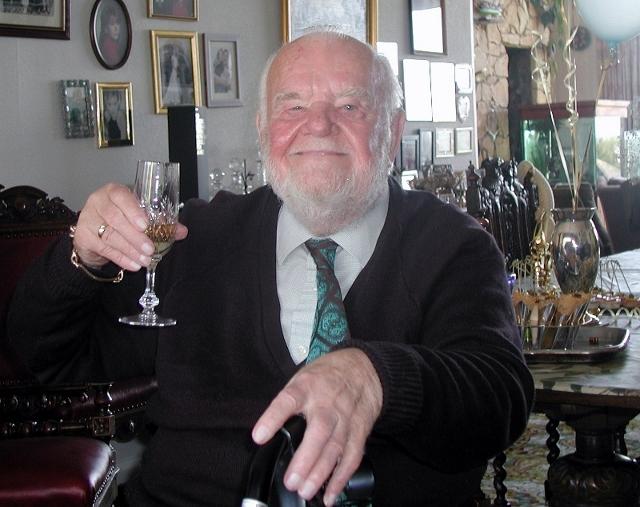 Peter has died in his 96th year. He was a respected hotelier and businessman, and a committed Rotarian with over 60 years of service above self. In 1966 he was one of the founder members of our Rotary Club. The picture above was taken in 2013 on the occasion of his 90th birthday.
Fellow founder member, Niall Gurrey, recalls that he first met Peter and his wife Zan some 70 years ago when they needed his accountancy services. They were looking to supplement the income from their small farm at Blunsdon House by taking in bed and breakfast guests. At that time Peter and Zan were accredited Ministry of Agriculture poultry breeders producing around 2,000 day old chicks a week. They also had a small dairy herd and a few pigs. The accommodation side of things was initially subsidised by the farm and started in a very small way. It came about as a result of the tremendous pressure for accommodation in 1957 when the Bath & West show came to the Polo Ground in Swindon.
Speaking in 1968 Peter said: "Our first charges for accommodation, when my wife was doing the cooking and I was the odd-job boy between farming activities, was 15 shillings (75p) for room and breakfast, and we were getting what at that time seemed a large through-put of perhaps 8-10 people a week." In 1960 the B & B became a licensed Country Club. Continued growth and success transformed it into the 4-star Hotel it is today. Sadly, Zan passed away in 2013.
From about 1959 Peter was a member of Swindon's only Rotary Club, the Rotary Club of Swindon which held its meetings in the Goddard Arms Hotel. His Rotary classification was "Poultry Breeder". In the early 1960's it was decided that Swindon needed another Rotary Club and Peter used his contacts with local businessmen and professionals to recruit potential Rotarians. The late Ted Morse guided the new group through the processes and by 1966 their number was enough for Rotary International to charter the new Club.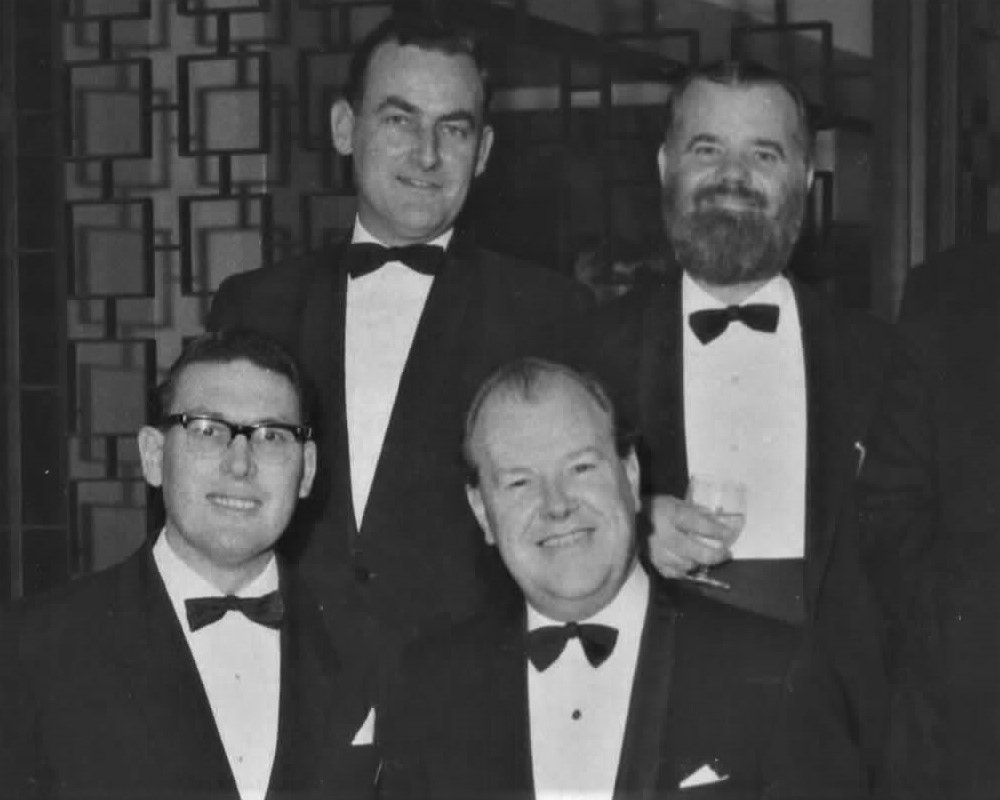 Peter offered his Hotel for the new club's meetings and transferred his Rotary membership to it, thus becoming one of its founding members.
In the picture - 4 of the founder members in 1966, top right - Peter Clifford, bottom left - Niall Gurrey
The new Club was named the Rotary Club of North Wiltshire (in 2008 the name was changed to the Rotary Club of Swindon North). Peter's Rotary classification was now "hotelier" reflecting the change in his business activities. It was noted at the time that his hobbies were gliding, snooker and horticulture.
For 50 years Peter gave the Rotary Club his unwavering support, frequently as a committee chairman with a very hands on approach. But being somewhat shy of public speaking he never did accept a nomination to be the Club's President.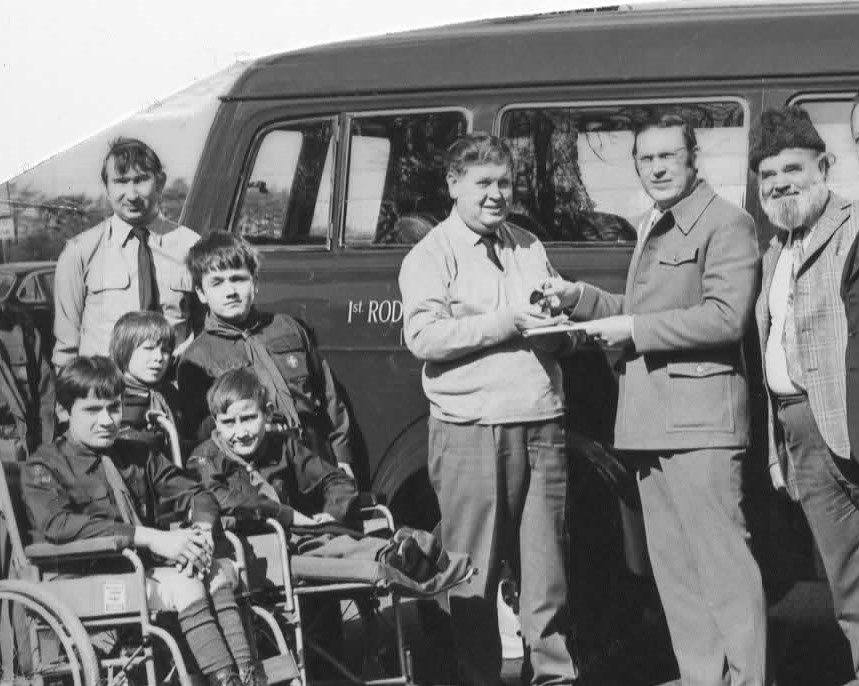 Nevertheless Peter ensured that the Hotel facilities were always available to our Club and he had a great talent for the gentle arm twisting of various suppliers to support our functions and fundraising events such as an annual wheelchair marathon and sponsored walk. Memorably one of those started and finished at the US airbase in Fairford and many service personnel joined in.
Other examples include the purchase of a minibus for the local disabled scout group in 1973. In the picture: Rotary President Niall Gurrey presents the keys to the Scout Group accompanied by Peter Clifford
In 1976 the Club's first "Celebrity Dinner" was held at Blunsdon House Hotel.
The celebrity was Terry Wogan and over 300 people attended.
In 1998 Peter successfully resurrected and brilliantly organised an old fundraising idea, Horse Races on Film, and it raised a sizeable sum.
In 1991 the Club presented Peter with a top Rotary Award – the Paul Harris Award, named after the Rotary movement's American founder – as a mark of gratitude for hosting the Club at the Blunsdon House for 25 years. Today, our Club is in 54th year and still meets weekly in Blunsdon House Hotel.
In recent years failing health prevented Peter from active participation but he continued his membership, interest and support for Rotary and the Swindon North Club in particular right to the end. And so we say a sad and fond farewell to a much loved and hardworking Founder Member, our dear friend Peter Clifford, and extend our deepest sympathy and sincere condolences to John & Carrie and the family.