Virtual meeting - Speaker
Mon 30th November 2020 at 7.30 pm - 9.30 pm
The talk was on the Mercy Ships organisation and was given by an involved Rotarian, Peter Montgomery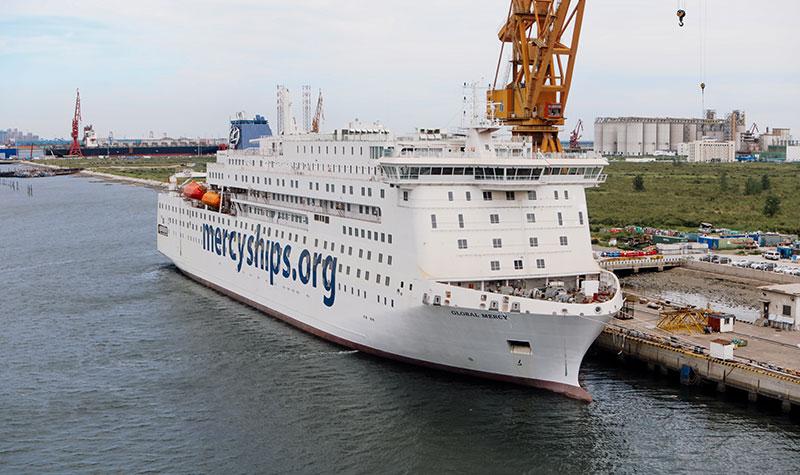 GLOBAL MERCY,THE WORLD'S LARGEST CHARITY HOSPITAL SHIP copyright Mercy Ships
Our club meeting enjoyed a presentation by Rotarian Peter Montgomery (from Yorkshire) on the charity Mercy Ships.
Mercy Ships travel to countries in Africa where there is very little healthcare available, the stay is usually 10 months, having taken 5 years to plan. They perform many orthopaedic operations, remove tumours not seen in our country, correct eye defects any many other seemingly simple procedures which are life-changing for these people. They also train local staff to carry on with their work in clinics they set up.
They are eagerly awaiting the arrival of a purpose-built hospital ship, which will greatly help so many people, but he told us about the African Mercy, a converted ferry.
It has up to date operating theatres and state-of-the-art diagnostic equipment, often having been donated by the manufacturing companies to test them out - but they never seem to be returned!
It is completely manned by volunteers and everyone pays their own way. The captain is the exception, being paid £1 per year to fulfil insurance conditions. It costs volunteers £17.50 per day to serve on the ship, many are funded through their workplace and use holiday entitlement for their 3 week placement. One doctor signed up for 3 weeks 38 years ago and is still there, having married, brought up his family on board, educating them through the academy on board. Many volunteers return time and again.
Visit Mercy Ships website at https://www.mercyships.org.uk/