The Doom Bar at the mouth of the Camel. Seen stretching far out at low tide.
Here is the 10 August Challenge Map

with the red line showing completed footpath sections. 100 path miles done and a combined total of 313. See bottom right.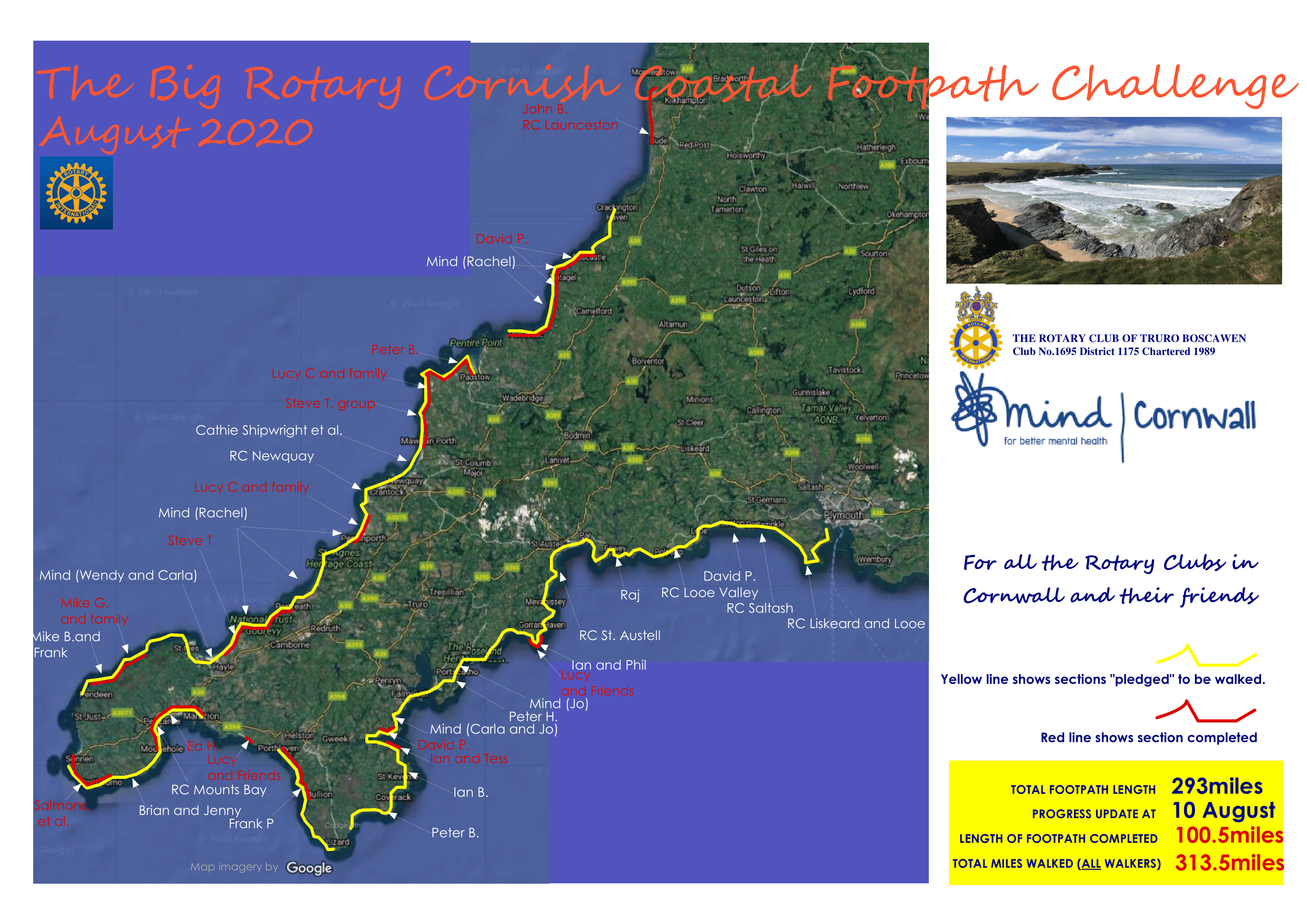 To see the map in fuller detail click this link
Tuesday, 4th. David P does Tintagel to Boscastle.
1 Rocky Valley.
2 The bridges to the "Castle"
3 Willapark Interpretive board. (but spot the spelling mistake)
4 Sea Campions (we think)
5 Boscastle, and the Riverside, almost completely washed away in the 2004 flash floods.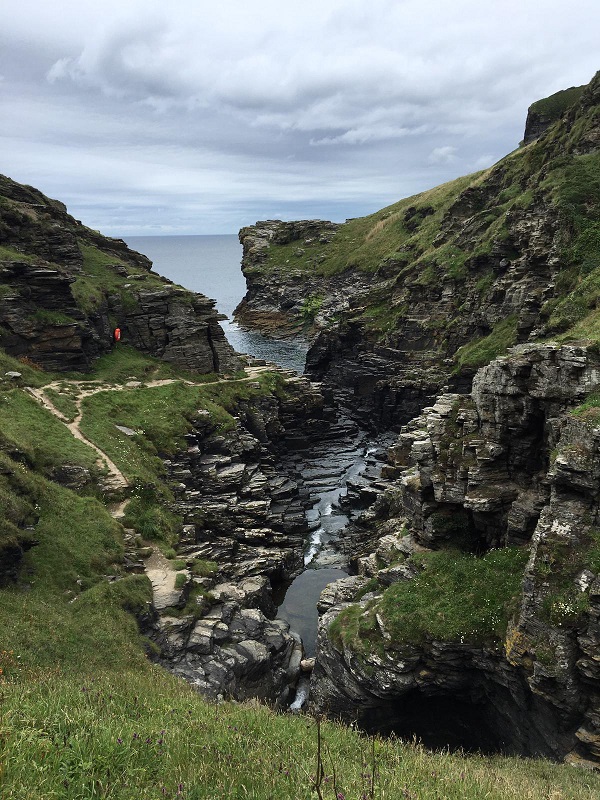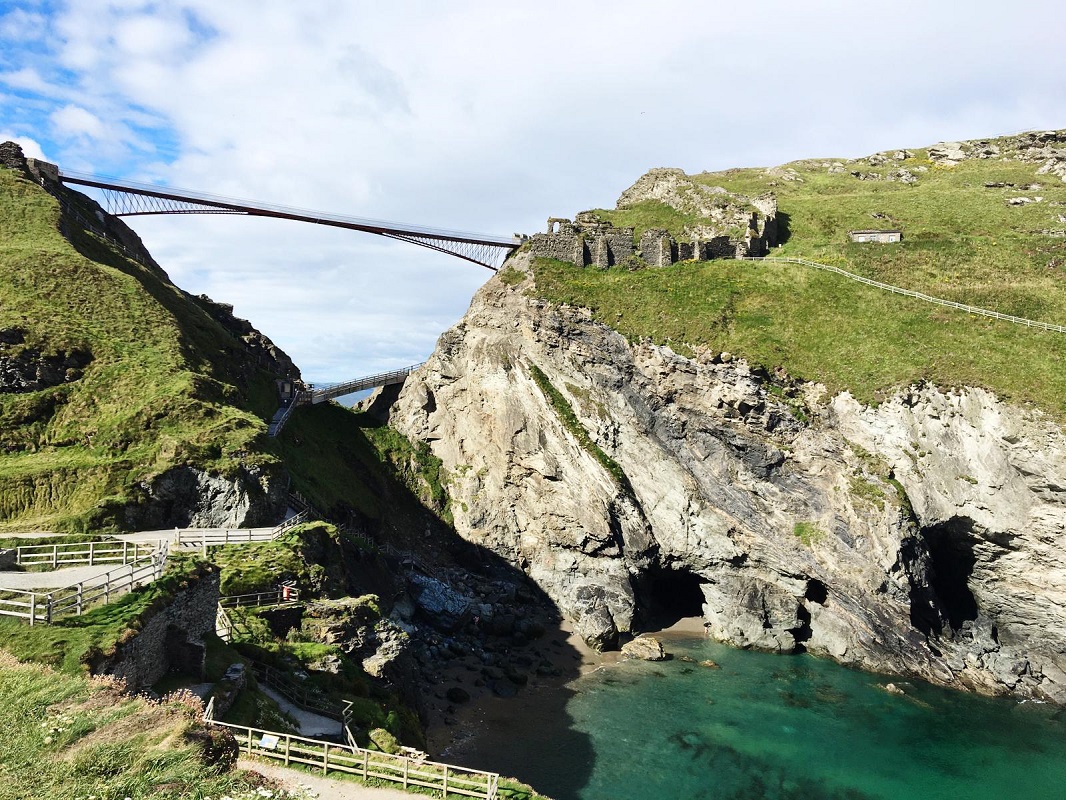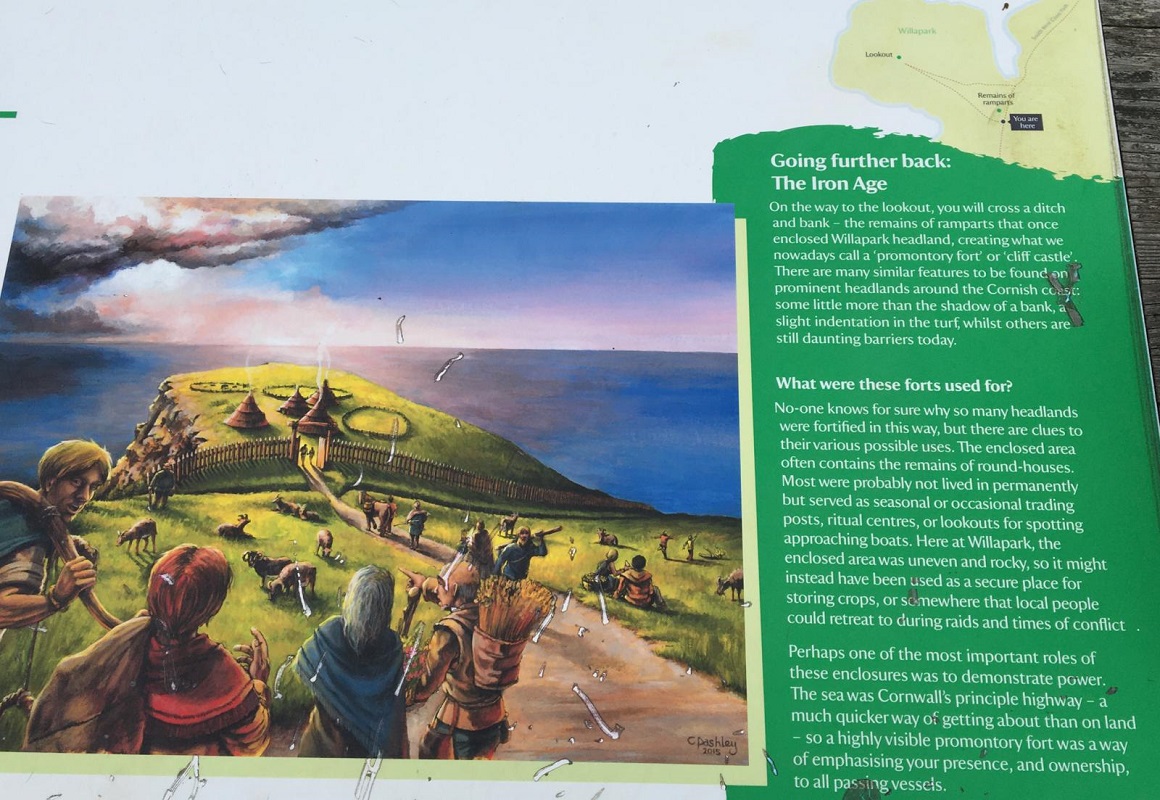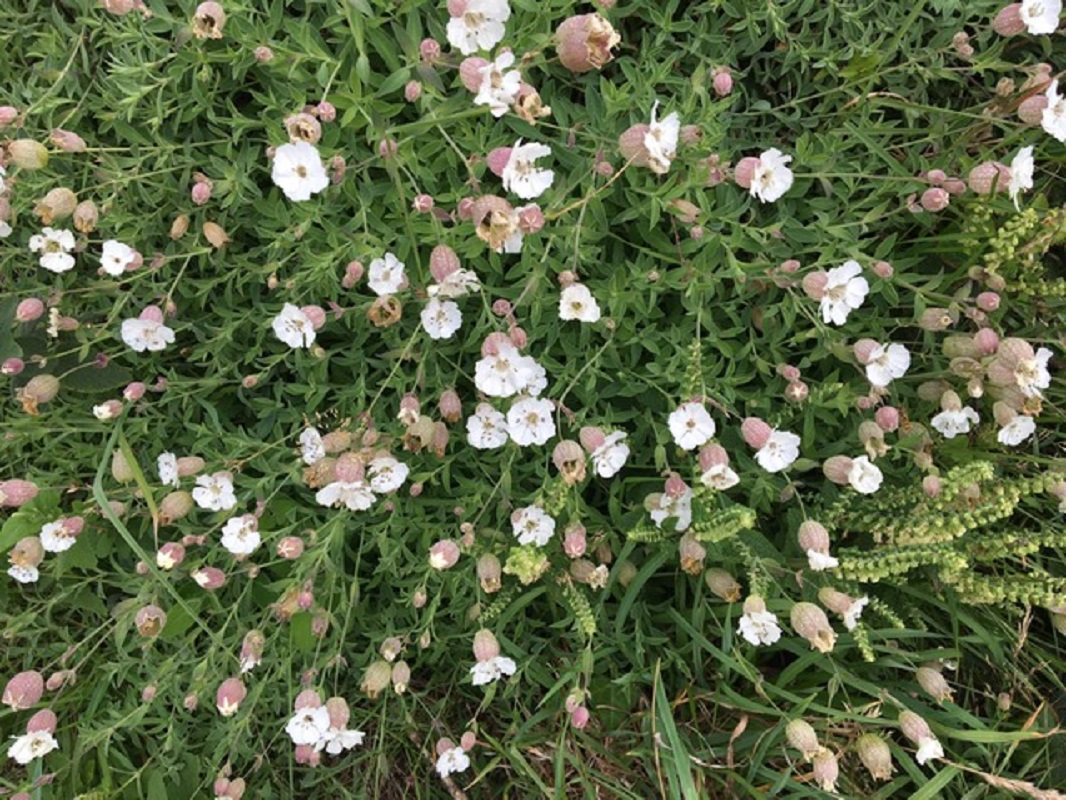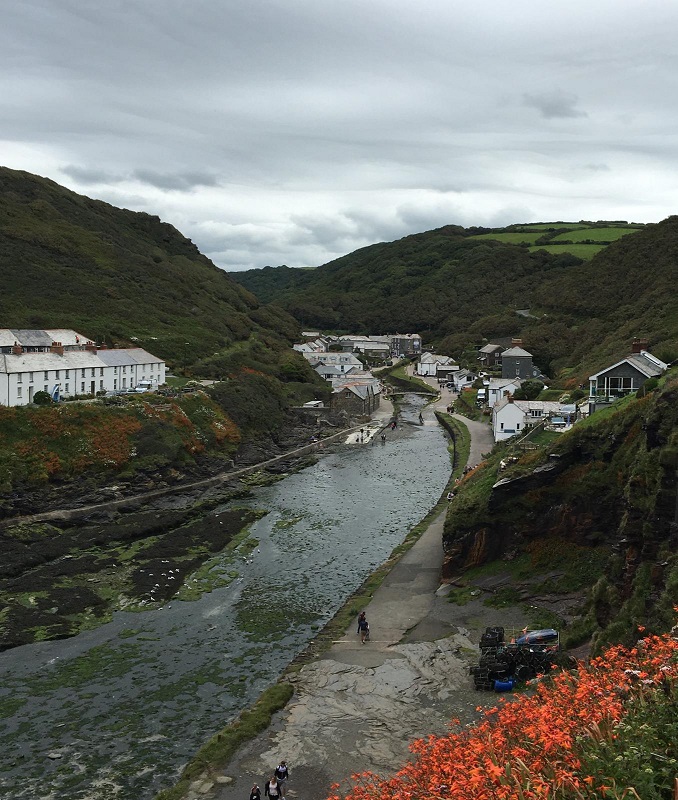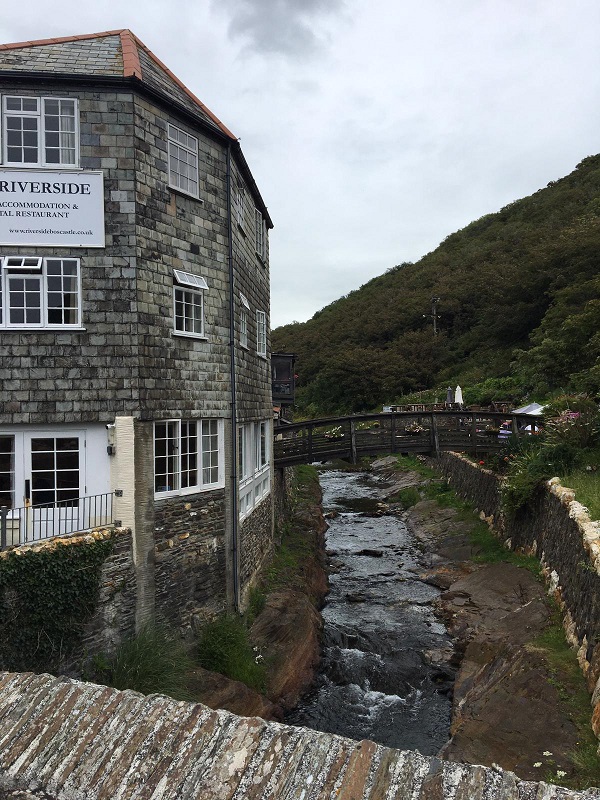 Brian, Jenny and their Team
Brian and son-in-law Jon did Sennen to Porthcurno. Jenny, Helen plus 5 young'uns did Sennen to Lands End and back. Cornish summer weather.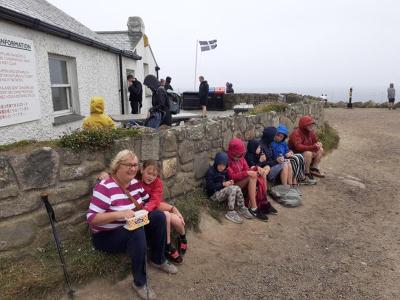 The Facemask Five. Steve, Demelza, Mollie, Max and Paul.
1 They are an example to us all on their misty walk from Pentire to Mawgan Porth.
2 Bedruthan Steps
3 Great colour in the gorse and heather.

4 Laying in sloes for winter gin

5 Steve's caption read " the end is nigh". Think I know what he meant.

6 Max and Mollie still looking very fresh.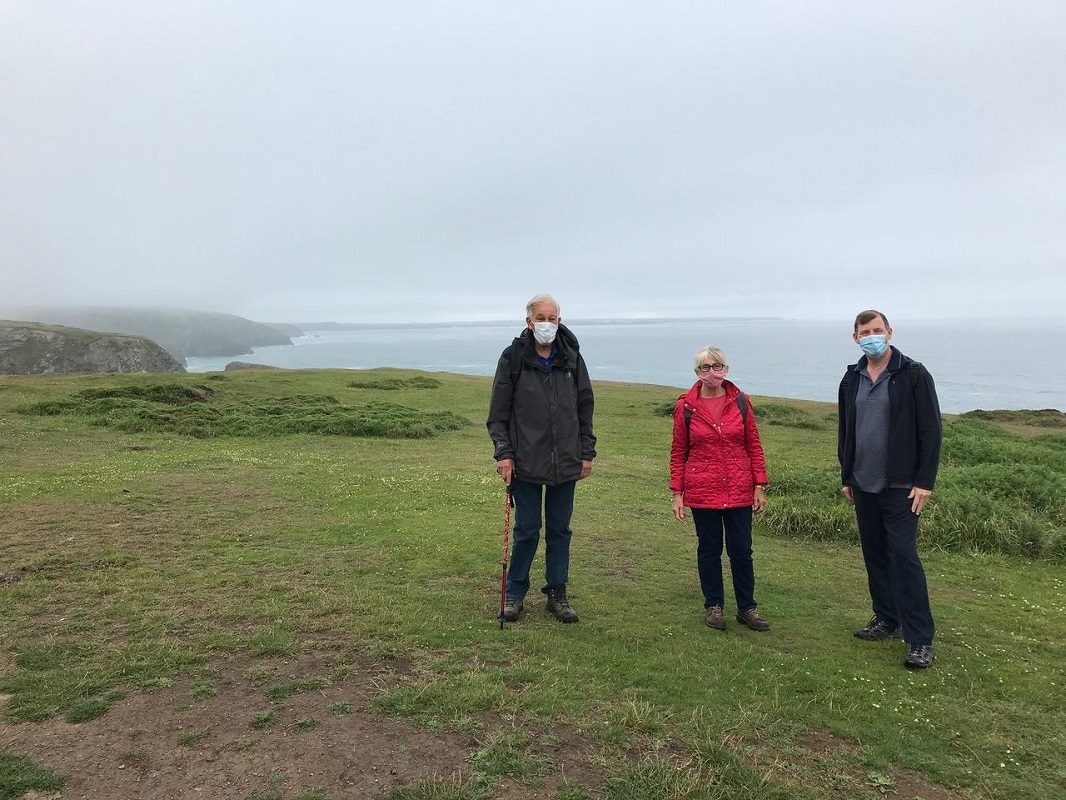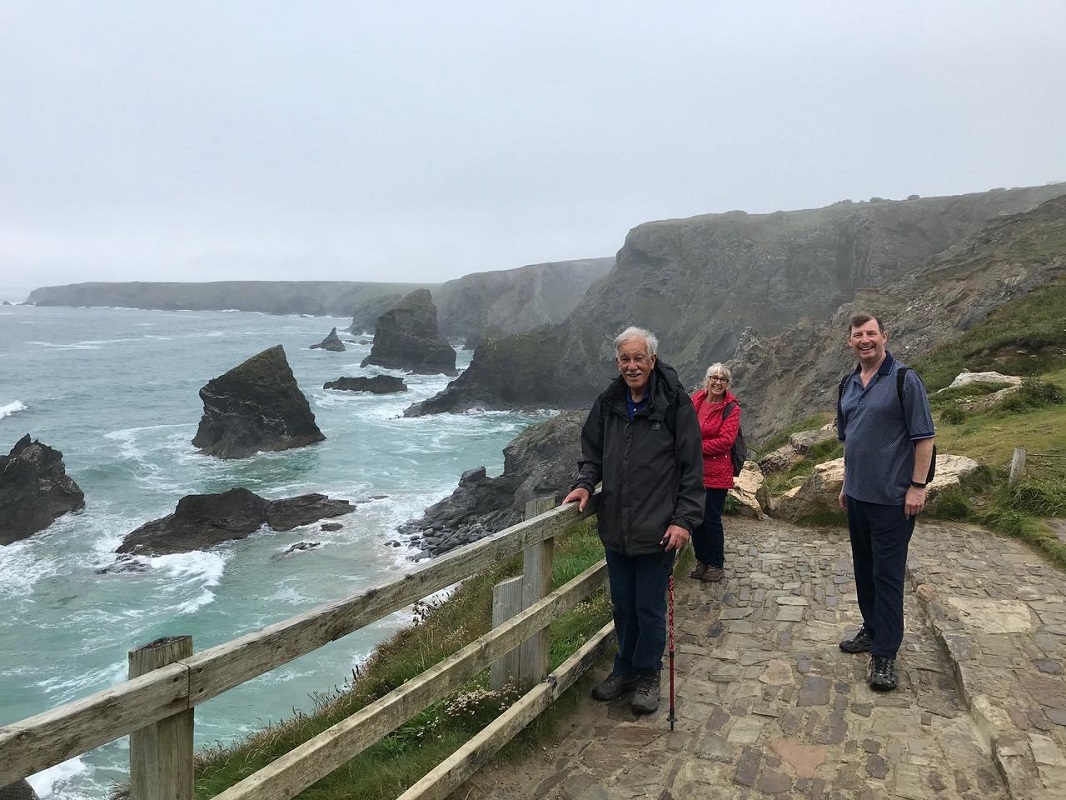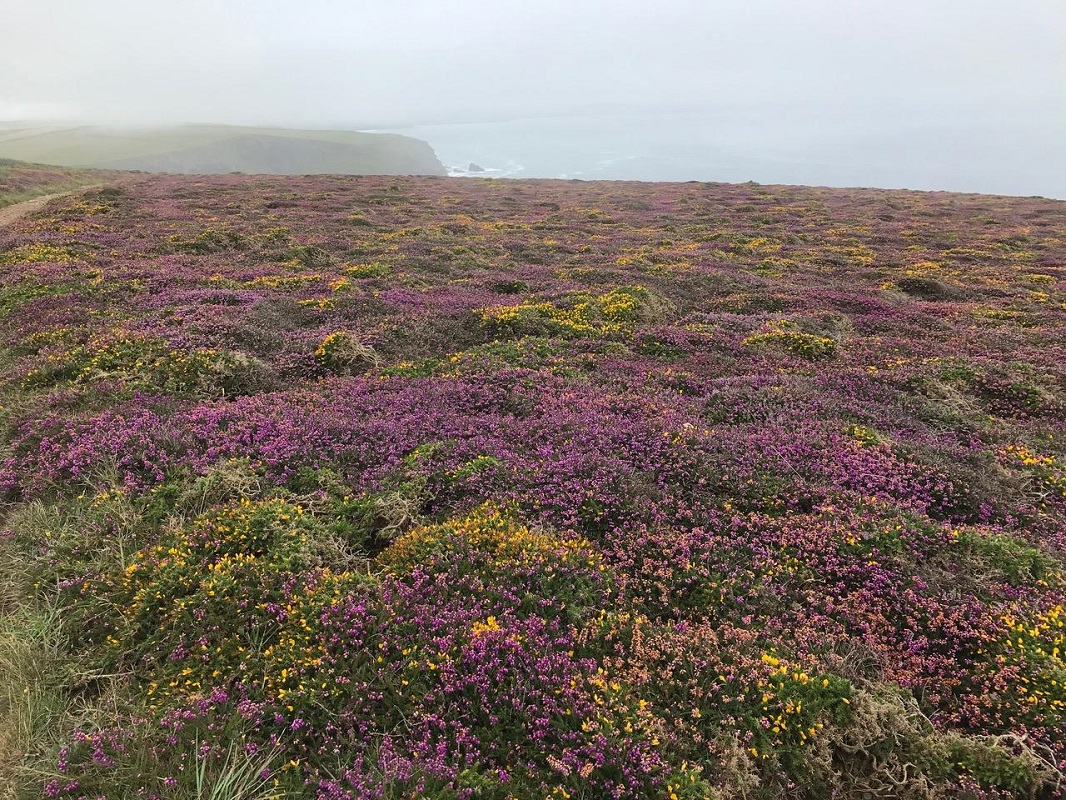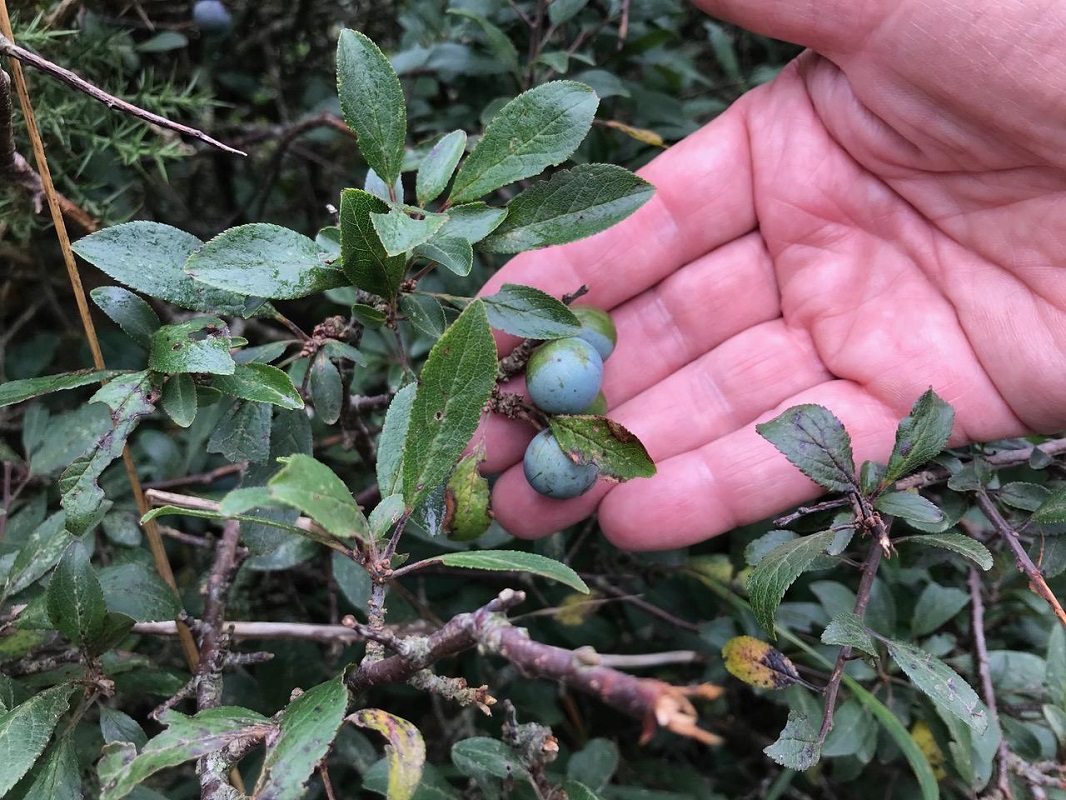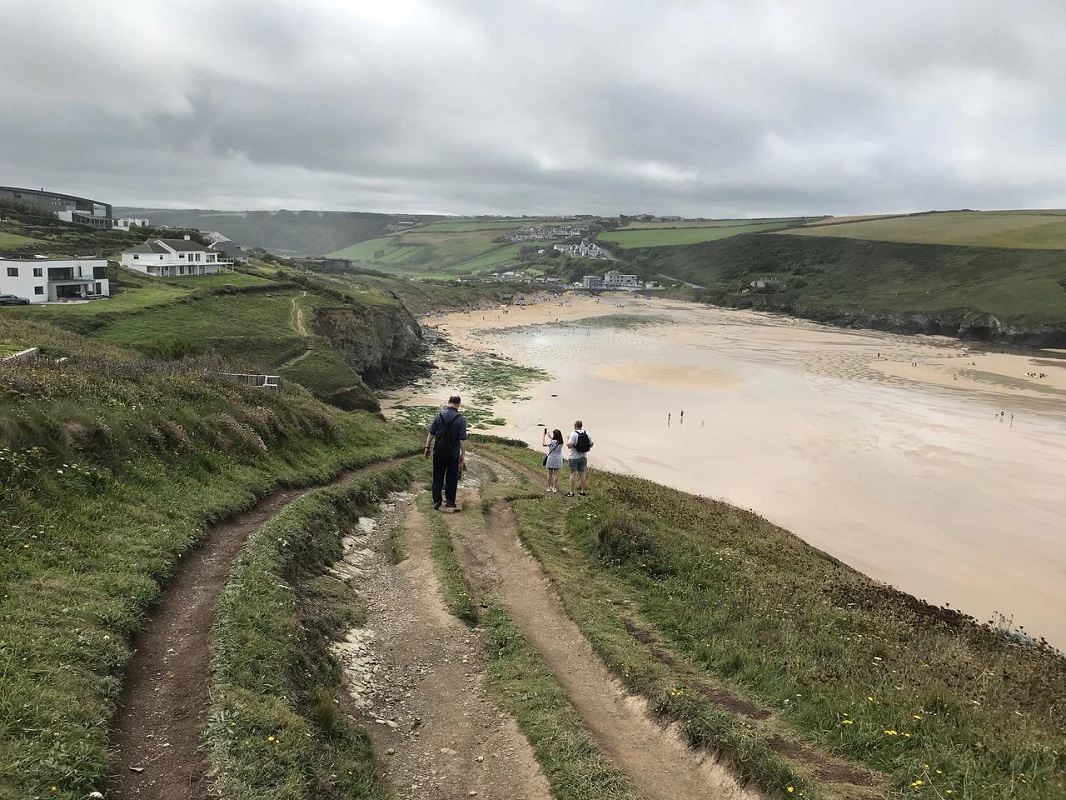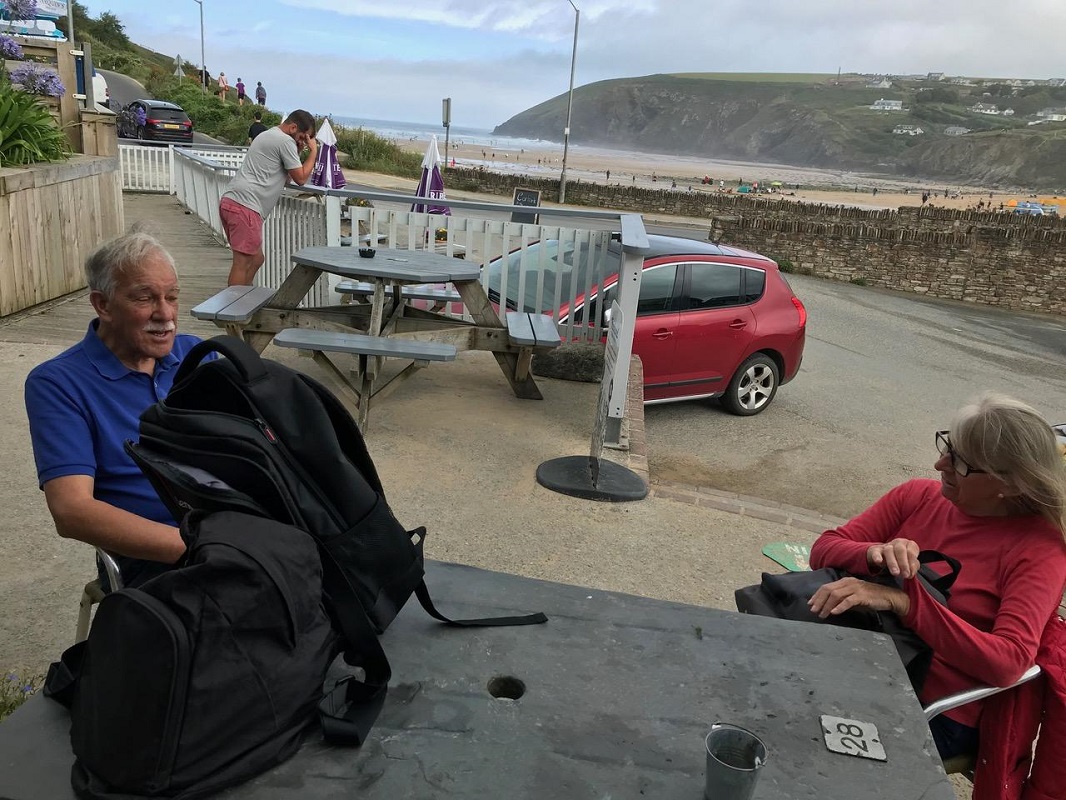 Lucy C , friends, family, etc all go on an adventure

- from Gorran Haven to Hemmick
1 Approaching Hemmick beach
2 The Stone Cross on the Dodman Point headland.
3 Should have thought to bring a saddle.
4 Leaving Gorran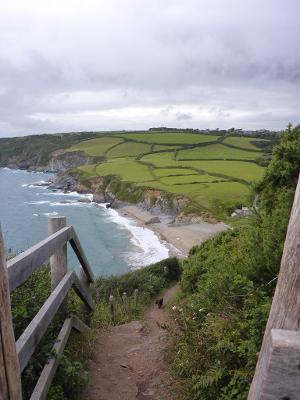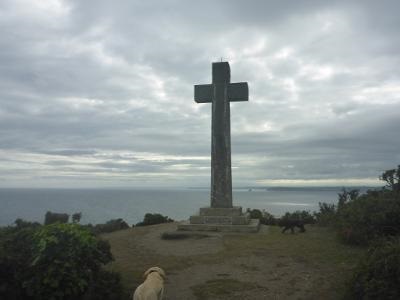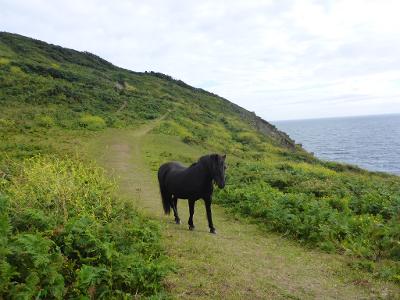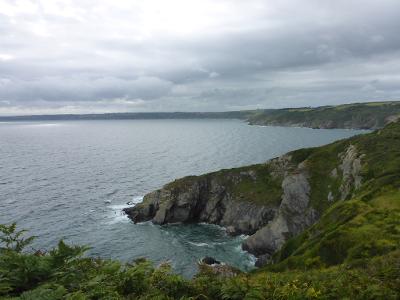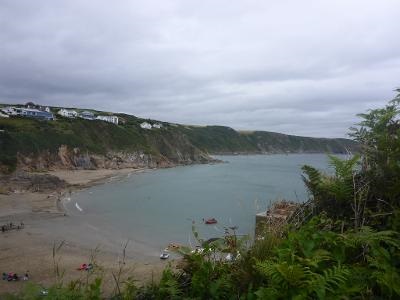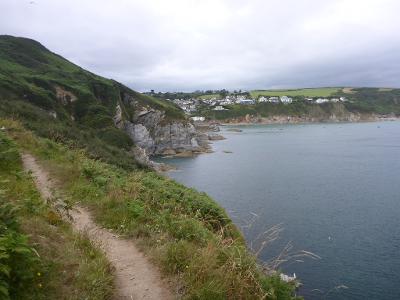 Bionic Lucy. Next she does North Cliffs to Hells Mouth

with her walking chums and families. Lots of miles. (any photos?)






President Ian B. and "The First Lady" Tess took a stroll from Helford to Gillan.(Any photos?)
Porthleven to Poldhu Cove. 5m.

But only walking - not running - for Frank P
1 Porthleven,
2 Loe Bar,
3 Halzephron Cove,
4 Gunwallow Church Cove
5 Poldhu Cove.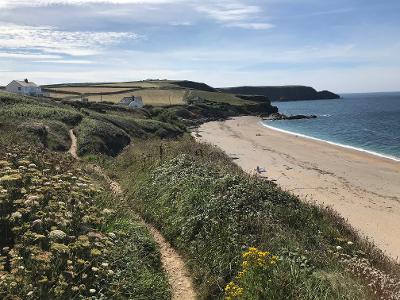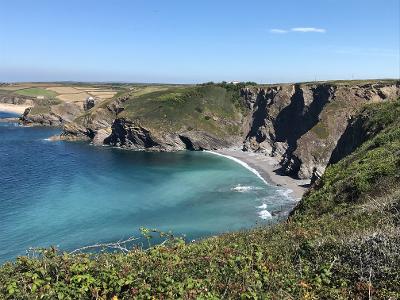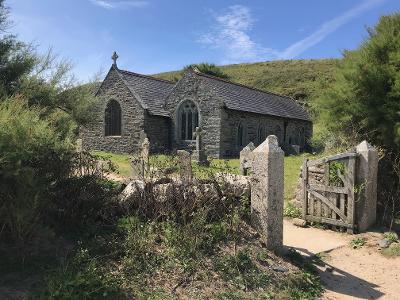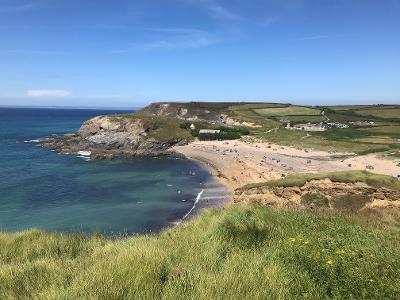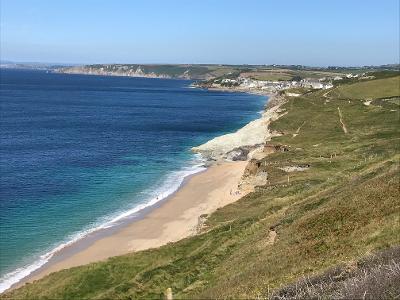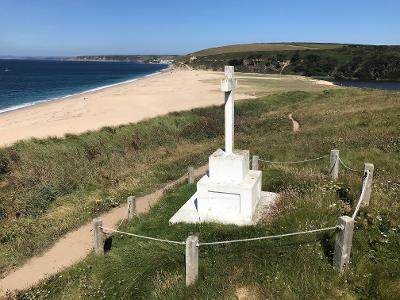 PB goes solo from Trevone to Stepper Point

to the back lanes of Padstow (big crowds in the town) and back across the fields. 8.5 miles.
1 Interesting rock formation and fulmar nests
2 Active coastal erosion. See "Tregudda rock fall" last week on Youtube. Right here.
3 Near Stepper Point
4 The Daymark at Stepper Point
5 Coastwatch at Stepper Point
6 Tempting
7 Lovely houses at the back of Padstow
8 Looking to the mouth of the Camel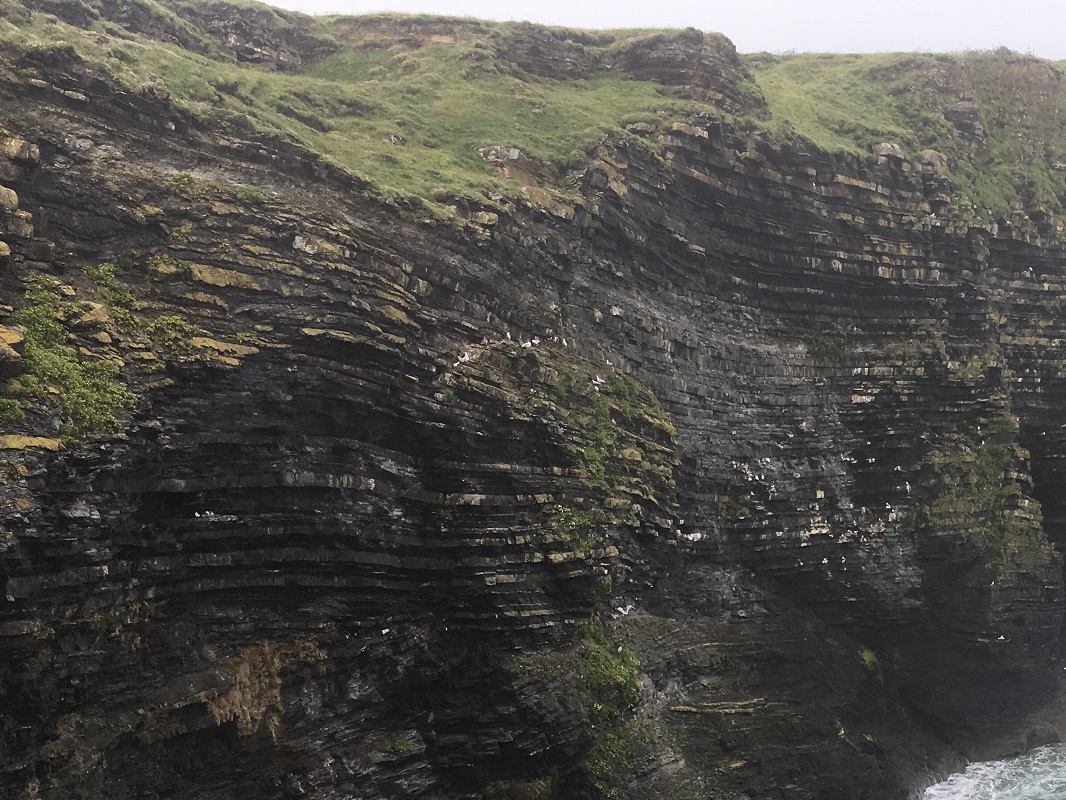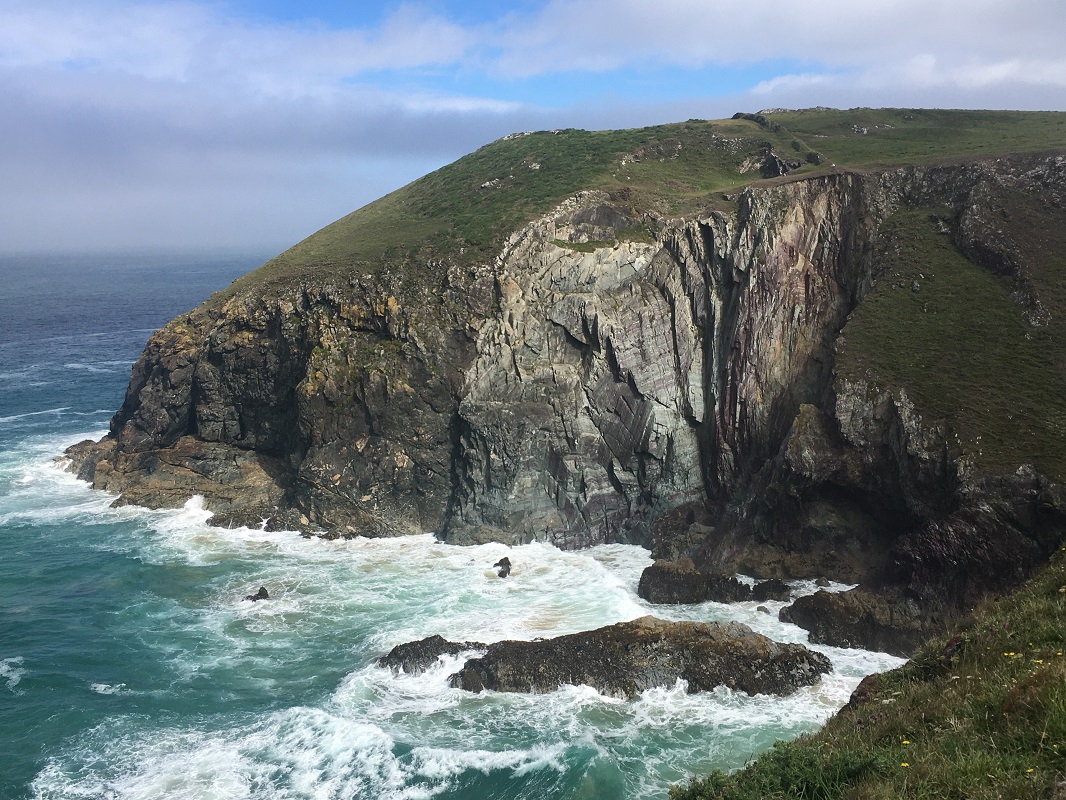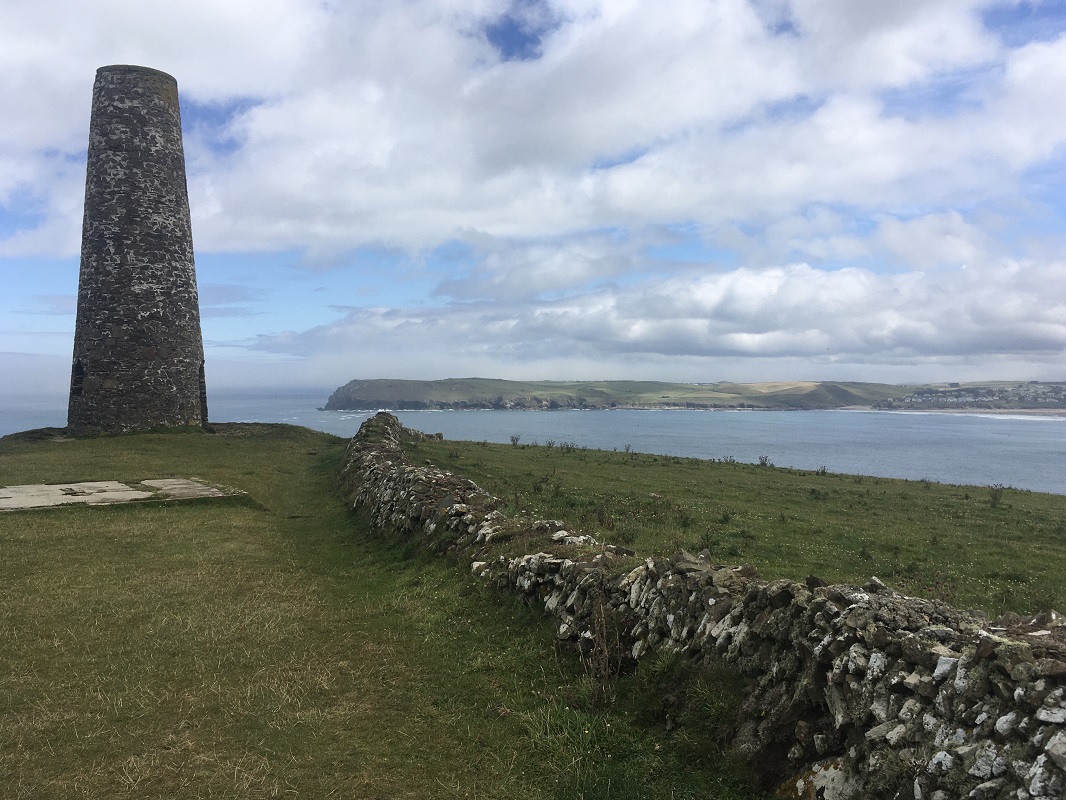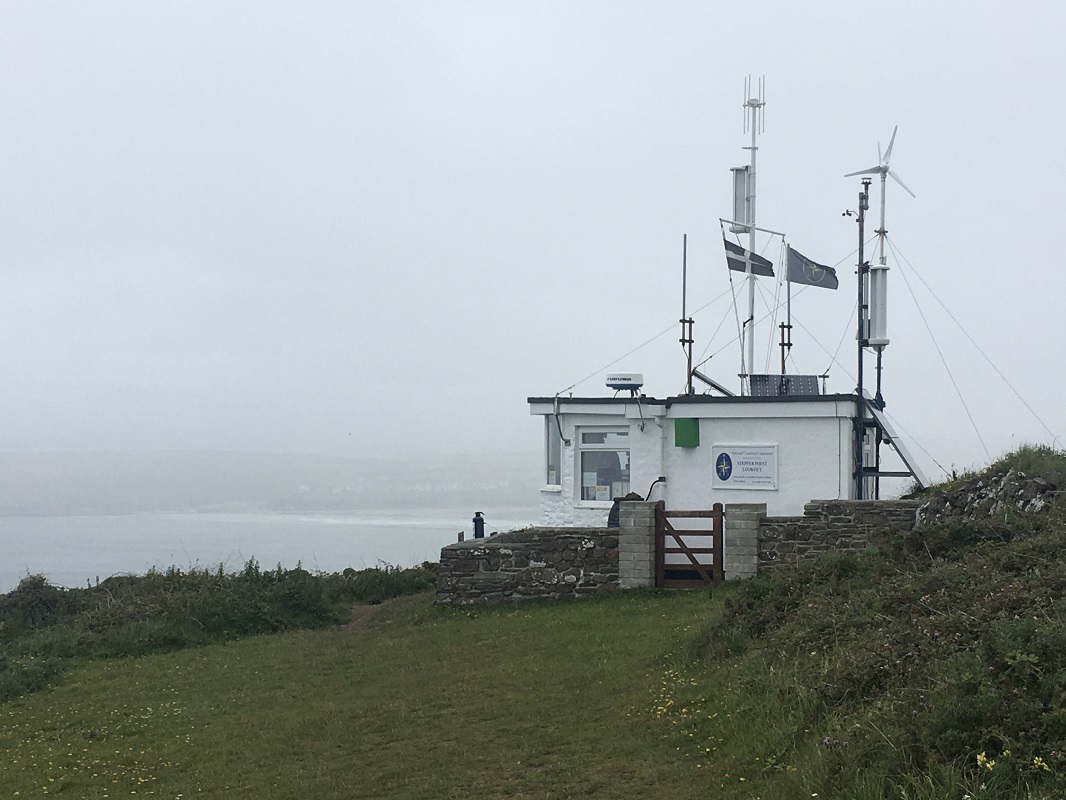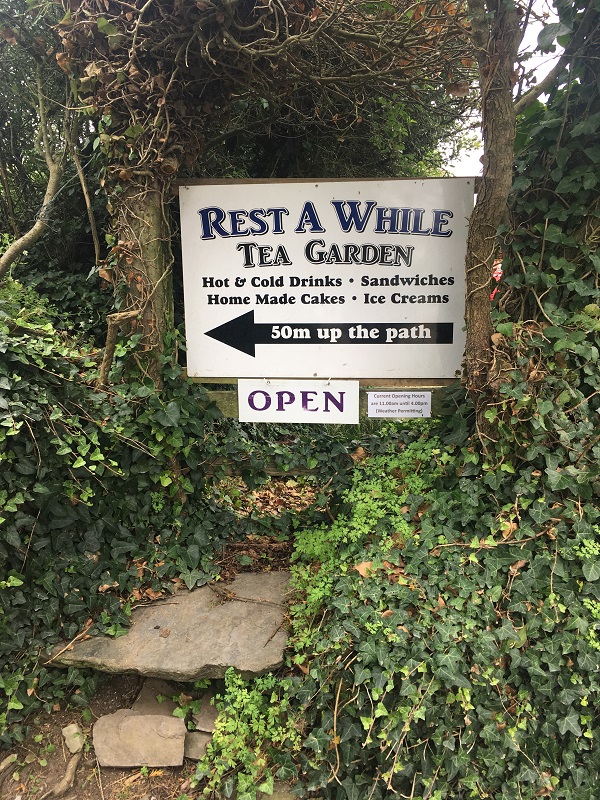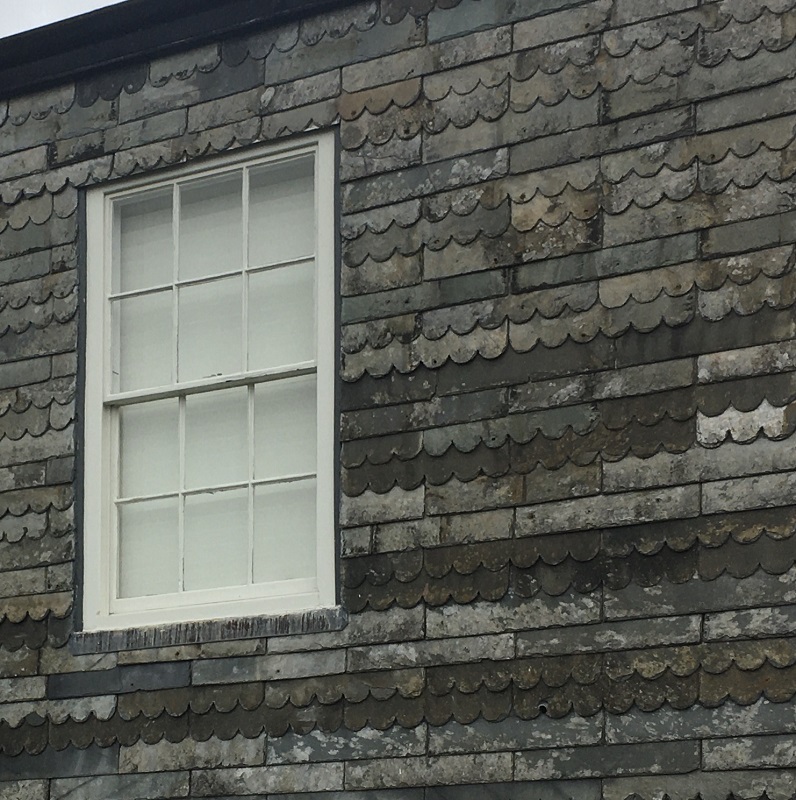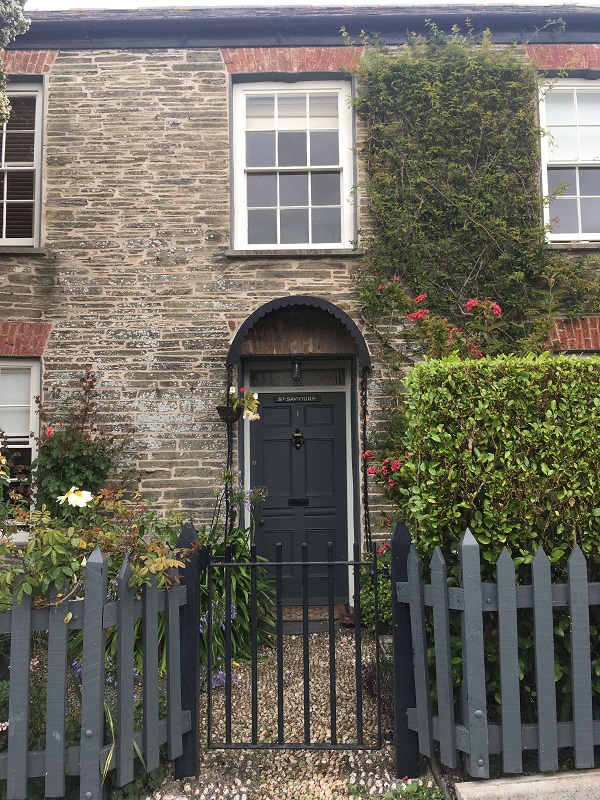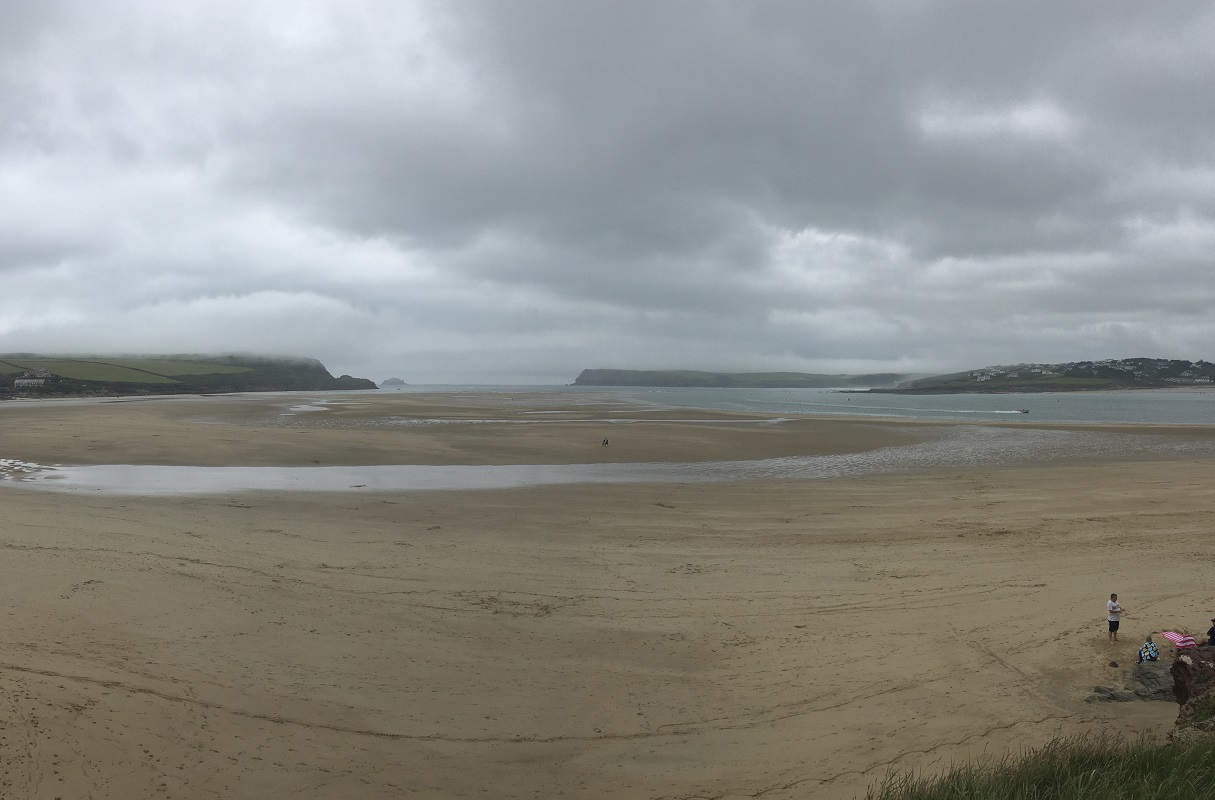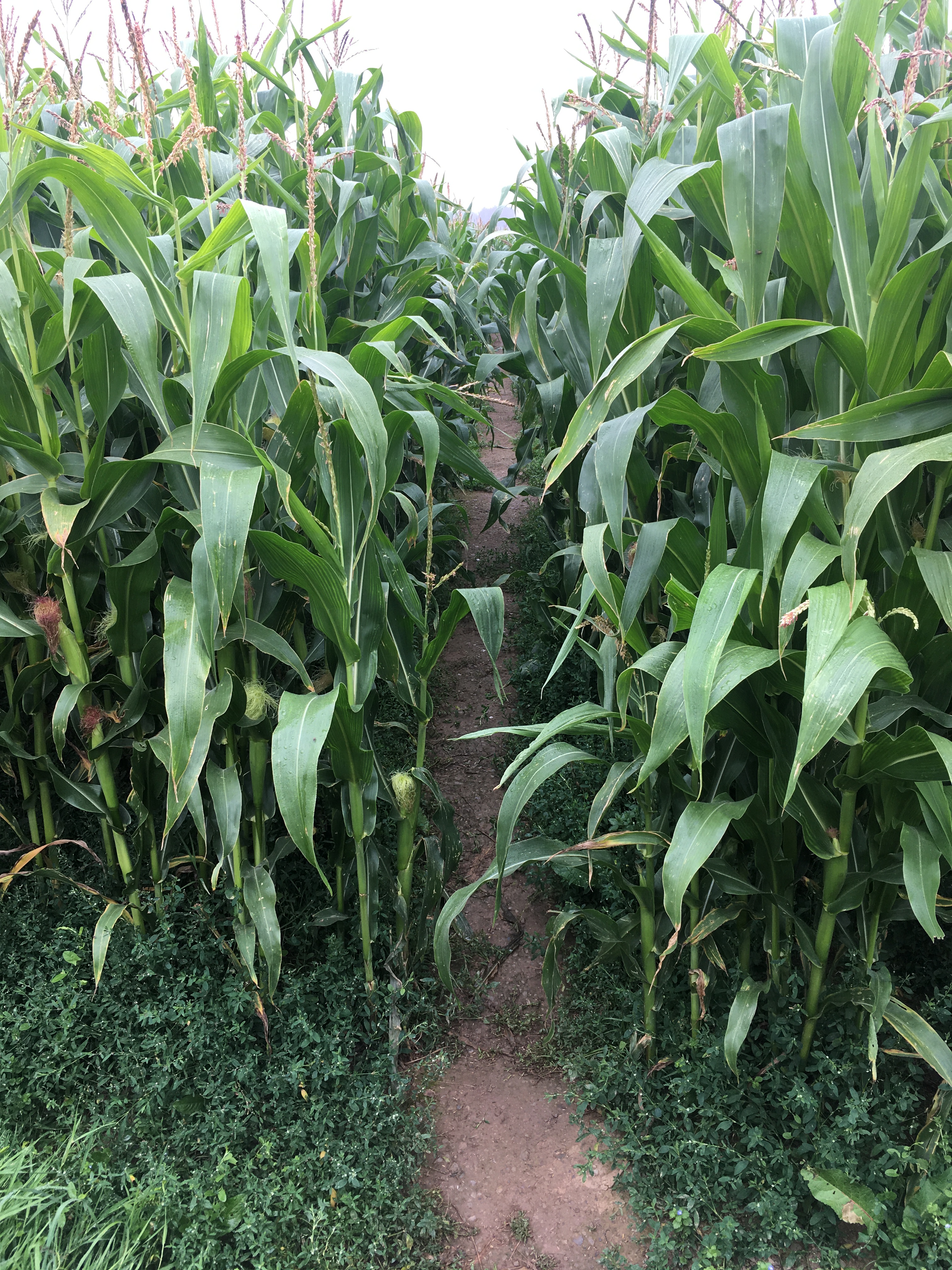 Very wet to walk through
David P. does Tintagel to Port Isaac. 9.3 miles
1 80 ft Pinnacle if inferior slate at Lanterdan Quarry between Tintagel and Trebarwith.
2 Trebarwith Strand. Where's the sand?
3 One of the many ravines.
4 Tregardock Beach, difficult to reach but would be lovely on a nice day
5 The Port Gaverne Hotel, Rammed!....but the beach was empty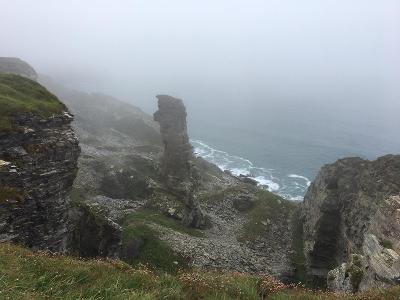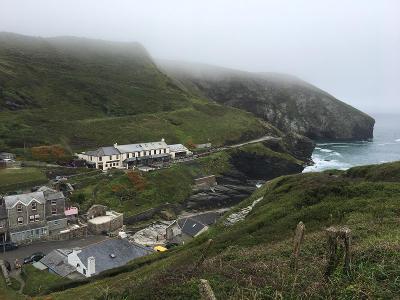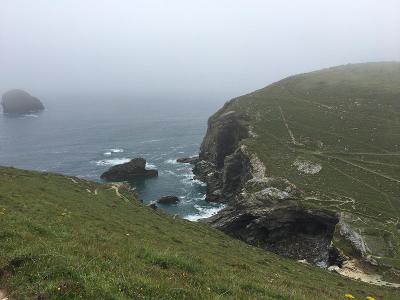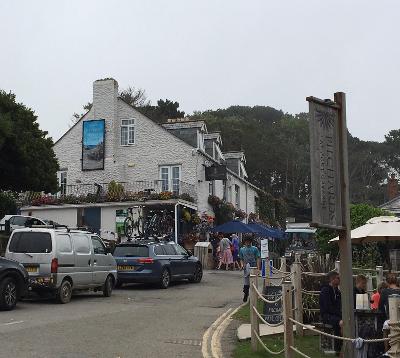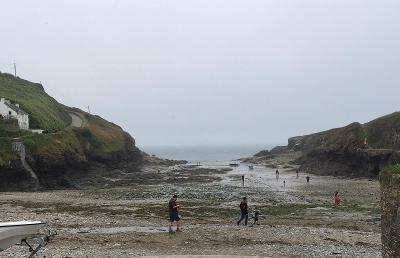 Welcome to RC of Launceston. John B.

He runs - yes runs - from Marsland Mouth to Bude.
1 JB himself, and looking down on Duckpool,
2 Interpretation Board
3 Hawkers Hut and the view from there to Bude.
4 Marsland Valley and beach.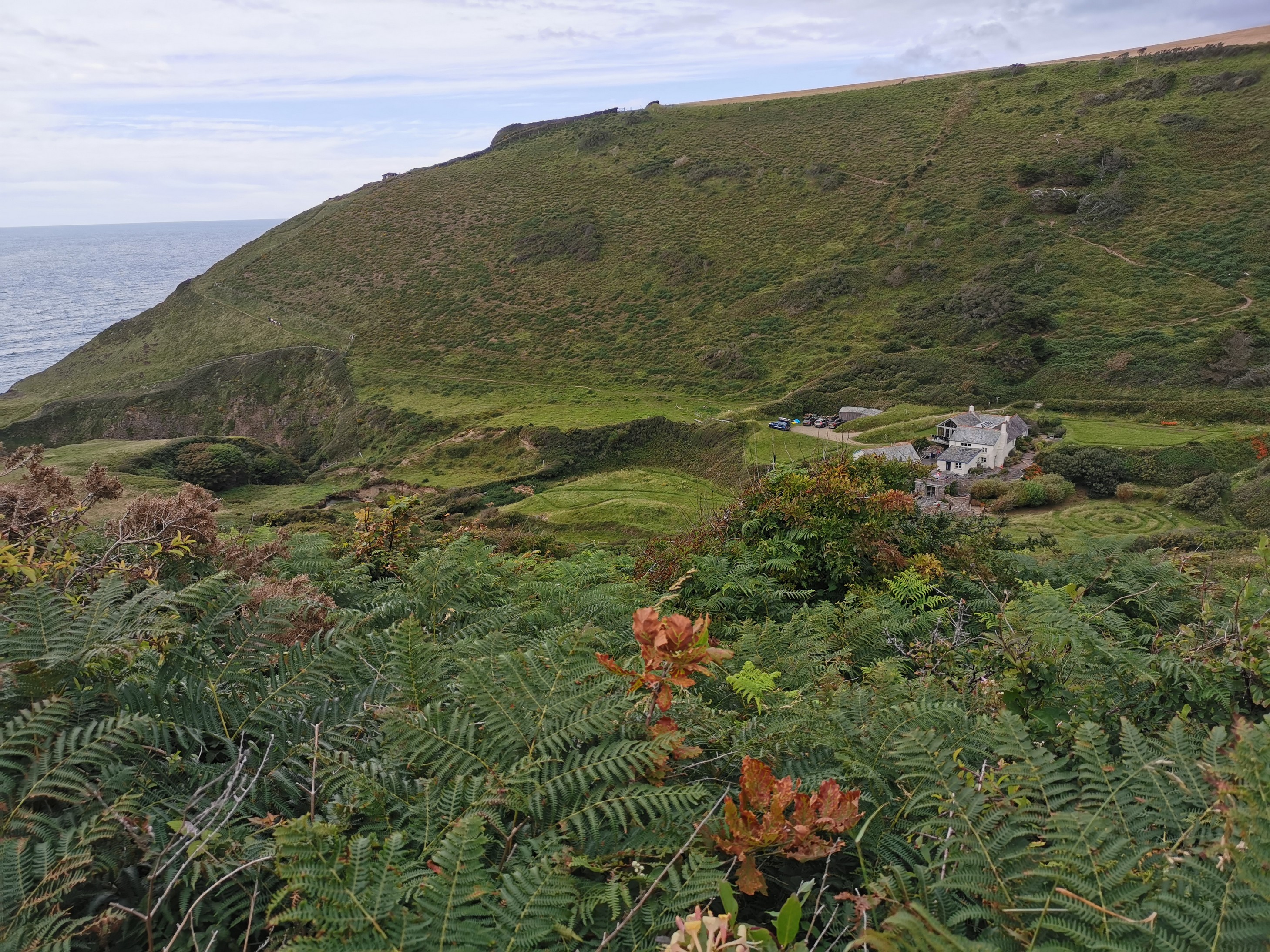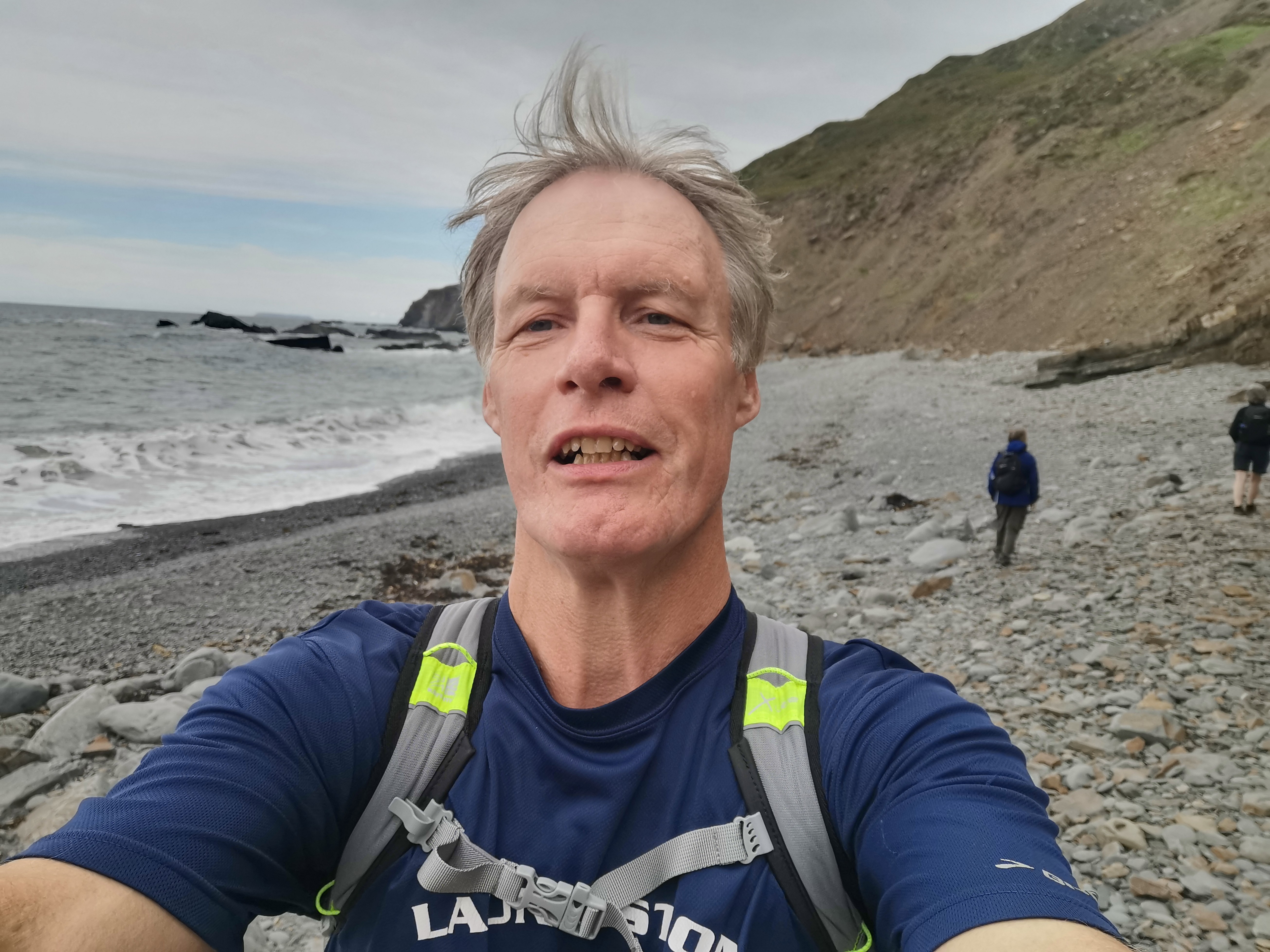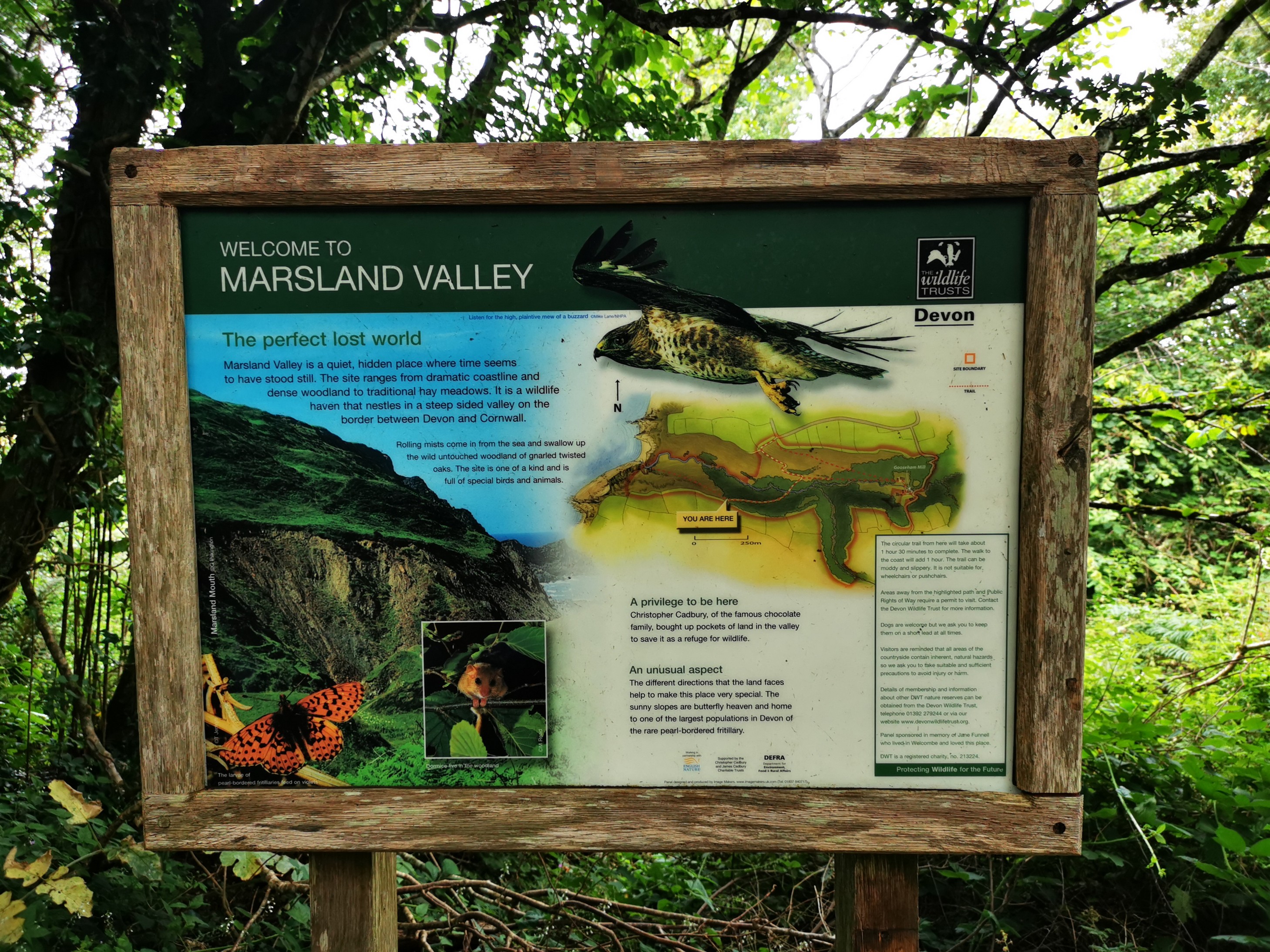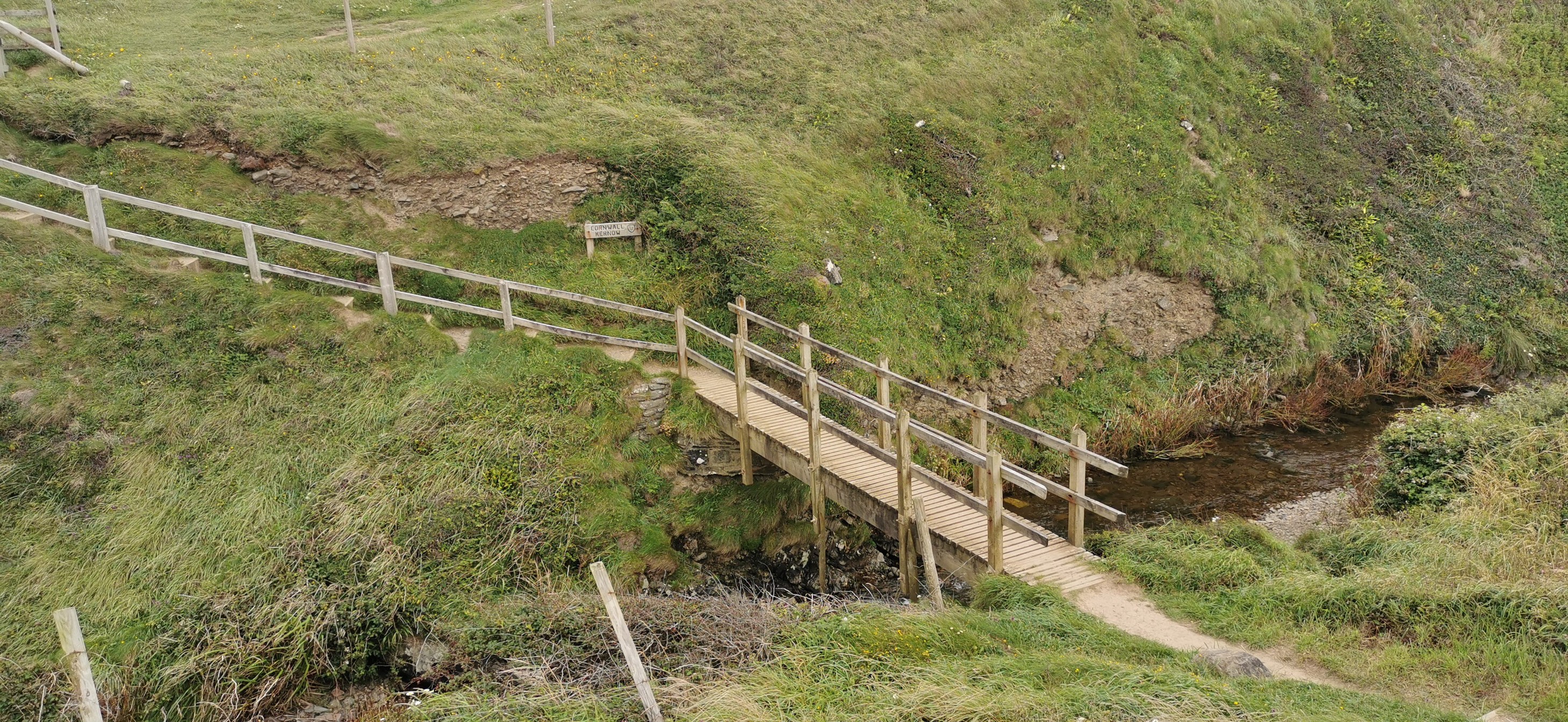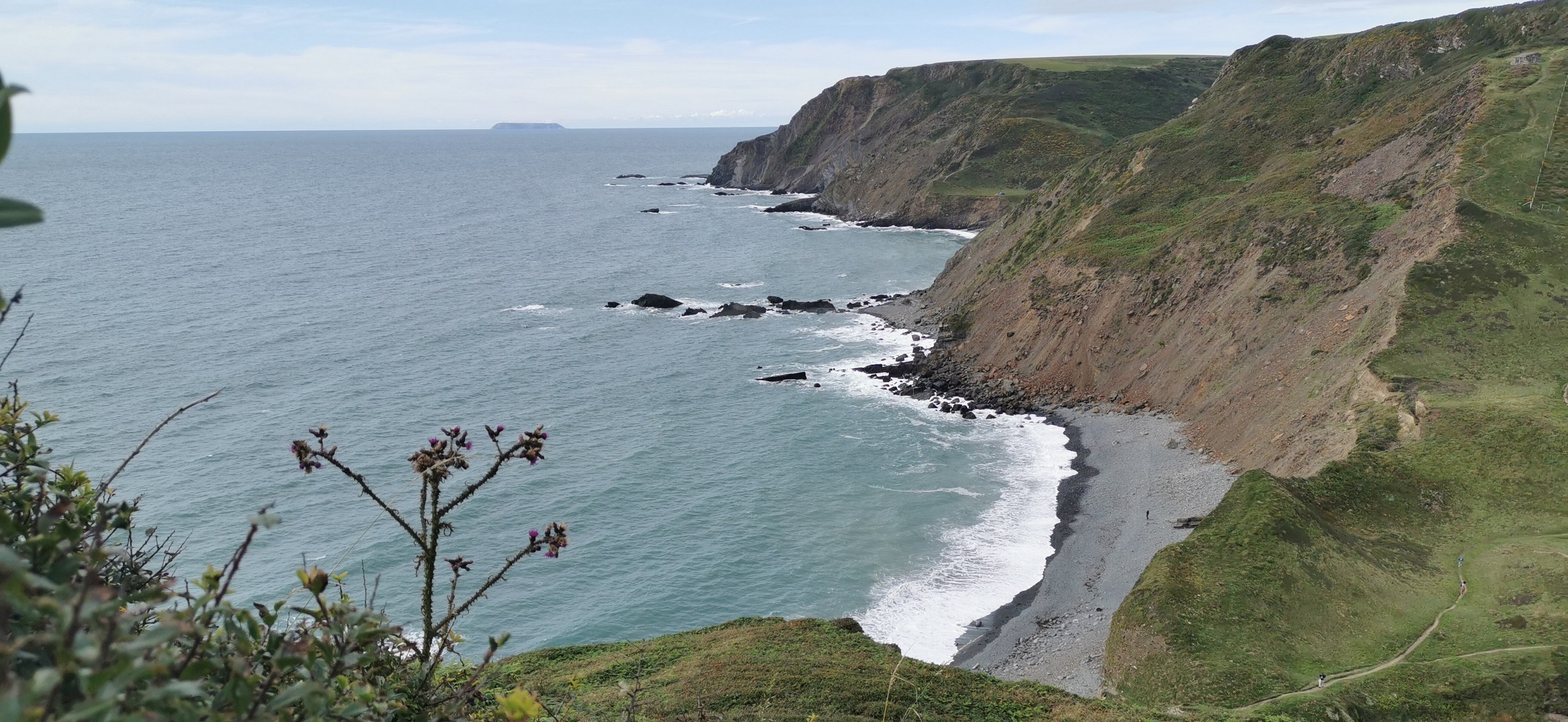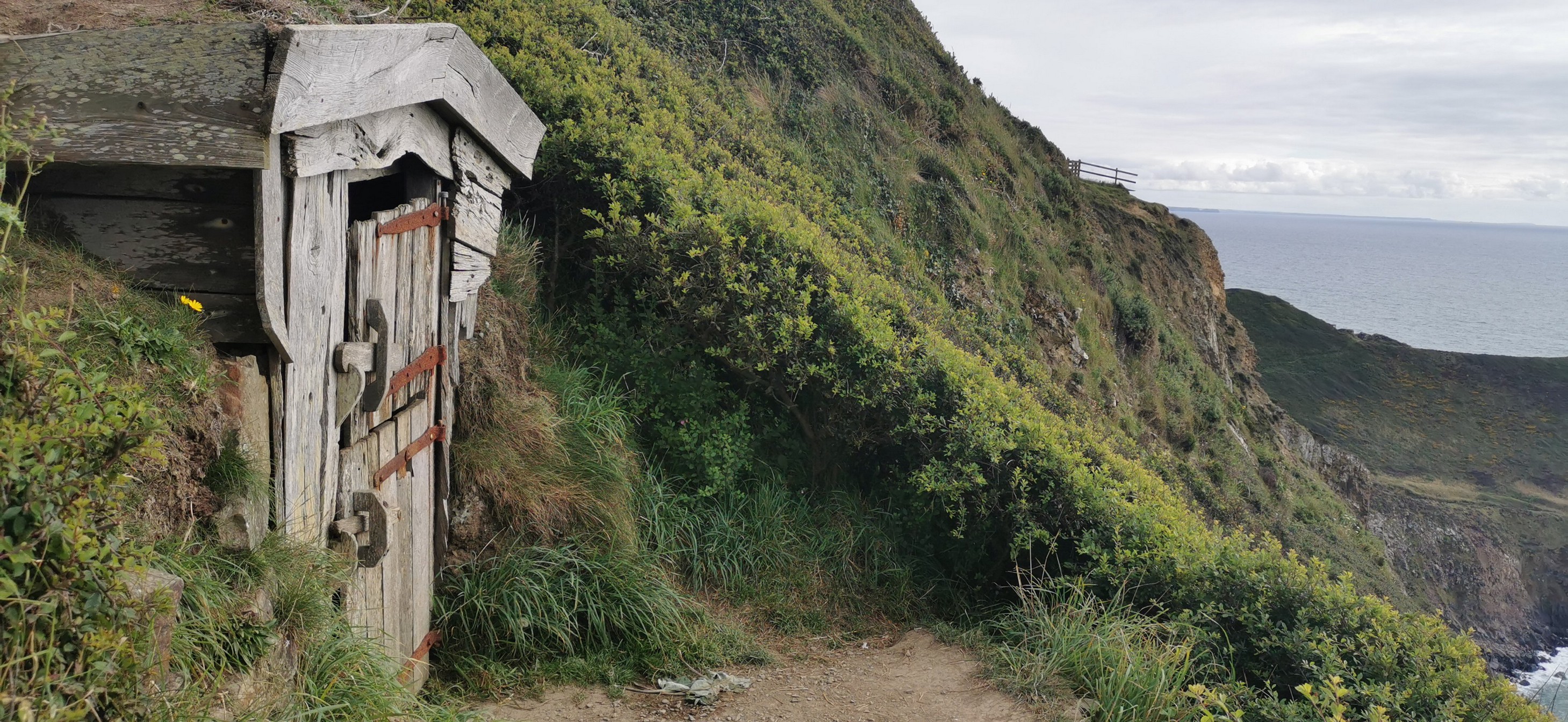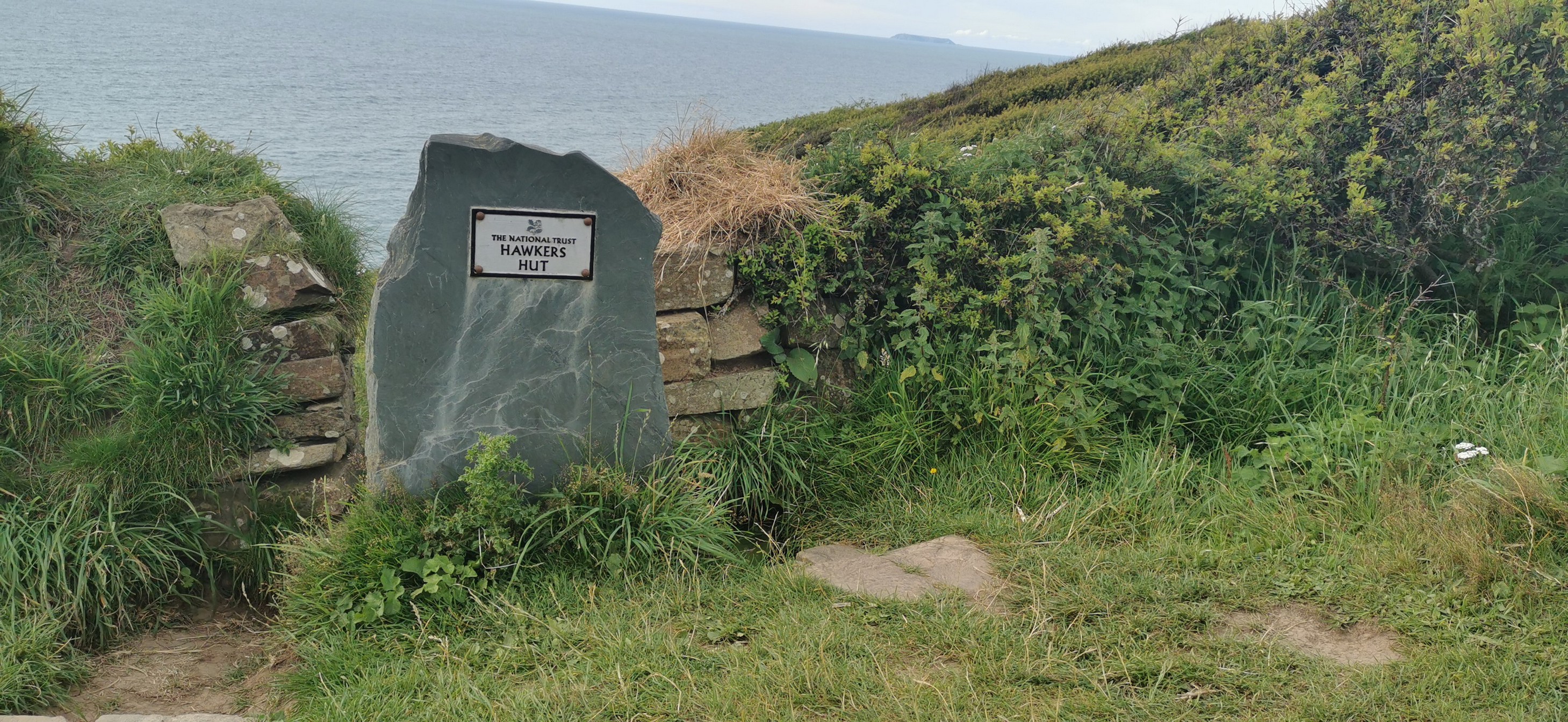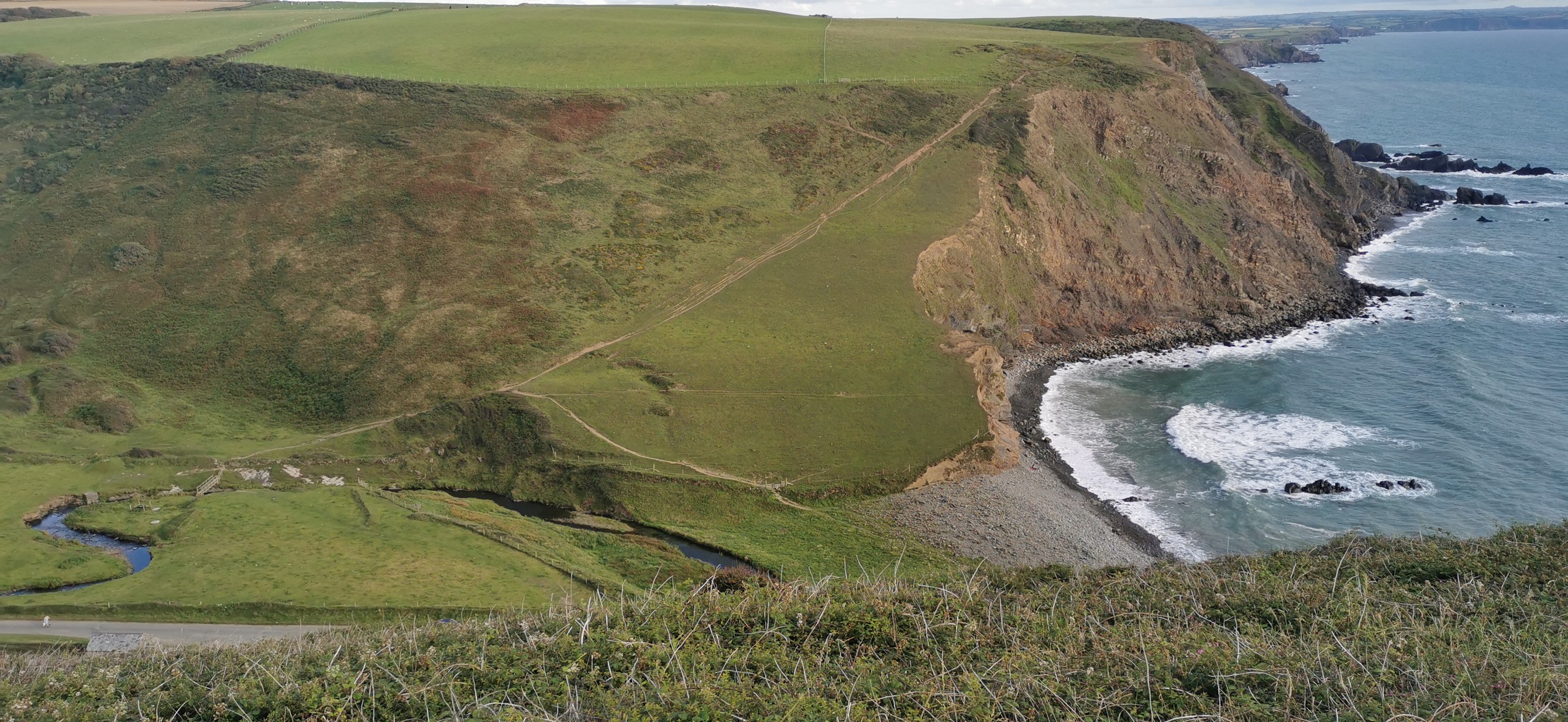 Further Honourable Mentions:
Mike G and family - 3 generations - took on the fearsome stretch from Morvah to Zennor. Photos awaited. Otherwise we won't believe him.


Lucy, again, did Praa Sands to Rinsey. 12 of them so top mileage count there!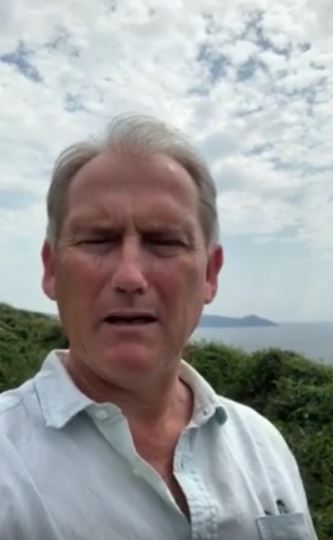 Finally, Our celebrity endorser Pete Goss

-yachtsman and adventurerhas now posted his video in support of the Challenge and of Cornwall Mind. View it here.



And the address of the Boscawen Just Giving page
https://www.justgiving.com/fundraising/rotarycluboftruroboscawen