Pippa Logan becomes Life Honorary member
Pippa Logan has become a Lifetime Honorary member of Seaford Rotary Club for her work in organising the catering at the Bluebell Walk, Arlington for the Club. She becomes the first and only Lifetime Honorary member of the Club.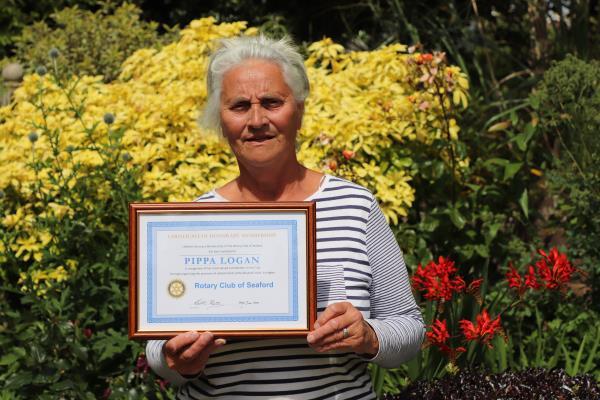 Normally the President of the Club invites one or two suitable recipients to become an honorary member for 12 months, and occasionally this has been extended to a second year. It was agreed however that due to the enormous contribution to the Club given by Pippa since 2013 at the Bluebell Walk that a greater degree of recognition was required, given that until the pandemic struck, this year was planned to be her last organising the Bluebell Walk refreshments. She was already the recipient of a Paul Harris Fellowship, and so something different was required. It was agreed therefore that she should be awarded a Lifetime Honorary member of Seaford Rotary Club.
Seaford Rotary has been managing the Bluebell Walk at Arlington including provision of refreshments on two days each year since 2013. Each year the service to provide the refreshments gets more professional and the farmer expects higher and higher standards, including catering for all dietary needs such as a vegan menu. It is a juggling act catering for the visitors the numbers being entirely dependent on the state of the bluebells, and the weather.
The high standard of refreshments is due in no small part to the fabulous cakes the Rotary wives make, not to mention Pippa's pre bluebell baking sessions, filling her and her neighbours' freezers with sponges, cakes, soup and of course the scones and rocks cakes that are made fresh each morning at the crack of dawn. Our food is always complimented by the farmer as being "the best". Our kitchen teams work hard to provide great food for the visitors.
Like all responsibilities there are 101 hidden jobs that have to be done to ensure the smooth running of the event, paperwork, shopping, health and safety, the rota, all of which Pippa puts her signature to on behalf of the Club!
Pippa said "I am looking forward to running the 2021 Bluebell Walk as it is the farmers 50th celebration and I hope to enlist some extra help so that I can pass the reins over to somebody else."