Five Country ZOOM Meeting
Eight members of Seaford Rotary demonstrated the Rotary International Theme for the 2019/2020 Rotary Year - 'Rotary Connects the World' by having a ZOOM meeting with the Rotary Club of Baridhara, Dhaka, Bangladesh.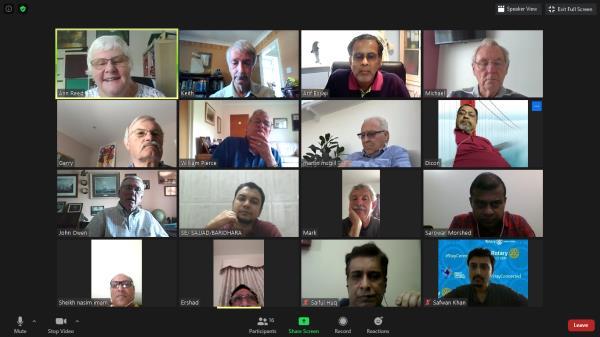 This event on Sunday 28th June at 2.30pm BST and 7.30pm Bangladesh time was instigated by Ann Reed, a Past President of the Rotary Club of Dhaka, who worked in Bangladesh for 10 years. Mark Forrester another member of Seaford Rotary who is a former British Diplomat who was posted twice to Bangladesh including the British High Commission in Dhaka was also able to join the meeting with Baridhara Rotary Club.Both Rotary Clubs have a similar size membership i.e. 42 members with a similar number of male and female members.
Each Club was represented at the virtual meeting by their Rotary Year 2019/2020 President, Vice President and Secretary. It was interesting for the Seaford Rotarians to learn that the Baridhara Club is part of RI District 3281 which is one of the two Rotary Districts in Bangladesh. District 3281 has the largest number of Rotarians in any District of Rotary International and became the first in the world to increase net membership in 2019/2020 by 1,139.
President Sarowar Morshed from the Baridhara Club invited Seaford Rotarians to join in their first virtual fortnightly meeting via ZOOM. Nineteen members of the Baridhara Club attended with 23 Guests on 12th July. Four Seaford Rotarians attended and were pleasantly surprised to find there were Rotarians also attending from their homes in Oslo, Montreal and Washington – so a total of five countries participating. This was a practical illustration of this year's Rotary International Theme 'Rotary Opens Opportunities'.

The main speaker for the meeting was Past President Ali Ashfaq PHF, a Senior Partner of KPMG, who shared a Technical Seminar on the Bangladesh Finance Act 2020. PP Ashfaq referred to the link established between Seaford Rotarians and the Jaago Foundation (see Newsmonger March 2019) and the grant jointly made to support one of the teachers in a slum school. PP Ashfaq continues to support two pupils at Jaago Foundation by making monthly personal donations.
Following the main Speaker, guest Rotarians shared their experiences of coping with COVID-19. As with a number of Rotary Clubs in the UK, members from other Clubs reported attendance at ZOOM meetings has been maintained or increased compared with 'normal face to face' meetings. Baridhara Club is meeting fortnightly by ZOOM. The female guest Rotarian from Washington shared how her Club of 100 members has been working with the homeless and is particularly interested in working on environmental projects such as tree planting.
Supporting the environment has become Rotary's seventh area of focus. It joins the other categories of service including peacebuilding and conflict prevention, disease prevention and treatment, water, sanitation and hygiene, maternal and child health, basic education and literacy and community economic development.
With financial support from the Rotary Foundation, District 3281 has started a programme to deliver 150,000 meals to low-income people affected by the lockdown in the country. In addition, financial and food assistance have been provided to more than 3,000 families for a month's living expenses. Since the spread of the virus distribution of hand sanitisers, masks, awareness leaflets and food has been distributed to the extreme poor. Setting up telemedicine call centres and alternative employment assistance to the people are also included in the Rotary Foundation sponsored programme. This initiative in Bangladesh was acknowledged at the recent International Rotary Convention.
In spite of the challenges faced by Rotary and COVID, members of the 5 Clubs present acknowledged a 'silver lining'. If it were not for COVID, it is probable that these two International Meetings would not have taken place.