End of a Unique Year with a Virtual Presidential Handover
Keith Ross experienced a unique year in his role as President for 2019-20 and although he was robbed of hosting the traditional gala dinner at the end of his reign he still managed to make the annual handover ceremony memorable – even on ZOOM!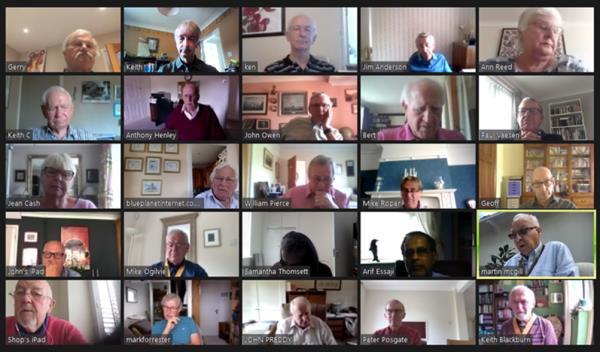 The Club, of course, has had to resort to internet technology to keep at least some of our meetings and functions going despite this locked-down pandemic monstrosity.
And Keith certainly made the best of it to pass the reins to his successor Martin McGill and make sure that all now entitled to wear the club's jewels of office were delivered of their rightful recognition. The way he appeared to pass the chain of command to Martin on screen and then how the lower orders were collected by new President Elect, Keith Blackburn, and new President Nominee, Mike Ogilvie, was not only clever but highly amusing. It must have taken a fair bit of practice to make it appear that power was physically changing hands.
Former civil engineer Keith, who specialised in bridges, has built many of them metaphorically with public and friends during his spell in office. His impressively illustrated 'journey' through the past year, which he presented uniquely in a PowerPoint presentation during the Handover, proved just how busy and dedicated to the task he has been.
It seemed he liked nothing more than the live events; getting out there to meet and make a fuss of deserving recipients of our Rotary benefits; shaking hands with the winners and even the losers. All that had to stop, of course, in late March – especially the shaking hands bit. Yet Keith has thrown himself into the virtual Rotary world. Instead of moping about losing the last three months of his incumbency, he got on with the job of making it work right to the end.
At the handover on 1st July, he also inducted a new Seaford Rotary member, former Town Mayor Linda Wallraven – the club's third female, joining Ann Reed and Samantha Thomsett – but also welcomed three transferring members from our 'daughter' club Seaford Martello, Mandy Davis, John Windsor and Janice Vince, all former Presidents of our neighbours, although Janice could not be there on the day.
Keith's final act before his Presidential farewell was to present a pair of Paul Harris Fellowship awards, Rotary's highest honour for outstanding work in the community. They went to Frank Thompson and the retiring Barry Wells (after 29 years membership) who are both probably best known as the prime movers behind the club's flagship Father Christmas Collection Sleigh.
There was a new element as well at the Handover in the award of the club's first-ever Life Honorary Membership to Mrs Pippa Logan, who has done so much to assist us with her sterling work for our annual spell in charge of the Bluebell Walk at Bates Farm, near Arlington. The event which gives a considerable boost to our charitable coffers, didn't happen, of course, this year for obvious reasons, and it was meant to be Pippa's swansong.
There is however one aspect of a Presidential Handover that cannot be done virtually, and that is the presentation of a bouquet to the outgoing President's lady, something that is traditionally presented by the wife of the newly installed President during the President's evening.
There was a desire to ensure that this tradition was upheld and so a few days after the virtual handover President Martin
McGill
and his wife Cheryl visited the Ross household for Cheryl to present Marilyn with her bouquet.