We do not have meetings but some of our members are actively helping the community. This is a report about what they have done during the last few months, since the Lockdoewn.

Report
During the lockdown and since, our Club meetings ceased. The club committee met in August outside in the President's garden.
Our members, who are able and active, made a difference.
Comfort Bags and toiletries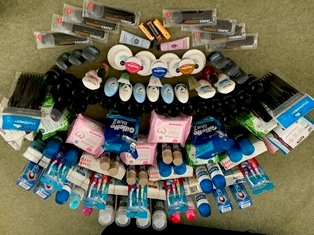 Th
ree
members stitched comfort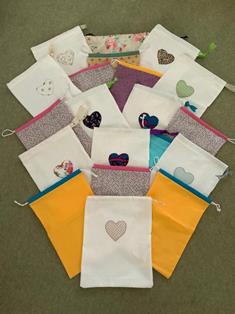 Bags filled with toiletries for
Leigh
ton Hospital and others
stitched Scrub Bags at a time they were
most
needed. With the donations from Club Members we were able to give the same to 17
th
Crewe Guides.
Is it Sir. Tom? No, it is our Maureen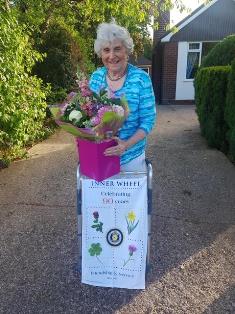 In April one of our long serving member Maureen Williams,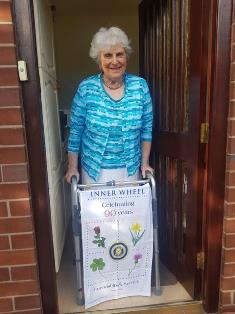 struggling with Mobility, walked 200 steps each day, to and fro, on her drive for 26 days to raise money for the Vaccination Fund. She was hoping to raise £260 but the total raised was £910 which was donated to the Vaccination Fund. A £20 donation which came late was given to Cancer Research U.K. Maureen said "although this was a small act it was the hardest thing I have done. People were so kind and I thank them for their support. On the last day my grandson was at the gate with a huge bouquet of flowers. Without the support of my family setting it up I could not have done it."
Who says Romance is dead?
Early in June when the lockdown restrictions were gradually being lifted one of our members and her husband decided to walk along Alderly Edge. The rain had stopped and the sun had come out. The trees in the wood were looking at their best. They came upon a view point overlooking the fields and the hills towards Manchester.
They noticed a young couple admiring the view and a video camera set up on a bench. The young couple were looking at each other when the young man appeared to be giving an envelope to the young lady. Then suddenly the young man bent down on one knee and was giving her a small box which included a ring.
The Inner Wheel member and her husband were some respectable distance away but could not resist shouting "did she say yes" and the young couple nodded.
Lalita Unnithan
Correspondent, Inner Wheel Club of Sandbach