Uppshop
Uppshop is the working title of a project to help the elderly access online digital services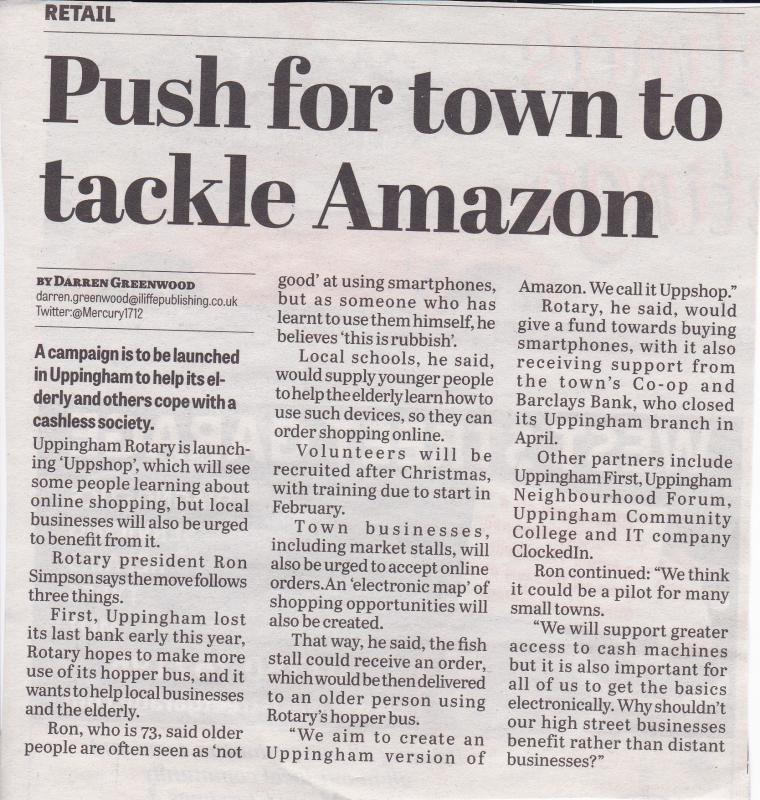 Project Actions
Social and Economic partners secured. First cohort of 5 learners recruited through Neighbourhood Forum newsletter and media coverage. First five phones with partner funded cases purchased and issued. Shopper tablets secured from commercial and social partner. Five Rotary Mentors recruited. Presentation to town's community college assembly resulted in five supporting youth volunteers being nominated. Training website designed and tested. Introductory training sessions delivered supplemented by individual Mentor support. Participating traders recruited and product list created for website. Training manuals for website written. Volunteer shoppers recruited and trained. Rotary President's
Night donation to key safe charity of £500 made as advanced commitment to key safes. Barclays Bank staff join training team. Police support and training on cyber security secured. Additional training and support provided by the Uppingham First Community Partnership (UF), the Uppingham Hopper, local traders and the Uppingham Neighbourhood Forum (UNF). Project filmed by ITV just before Covid lockdown.
Impact of Covid-19
Project reduced in scale to one group and tuition time extended due to Covid 19. Online support afforded by UF and Rotary Mentors. College students withdrawn. Some Rotary volunteers self-isolate. Second tranche of learner recruitment stopped. Small UNF/UF/Rotary team continue project through lockdown. Zoom training introduced facilitated by UF. Weekly shopping opportunity introduced supported by Uppingham Hopper team. One learner withdraws and returns phone as not comfortable with Zoom. Four learners continue supported by Zoom and some individual tutoring. ITV revisit to film learner progress and evaluate project. Excellent media coverage and community feedback secured. Lead UppShop volunteer, past club president and UNF Executive Member awarded BEM for her community service.

Project Termination
Decision taken to curtail project due to impossibility of conducting face to face training with elderly trainees for the foreseeable future. Final report (this report) written and forwarded to Club members and to form basis of final report to The Rotary Foundation. UppShop will now be continued and further developed by commercial and community partners. Rotarians will still be welcomed as volunteer Mentors if they wish to continue.
Project Funding
Rotary District grant project paid for the smartphones and initial O2 phone top ups. Club and social/economic partners' matching funds paid for key safe installations (when required), advertising, the training website, training, venues, shopper and transport costs, shopping finance charges through the 'Sumup' credit card system and other project extension costs.
Learning Points
Age is no barrier to learning. Technology can be empowering. Rotary can be an exemplar.
Outputs and Assets
Four founding learners now proficient on the internet and on smart phone: Three smart phones purchased by members of first group of learners- remainder in ownership of UNF.. Approximate value of each phone is £100. UppShop high street online shopping learning facility created. High media profile for Rotary and Uppingham secured. High Street supported by Rotary during lockdown. Permanent UppShop facility created.