£3000 for Tapping House
The Club has made a major donation to the Norfolk Hospice Tapping House of £3000.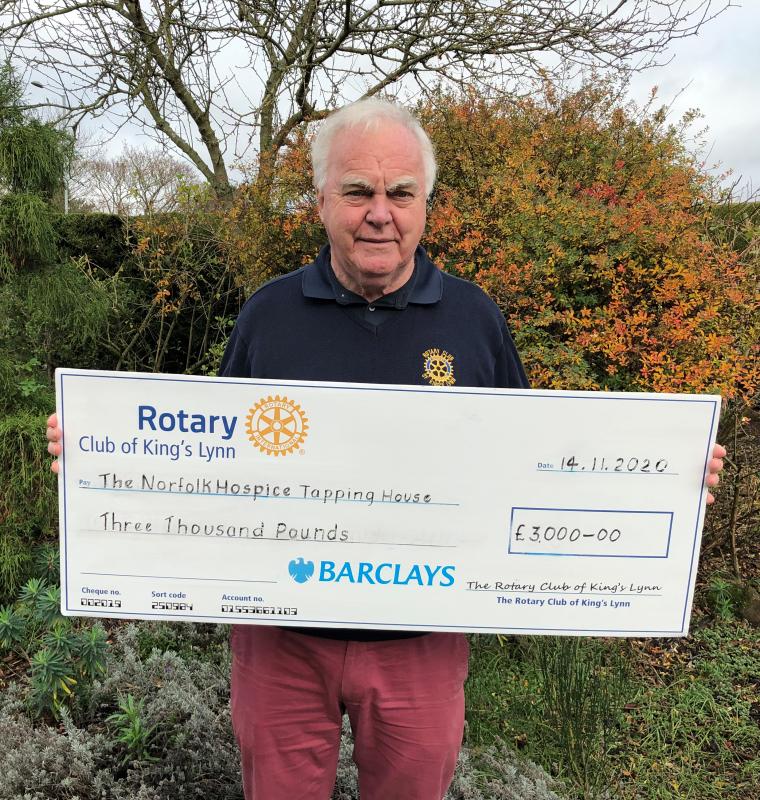 The Club recently decided to make a major donation of £3000 to The Norfolk Hospice Tapping House at Hillington. This was from the money raised at the Golf Day held on 9 September at Middleton Hall Golf Club. Some 17 teams of four took part and all the holes were sponsored by local companies. The day was organised by Mark Walker, Steve Roberts and Geoff Cheney. Because of Covid-19 restrictions it was not possible to get all three of them in a photograph or one with a member of staff from Tapping House so Geoff is shown holding a cheque for £3000.
Two other donations, both of £250, have been made this week. The first was to the RNLI in memory of Margaret Bullen who died recently. Margaret served for many years on the local committee in Hunstanton and was still President at the time of her death aged 96. Her husband Geoff Bullen was a long standing member of the Rotary Club of King's Lynn.
The second donation was made to the King's Lynn Night Shelter which is now based at the St John's Vicarage, following a very informative talk by Trustee and Treasurer, Julian Hallett.