Virtual Santa Grotto 2020

When it became evident that the Covid pandemic would restrict our usual festive fund-raising events we started to look for alternatives. One member came up with an idea that, as his children were disappointed that they wouldn't be able to visit Santa in his grotto, we should try & bring Santa virtually to local children.
We soon had 2 volunteer Santas and a couple of members were tasked with the logistics of how to organise the event. Our first step was, with the help of former member Michael at The Kings Arms, to produce a professional promotional video. Then we tried & tested a booking & payment system for the chat slots, having decided to run for 2 weeks prior to Christmas Monday-Friday between 5pm & 7.30pm.
We launched via Social media, website, local press & local radio and had sold all available places in just over 2 weeks with 113 families participating.
Using the booking data we sourced age & gender appropriate gifts and a team of socially distanced Elves sorted and wrapped them, whilst another team of Elves delivered all the gifts the weekend before the chats were due. We must thank our local One Stop store for the generous donation of wrapping paper & £500 towards the costs of the presents. Over 230 gifts were delivered.
Each evening Santa and his helper Elf had a short personal chat with each family….the effect was magical and so exciting for the children involved, especially when the gifts were delivered by the parents at the end of the chat. We had so much immediate positive feedback from parents & guardians, far more than we had ever anticipated. Santa and his Elf also were touched by the responses and went the extra mile to make sure each child was spoken to by name and assured that Santa would be visiting in person on Christmas Eve night as normal to drop off presents, PM Boris having given him special permission!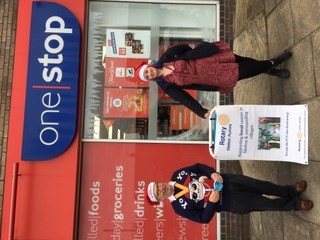 UPDATE Jan 2021
The outcome of the event was that we raised over £1700 to be used solely to help struggling families in the Melton area…..a huge boost in difficult times and a brilliant first effort.
We were contacted by so many parents after the event asking us to repeat in 2021 as they & their children enjoyed the personal experience so much. Families with children who are not socially confident or who had special circumstances in particular enjoyed being part of the event. We already have over 100 families on our "priority booking" list for later this year!