HOLLY AND DOLLY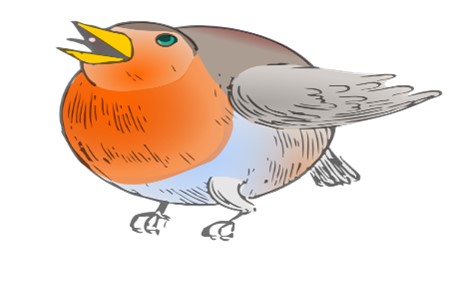 The robin knocked on the window with his beak anxious to get some crumbs for his lunch. The object of his attention was Mrs Merry Christmas, wife of Father Christmas, who was busy rolling out the pastry for her mince pies. Hearing the tapping on her window she stopped what she was doing, took some raisins and sultanas from a nearby jar and went to the window. Once opened she put the dried fruit on the snowy window sill and watched as her feathered friend pecked away at his supper. "How have you been Master Robin?" she asked, holding out her hand. The robin hopped onto her palm and looked up at her twittering away. "You have such a beautiful waistcoat, it reminds me of the one Father Christmas wore when we first met". She stroked the robin's chest very gently and smiled at him. "I'll give you some more food for your family but I must get on with my baking. Father Christmas is so busy in the workshop with the elves getting the orders ready for Christmas Eve and I need to give a hand later". Mrs Christmas put her hand in her pocket and pulled out some pastry crumbs that she had made earlier. "Here you are, come back tomorrow and more importantly on Christmas day with your family and I will have a special bird cake for you." The robin picked up the crumbs, chirruped at his benefactor and flew off in the direction of the big barn where he lived in the warm all year round with his family.
An hour or so later Mrs Christmas, having finished the mince pies, was sitting by the fire in her rocking chair drinking a mug of tea. She smiled thinking back to when she met Father Christmas. Of course, he wasn't Father Christmas then, but a handsome young man from a village several miles away. He wore red breeches, a red waistcoat with brass buttons over a white shirt and on his legs he had white stockings and on his feet shiny black shoes with brass buckles. He came up to her and asked her to dance and although she was very shy she said yes and they spent the whole evening dancing together. Once the party finished the young man, who she learned was called Christopher Christmas, asked if he could see her again. Obviously Merry said yes and they eventually married. That was many years ago and she smiled to herself thinking how happy they were. She felt so cosy by the fire she began to fall asleep and her mug slipped onto the floor.
This was how Father Christmas found her some time later. He crept up to her chair and picked up the mug looking at her with a smile on his face. He went to his rocking chair on the other side of the fire and sat waiting for her to wake up. Ten minutes later, as if she knew he was watching her, Mrs Christmas awoke. She looked at her husband, "Have you been sitting there long?" she asked.
"No, about ten minutes. Come on Merry I have a surprise for you, put on your warmest cloak, furry hat, gloves and boots". He held out his hand to help her up.
About half an hour later Father and Mrs Christmas were soaring above the North Pole in the Christmas sleigh. He roared with laughter and put his arm around her, hugging her. "We have been so busy lately I thought we could take a break for a while. I'm taking you for a run across the sky to watch the sunset."
"Chris," Mrs Christmas laughed, "can we have a look at Cornwall in the UK before we go back home. I had some pastry left over from the mince pies and I made a lovely pasty for dinner. I got the recipe from the Cornish pixies".
Father Christmas laughed "oh all right then. Let's go boys," he said to the reindeer as they whirled the sleigh around and headed over the horizon towards the setting sun.
"Hey!" called Mrs Christmas, "What's that down there on that large iceberg?"
She pointed below them, Father Christmas followed the line of her finger. "I don't know, hey boys down there," he called to his reindeer, "land on the iceberg if you can." A few minutes later the sleigh skidded onto the ice leaving a plume of snow in its wake.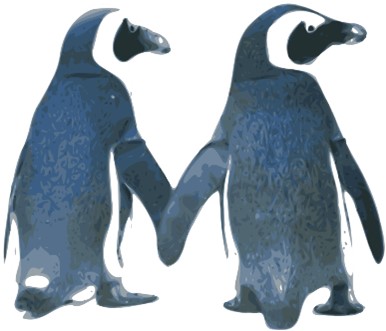 Mrs Christmas jumped out of the sleigh and ran across to the object she had spotted from the sleigh. "Oh Chris, Chris!" she cried, "Look!". Shivering at her feet were two baby penguins. She knelt down and picked them up, tucking them into her cloak. "You poor things, what are you doing out here on the ice all on your own?" One of the babies gazed up at their rescuer. Father Christmas looked down at his wife cuddling the penguins and in penguin language (it is well known that Father Christmas can speak any language) asked where they had come from. The penguin explained that they were twins and the ice flow had broken up before their parents could come back to them after they were diving for fish. They were called Holly and Dolly and were very frightened that they would not be able find their mummy and daddy again. Father Christmas pulled Merry to her feet and helped her back to the sleigh. She climbed in and tucked the fur rug about her and the twins. "They are far from home," said Father Christmas. "I can't understand how the ice has travelled so far from the South Pole without melting. We must get them back to their parents if we can." Mrs. Christmas agreed, "but how can we do that?"
"I've got an idea," Father Christmas replied, "we'll take a ride down to the South Pole where penguins live and ask the other penguins."
"I've got a better idea" said Mrs Christmas. "Let's go home to the North Pole and ask the elves to put out a call for help over the Elfline. We are getting cold, these little ones are shaking with fear and the reindeer need their supper". "That Merry, my dear is a very good idea. Come on boys, turn for home, Rudolph light up that nose of yours it is getting very dark now".
Holly, the more adventurous of the twins leaned out of the sleigh looking over the side and yelled out in penguin speak "whee, this is so exciting," but her sister Dolly just shut her eyes tighter and buried her head even deeper into the cloak. "Don't be afraid little one" said Mrs Christmas stroking Dolly's head, "the reindeer have pulled the sleigh for hundreds of years, they know what they are doing". Father Christmas laughed and just managed to grab hold of Holly's foot, she was so busy trying to see the ground she nearly fell out of the sleigh. As the sky grew darker the stars started to appear and together with Rudolph's red nose lit their way back to the North Pole. The reindeer made good time and before long they had landed in the village. Father Christmas lifted Merry and her precious cargo out of the sleigh and followed her across to their cottage. He called over his shoulder to the elves that had come running out "unharness the reindeer and make sure they have a good rub down with the straw they have worked hard tonight. I am pretty sure Mistletoe filled up their bin with fresh reindeer food this afternoon so give them all an extra helping please." The elves nodded and set about their tasks.
In the cottage Mrs Christmas rubbed the twins down with a soft towel in front of the fire. She sat them on the wooden settle and picked up the internal phone. "Workshop please" she asked the operator. Once put through to the workshop she asked for the Professor who was in charge of the electrical goods to come across to the cottage. Father Christmas and the Professor came through the door together and Mrs Christmas made them a hot drink of a special cider she only brewed at Christmas time. Father Christmas explained to the Professor how they needed to try and contact the South Pole where the penguins lived to find Holly and Dolly's mum and dad. Mrs Christmas glanced at the twins who had fallen asleep on the wooden settle "Prof we need to make sure they find their way home, they need their mother and her special milk. Ours will only make them ill".
The Professor, who like most of the elves was dressed in striped stockings, green pixie boots, red tunic and black leather belt with a brass buckle and a red and green hat nodded and the bell on his hat jingled. "I will put a message out over the Elfline. At present it only works between our workshop and all the languages spoken by the children on earth. Every time a child writes a letter or talks about their Christmas list it registers on the Elfline and the elf monitor of the day records the message and checks the naughty or nice list". Father Christmas clapped his friend on the shoulder "Prof that's marvellous, stop what you're doing and get the message out please." Professor nodded and left the room.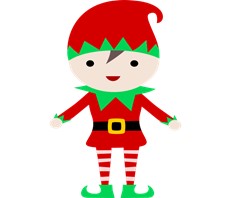 While Father and Mrs Christmas waited to hear if there was any response to the message they partook of the promised Cornish pasty, mashed potatoes and vegetables. Father Christmas nodded to his wife as he put his knife and fork together on an empty plate "Merry, that was wonderful and when you see the Cornish pixies you must thank them for the recipe, I really enjoyed it." Mrs Christmas smiled at her husband "I will," she said. Just then the internal phone rang, Father Christmas answered it "Hello Prof, that's marvellous. Yes we'll come over straight away and bring the twins with us." He put the phone back on its hook and explained that Prof had not managed to adapt the Elfphone to speak penguin but he had managed to create a message that the elves were going to shine over the sky in the hope that Holly and Dolly's parents saw it.
Mrs Christmas put her cloak on and tucking the twins into it she carried them over to the workshop. Once inside she put them on the floor and the elf known as MIstletoe came bear. over and took a flipper in each hand and led them on a tour of the workshop. She showed them the wooden toy making section, the doll section, the soft toys section where Holly and Dolly laughed when they saw a penguin sitting beside a teddy bear. In another section of the workshop was the electronics area where the requests from older children were made. Dolly was fascinated by the gadgets and ran and hid behind her sister when a robot walked towards her. Father Christmas smiled and watched as the twins wandered around looking at everything. Mrs Christmas was busy helping fill the stockings that would go to children from poorer areas who might not get presents. These would go out with Father Christmas on his rounds on Christmas Eve.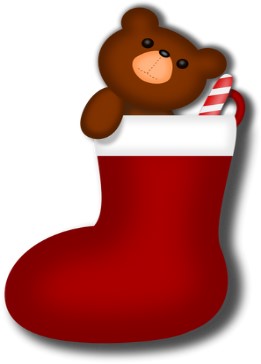 Just then the Elfline rang and Prof ran to answer it, he put his hand over the receiver, "It's Jimmy the elf who looks after the Falkland Islands and South Georgia" he said "Jimmy that's marvellous news. Where should they meet you? Right I'll tell Father Christmas and they will leave shortly. I'll call you with an estimated time of arrival in South Georgia. Oh and Jimmy make sure the children in your area get their letters in, time is running short." Prof put the phone down and explained to Father Christmas and Merry that Jimmy had been contacted by the twins parents who were part of a penguin colony in South Georgia. They had tried repeatedly to find the iceberg but it had drifted too far away and had almost given up finding their daughters. Then another penguin had seen the message in the sky and told them. They had contacted Jimmy and were eagerly awaiting the return of their daughters. "Right Mistletoe get the reindeer harnessed up, put Randolph alongside his brother Rudolph to give us a bit more speed please." "Yes chief" said Mistletoe running out of the door. Mrs Christmas knelt down to the twins and hugged them. "You will be home soon" she said, looking up at her husband with a smile, "your mummy and daddy will be so pleased to see you both" she picked them up and wrapped them in her cloak. "Come on one more ride in the sleigh" said Father Christmas. The sleigh was outside the workshop door with the reindeer patiently waiting. Randolph and Rudolph were harnessed to lead the team and everyone climbed aboard. Father Christmas cracked the whip and the reindeer rose into the sky higher and higher it went towing the sleigh behind them. On and on it flew over the inky black ocean, across Central and South America and down towards the island of South Georgia.
The twins were jiggling on Merry Christmas's lap, excited at the thought of seeing their parents again. Holly kept looking over the side and squealing with delight as she saw the stars twinkling underneath the sleigh. Father Christmas let out a huge laugh "not long now Holly, come on boys two anxious parents await us". The reindeer gave one last huge pull together and before long they saw a strange squiggly sparkling line with green holly leaves on it in the sky. This was Jimmy the elf's signal that they were approaching South Georgia. Father Christmas hauled on the reins, "steady now, we are over the rendezvous, take us down very slowly and gently". The reindeer started the journey down towards the earth, Jimmy was waving a green flare in each hand and he guided the sleigh onto the snow-covered sands. Mrs Christmas saw two Emperor penguins standing each side of Jimmy who was wrapped up in a very warm coat and had fur gloves, boots and hat. As the sleigh came to a stop the two penguins ran as fast as their wings would allow to find their children. Father Christmas climbed down and helped his wife to alight. She handed him the twins and he set them on the ground and they watched as the twins cuddled up to their parents. Father Penguin came up to Father and Mrs Christmas and thanked them in penguin speak for the return of their children. Mummy Penguin came up with the twins, one in each arm, she was crying happy tears at the return of her children. "Jimmy thank you for helping out here" said Father Christmas to the elf standing to one side watching the joyful reunion. "No bother Chief" said Jimmy. "We were lucky the message was seen. It's good to be a part of such a happy outcome". Father Christmas clapped Jimmy on the back "it is Jimmy, it is. I hope you will be able to make the village as Mrs Christmas always looks forward to seeing all our elves make it back for Christmas dinner." "Wouldn't miss it Chief" said Jimmy "I always enjoy Mrs Christmas's turkey and stuffing". Merry smiled at the elf "Jimmy I'll make extra for you".
"Well now," said Father Christmas to the penguin family, "we must be on our way. Jimmy will let us know how you get on. Take little ones and no going off on your own on the icebergs, they are dangerous places at the best of times but for little penguins definitely off limits." The penguins understood what Father Christmas said and they shook hands and wings before the little family wandered off towards the penguin colony who were waiting on the shoreline.
Father Christmas and his wife climbed up into the sleigh and with a final salute to Jimmy and the penguins he shouted, "up Dasher, up Dancer, up Comet, up Cupid, up Donner, up Blitzen, lead the way Randolph and Rudolph". The whip cracked and the reindeer rose into the air and Holly and Dolly watched as the sleigh flew across the moon and off into the night sky.
"Chris, it was good to see them home," Mrs Christmas said snuggling into her husband. "Thank you for pausing your busy schedule for me and for them. I know how many presents are still to be sorted out ready for Christmas Eve."
"Merry it's not the gifts that really matter, it is the message of Christmas showing love to each other, caring and giving time. It is the children who love the excitement and the presents but we should always think of those who have very little and it is those children I will leave the stockings for." He laughed and called out to the penguin family looking so tiny on the beach below "Ho! Ho! Ho! Goodnight Holly and Dolly and Merry Christmas."
© copyright Jillian Green 2020

_____________________________________________
Our Christmas Collection is dedicated to Local Charities. Please help them by making a donation using either of these two methods:
Our Virgin Money Giving campaign
OR
By Text Message using
Donations by mobile phone text message*

To donate £1 text CPRC2020 to 70201
To donate £3 text CPRC2020 to 70331
To donate £5 text CPRC2020 to 70970
To donate £10 text CPRC2020 to 70191
Thank you for helping us to support our precious local charities.
We wish you a Happy, Peaceful and COVID-Safe Christmas.
Your Community & Youth Service Team at Carshalton Park Rotary Club (CPRC)

* Text Messaging Fundraising, payments and donations will be processed and administered by the National Funding Scheme, operating as DONATE a charity registered in England and Wales (1149800) and Scotland (SC045106). In addition to any text donation, you will incur your standard network message charge (based on your service provider rates). For Terms & Conditions, see www.easydonate.org