"On Wednesday, 13th October, we had our 37th Charter Anniversary Evening at The Coach & Horses, at which Their Worships The Mayor and the Mayoress of LB Richmond Upon Thames Cllr Geoff Acton and Mrs Eileen Acton were the principal guests, along with Kevin Westbury, Co-Ordinator, and Caroline Ewart, Manager, of the Richmond Foodbank Hub in Hampton. It was really good to see so many club members and friends of the club there. Not all were able to attend, so President Paul raised a toast to "Our Absent Members and Friends".
Paul had the great pleasure of formally inducting his wife, Elizabeth, as a member of Kew Gardens Rotary. She will be a great asset to the club, as she has been for many years. The Mayor spoke for a few minutes about his mayoral office, which he and Eileen were enjoying, and the two local charities he was supporting and proposed a toast to the Club. A cheque for £200.00 was presented to the Mayor for the annual Mayor's Appeal Fund, which will be divided between two local charities. Kevin Westbury spoke about the Richmond Foodbank and its work and the financial support the club has given through crowdfunding."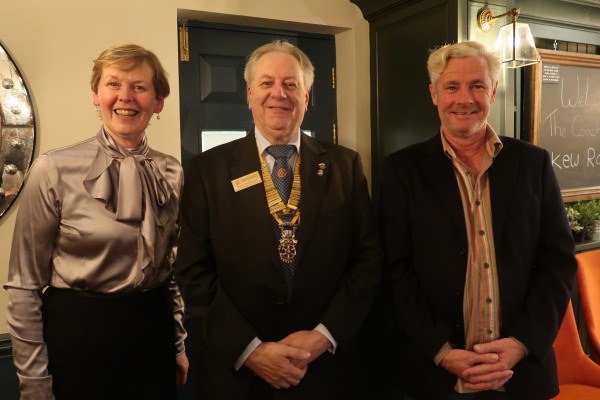 Caroline, Paul and Kevin.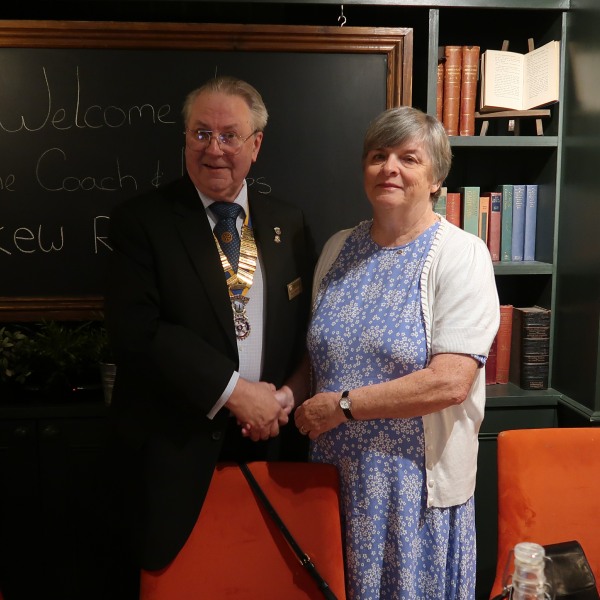 Paul and Elizabeth.