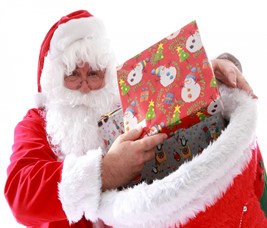 Click here for Santa's routes 2021
We're back and our Christmas plans are already in place. For nearly 60 years Father Christmas and his house, accompanied by Rotarians and volunteers, have travelled some of the streets in Wallington and Carshalton to raise much needed funds for local charities. It has been our pleasure over this time to meet up again with families and friends who have been our greatest supporters.
As many of you may know the motto of Rotary is "service above self" and members of Carshalton Park go above and beyond service in dedicating themselves to supporting local charities and communities, not just at Christmas but all year round.
Regular visits to our website and facebook page will announce our ventures for the coming year as well as advertising the routes Father Christmas will be following.
The Rotary Club of Carshalton Park is dedicated to serving its local community and this coming Christmas season is going to be a bumper one. In the words of a local television show "keep watching" for further updates both by posters and on social media.
We wish everyone a very Happy Christmas.
From everyone at the Rotary Club of Carshalton Park.