Rebekah (Bex) Wilson of Leeds is being honoured by Rotary International in Great Britain and Ireland with a prestigious Community Champion Award thanks to a nomination from the Rotary Club of Leeds.
Held annually, Community Champions are part of Rotary's Champions Awards, which recognises unsung heroes whose volunteering efforts have had a huge impact on people's lives both at home and internationally.
Bex was working as Deputy Head Teacher at one of the biggest primary schools in Leeds when a child in her classroom told her "I'm always tired Miss, I don't have a bed."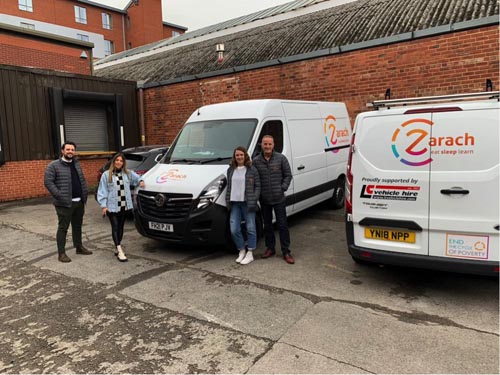 It was this moment that inspired Bex to start Zarach – a charity that aims to address the unrecognised issue of 'bed poverty' by delivering beds and basic supplies to children living in poverty, therefore giving them a better chance of a good education.
Despite having no previous experience in the charity sector, Bex rose to every challenge and galvanised many individuals, Rotary clubs, churches, schools, NGOs, businesses and other organisations into helping her on her mission to tackle bed poverty.The project has been widely recognised, appearing on The One Show and BBC Breakfast, and the aim for the future is to expand Zarach out of Leeds to address poverty in other major cities.
Bex describes the project in her own words and acknowledges Rotary's help in a short video here.
The search for this year's winners was carried out across Rotary's vibrant network of over 1,600 Rotary clubs, with Rotary members and also members of the public having their extraordinary work recognised. This ranged from alleviating food poverty for disadvantaged families during the COVID-19 pandemic to bringing a community together to help the homeless.
Nicki Scott, leader of Rotary International in Great Britain & Ireland, commented:
"What Bex has managed to achieve through Zarach is truly inspiring. To step into the charity sector for the first time and have the incredible impact that she has had is nothing short of outstanding. Every child is equally deserving of a quality education, no matter what their situation is at home. The work Zarach is doing is so important and we can't wait to see the charity reach new heights in the future under Bex's leadership!" The Champions Awards is about giving those who pioneer, lead and support some amazing volunteering projects the recognition they deserve.
Nicki added: "The selfless and truly life-changing impact of our champions really demonstrates how we can make a difference and touch people's lives.
"Rotary is certainly a place where people can turn their passion and ideas into lasting change. There are so many heroes out there and to them I say 'thank you and keep doing what you're doing."